Easy Peach Berry Clafoutis and Cookbook Updates
Well I am still cooking. And cooking…and all week I've been cooking. The recipe creating is the fun part, but now that I have over 50 recipes roughly written in a notebook, I am dreading going through my scratchy writing and deciphering what the heck I wrote. Save me, will you?
If you know me, you know I don't do well sitting down for hours at a time. And Lord knows, I can't be home doing that either. I get distracted so easily..oh, Hula needs a walk, or maybe she wants a treat. Maybe I want a treat? Oh a bird. You get it.
But honestly..it's been fun and I am so blessed and lucky to be in a position with a supportive system around me cooking in my now updated kitchen. Pinch me, no wait..don't.
Other than writing and testing Mediterranean recipes (which I hope you guys are excited about as much as me), I've been working hard on my summer body. (Good thing I'm writing this on the last days of summer..ha!) Peach berry clafoutis is what managed to sneak in the oven last week and I'm not sorry about it.
I think it was the day I was testing stuffed tomatoes, chicken kabobs  and everything with feta, when I was craving for summer produce. And I mean craving. I wanted something sweet, bright and calling for summer, yet easy because after testing 5-6 recipes, I was in a 'throw it all in one bowl and done' kind of a mood.
I found a really simple base recipe on Epicurious which did just that. I added a Sammy-twist as my hubby says with fresh local summer fruit, vanilla and loads of orange zest. Popped it in the oven and dessert was served. And breakfast, and a snack before dinner.
Aren't the colors of the orange peach with the deep blueberries just stunning? It is  such a winning combination.
Also, if you are interested, I am still sending out recipes to be tested. If you'd like to test one of my recipes for the book, send me an email!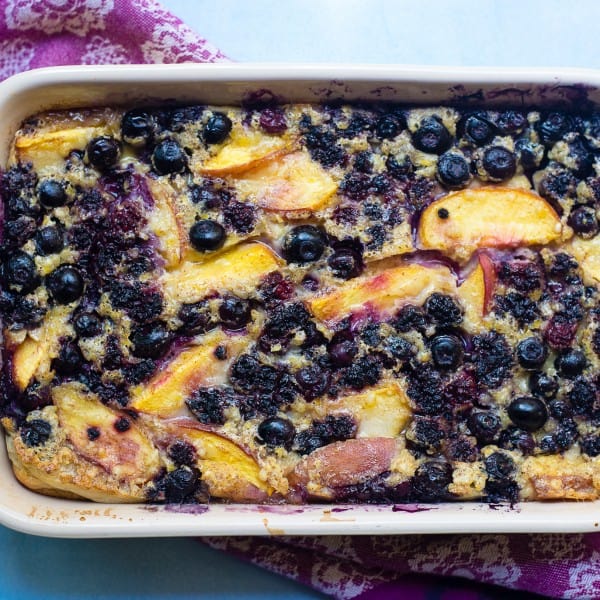 Print Recipe
Easy Peach Berry Clafoutis and Cookbook Updates
Ingredients
1

cup

whole milk

Zest of 1 orange

3

eggs

1/2

cup

sugar

1

tsp

vanilla extract or vanilla paste

2

tbsp

butter

melted

1/2

cup

flour

1/2

tsp

cinnamon

Pinch

of salt

2

peaches

sliced into 1/2 inch pieces

1

cup

fresh or frozen blueberries
Instructions
Preheat oven to 325 Fahrenheit.

In a large bowl, whisk together the milk, orange zest, eggs, sugar, vanilla and melted butter until everything is well combined.

Then add the flour, cinnamon and salt and whisk together well. It should look like pancake batter.

Pour the batter into a medium oven safe dish or cast iron and scatter fruit all over the top. Some will sink and some will stay at the top.

Bake for 35-38 minutes until the clafoutis is puffed and lightly golden brown.
Save