This easy apple strudel is full of warm fall flavors and made easy, thanks to frozen puff pastry and layered with a thin layer of cream cheese for a touch of creaminess.
Easy Apple Strudel in Puff Pastry
Traditionally, apple strudel is made with a paper thin dough that wraps around apples creating a buttery and crisp parcel. There is often a layer of sweet cheese, making apple strudel incredibly delectable.
The strudel dough takes time, so when the craving strikes, easy to find, store bought frozen puff pastry works like a charm.
Peeled and chopped apples are simply seasoned with warm fall flavors of cinnamon, brown sugar and aromatic cardamom and layered with cream cheese. The entire mixture is folded inside of thawed puff pastry and as the strudel bakes, the pastry becomes buttery with perfectly tender and sweet apples. This is truly the perfect fall treat.
Puff Pastry Uses
Puff pastry is an angel in a disguised cardboard box. I always keep a few boxes in the freezer when I'm craving something quick and sweet.
Puff pastry is easy enough to pull off a fancy looking pear tart or if you prefer something on the sweet and savory side, this peach caprese tart is another showstopper recipe, made easy.
Ingredients
Puff Pastry: Will come frozen and you can either thaw on the counter for 20 minutes or in the refrigerator for a few hours. Once thawed, unroll the pastry and use a rolling pin to roll out the pastry a bit.
Apples: The apples used in this strudel recipe were honeycrisp apples, which are sweet and firm enough to hold up in baking.
Brown Sugar: Included for added sweetness.
Lemon Zest: A bit of fresh lemon zest is added to the apple mixture for added brightness.
Spices: Cinnamon, nutmeg and cardamom are all warm spices that pair well with apples.
Cream Cheese: Softened cream cheese is spread onto the puff pastry before the apples are layered on.
Powdered Sugar: Optional, but highly recommended, once the strudel is baked and cooled slightly, dust powdered sugar on top and slice for serving
How to Make this Easy Strudel
Peel and cut apples and season with cinnamon, cardamom, nutmeg, sugar and lemon zest adn toss to combine.
Unwrap thawed puff pastry and roll a bit to thin out.
Spread a thin layer of cream cheese onto the dough and poru apples on top.
Fold puff pastry over, creating a sealed package and place on a parchment lined baking sheet, seam side down.
Brush pastry with egg wash and cut a fe slits into the dough.
Bake the apple strudel at 375 degrees Fahrenheit for 35-40 minutes until the crust is lightly golden brown.
Let the strudel cool for a few minutes after it comes out of the oven and dust with powdered sugar.
Cut strudel into slices and serve.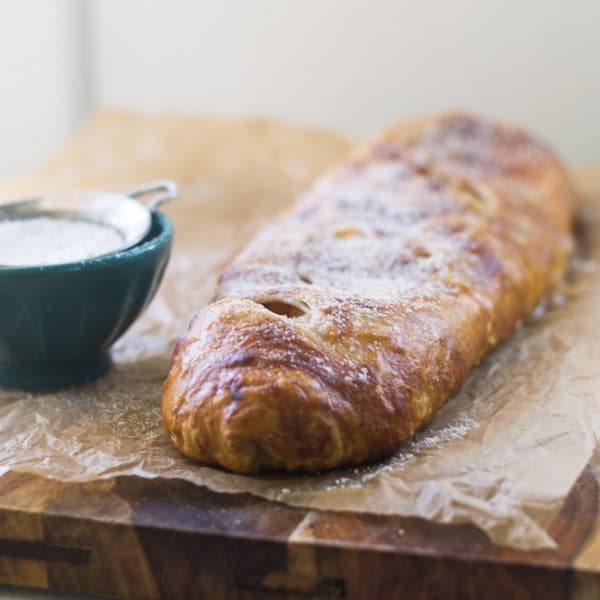 Easy Apple Strudel
LittleFerraroKitchen.com
Easy apple strudel is made with puff pastry and a thin layer of cream cheese for a touch of creaminess.
Instructions
First, pre-heat oven to 375 degrees F.

In a large bowl, add the apples, sugar, cinnamon, vanilla, spices, salt, lemon juice and zest. Toss together and taste for seasoning. Set aside.

On a lightly floured surface, unfold puff pastry and use a rolling pill to gently roll it out a bit thinner. Lay the puff pastry horizontally in front of you and spread the softened cream cheese towards the bottom ⅔ in an even thin layer.

Gently pour the apples over the cream cheese, making sure no apples are poking out and any liquid is left in the bowl.

Fold the top off of the puff pastry over the apples making a tight seal and place seam side down. Pinch and tuck the ends of the puff pastry under the strudel. Place on non-stick baking sheet.

Lightly whisk the egg with a splash of water and brush egg-wash all over the strudel. Use a knife to cut small slits into the puff pastry.

Bake at 375 degrees F for 35-40 minutes. Check strudel at 30 minutes and if it is browning on the top too quickly, cover with foil and continue baking.

When done, remove from oven and allow to cool for 10 minutes, then dust with powdered sugar.
Notes
Oven temperatures may vary, so check strudel at about 30 minutes for browning. If puff pastry is undercooked, cover with foil and continue baking until cooked through.
Nutrition
Calories:
291
kcal
Carbohydrates:
32
g
Protein:
4
g
Fat:
17
g
Saturated Fat:
6
g
Polyunsaturated Fat:
2
g
Monounsaturated Fat:
8
g
Trans Fat:
1
g
Cholesterol:
36
mg
Sodium:
131
mg
Potassium:
140
mg
Fiber:
3
g
Sugar:
14
g
Vitamin A:
261
IU
Vitamin C:
10
mg
Calcium:
31
mg
Iron:
1
mg
Did you make this recipe?
Let us know by leaving a comment and 5 star rating!