One Pot Mediterranean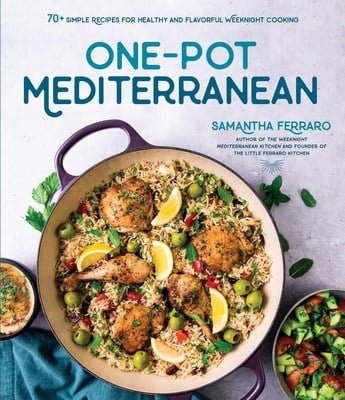 About the Book
One Pot = Dozens of Fresh & Delicious Dinners
Grab your Dutch oven and dive into the most wholesome, flavor-packed recipes the Mediterranean has to offer. Whip up dishes that are packed with seasonal vegetables, tender meats and healthy grains, all slow-cooked in classic Mediterranean spices—and in just one pot! A bonus chapter of vibrant, crisp salads will complete your Mediterranean meal with that perfect pop of freshness. Take a journey with these approachable and nutritious recipes, including:
Cardamom Chicken Thighs with Basmati Rice and Pine Nuts
Greek-Inspired Shrimp with Olives, Tomatoes and Feta
Lemony Za'atar Chicken and Potatoes
Turmeric-Braised Short Ribs with Red Wine and Dates
Persian Lentil Meatballs in Saffron Broth
Herby Rice and Almond-Stuffed Zucchini
Creamy Mascarpone Polenta
Welcome the zesty flavors of the Mediterranean into your kitchen because with one pot and an easy cleanup, healthy eating has never been simpler.