Today I have something delicious, healthy and somewhat new to me. A few months  I discovered a new type of couscous and fell in love. See, I am a big texture kinda person and am overly sensitive with how things "feel", literally. I noticed this wonderful characteristic of myself when I first tried sea urchin. I did not want to insult the Chef and am always open to new foods and tastes, but the urchin got to me. It tasted just like fresh salt water, which is fine, however the cold, slimey and tongue-like feel caught me by surprise. Instead of gasping in fear, I collected my emotions and..I..uhh.."finalized" my fresh piece and illustrated a quirky smile after I tried the sea creature. It was an experience and I am glad I am able to tell a story, however, I doubt I will try that again.
As far as my new treat, Israeli couscous is different than the more common sister. This one looks like small round pearls and has more of a pasta texture, which I love. The couscous kernels soak up anything that it is in contact with, such as dressings and any flavors you want to pair with and it also tastes delicious warm or cold.
So for this new ingredient, I decided to pair it with sweet roasted cherry tomatoes and zucchini (well, because that's what I had on hand). I made a simple balsamic vinaigrette because its amazing with cooked vegetables and tossed everything together. This salad was unbelievable. The couscous soaked up the dressing and the cherry tomatoes burst in your mouth. In fact, I could eat cherry tomatoes 24 hours a day and be happy. It's an addiction…tomatoes. I'm obsessed.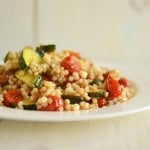 Print Recipe
Israeli Couscous with Roasted Vegetables
Ingredients
1

cups

Israeli couscous

uncooked

1 3/4

cup

vegetable broth

2

zucchini

peeled and cut in 1 in cubes

1

lb

cherry tomatoes

1/2

onion

cut into smaller quarters

2

garlic cloves

chopped

Olive oil

for drizzling

Salt and pepper

to taste
Balsamic Vinaigrette
1/4

cup

olive oil

2

Tb

balsamic vinegar

1

tsp

Dijon mustard

Salt and pepper

to taste
Instructions
Toss vegetables, onion and garlic on a foil lined baking sheet with olive oil, salt and pepper. Roast at 400 degrees for about 40-45 minutes until tomatoes begin to burst.

In a medium pot, drizzle olive oil and add couscous. Allow to toast for a few minutes.

Add broth to couscous and bring to a boil, then lower all the way to low and allow to simmer for about 15 minutes.

To make the vinaigrette, combine all dressing ingredients in a jar and shake until mixed well.

*You may have extra dressing leftover, depending how wet or dry couscous is.

When vegetables are done, toss everything together in a large bowl. Can be served at room temperature.
I also wanted to remind you that I still have a Giveaway going on at my Facebook Page! The Le Creuset Wine Aerator is one of my favorite gadgets and I want to share it with one of my readers. So please enter the Giveaway!