Peach caprese tart is what summers are made for! Thinly sliced peaches and heirloom tomatoes are layered on top of puff pastry with generous slices of mozzarella. The puff pastry makes this tart a breeze but there are a few steps to do beforehand to ensure a crisp buttery crust. Once finished, garnish the tart with reduced balsamic, basil oil and fresh herbs.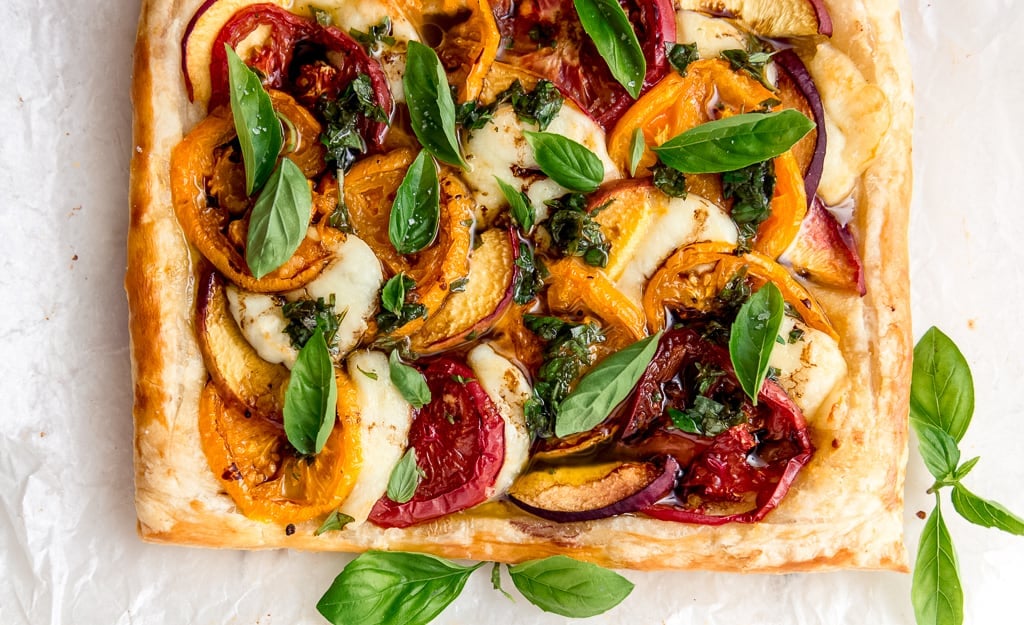 I have to admit that this may have been one of the more delicious things I've made recently Once tomatoes are in season, it's all over! I happily horde heirlooms for as long as I can and cherish this season to the best of my ability.
Caprese Tart with Peaches
Similar to the beloved salad, slices of heirloom tomatoes are layered with low moisture mozzarella (more on this later) and sliced peaches. The combination of stone fruit and heirloom tomatoes is addictive and offers a sweet savory bite.
After everything is baked and cheese has melted, garnish with fresh basil, reduced balsamic (this one is my favorite or a sweet balsamic glaze will work too and basil oil.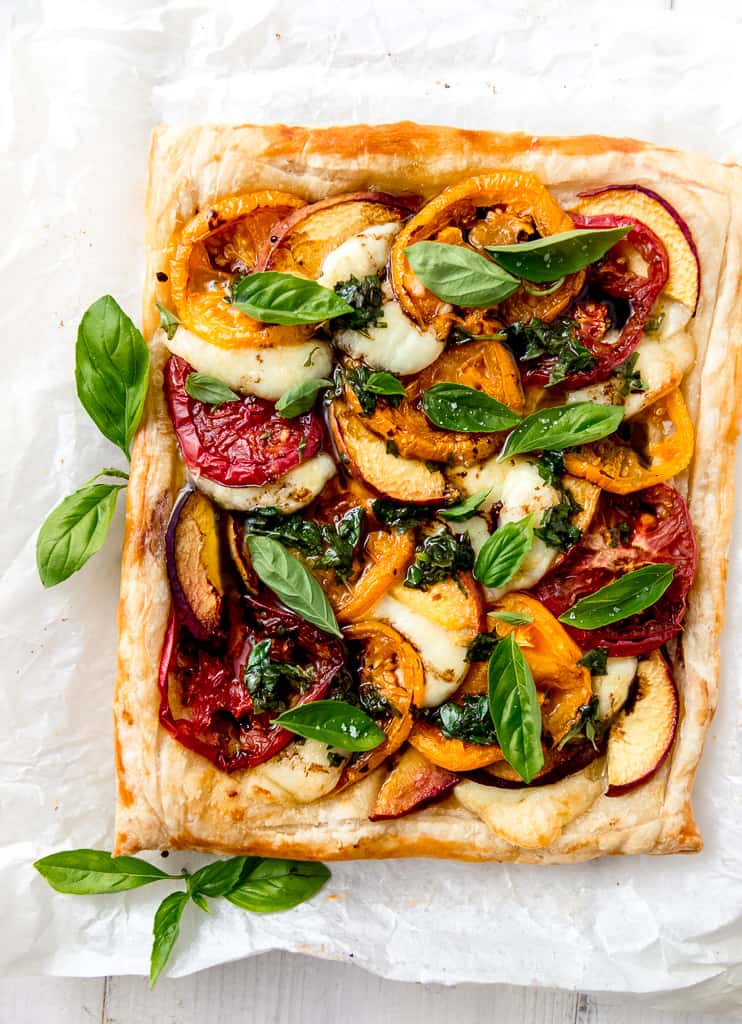 A Few Tips for Baking Tomatoes with Puff Pastry
Tomatoes and puff pastry do not cook at the same rate and since tomatoes have a lot of water, they can make the bottom of the puff pastry soggy and undercooked. Even though this caprese tart is fairly simple to put together, there are a few things to prep before hand to ensure a crisp buttery crust.
Slice tomatoes and place them on top of several layers of paper towels. Sprinkle with salt and let them sit while you prep the other ingredients.
Pre-bake puff pastry at 4oo degrees Fahrenheit until very lightly pale/golden brown. It will puff up at first but then deflate. This gives the bottom of the tart a head start.
Use low moisture mozzarella to prevent excess moisture.
If the crust is browning too quickly, cover with foil for the last few minutes.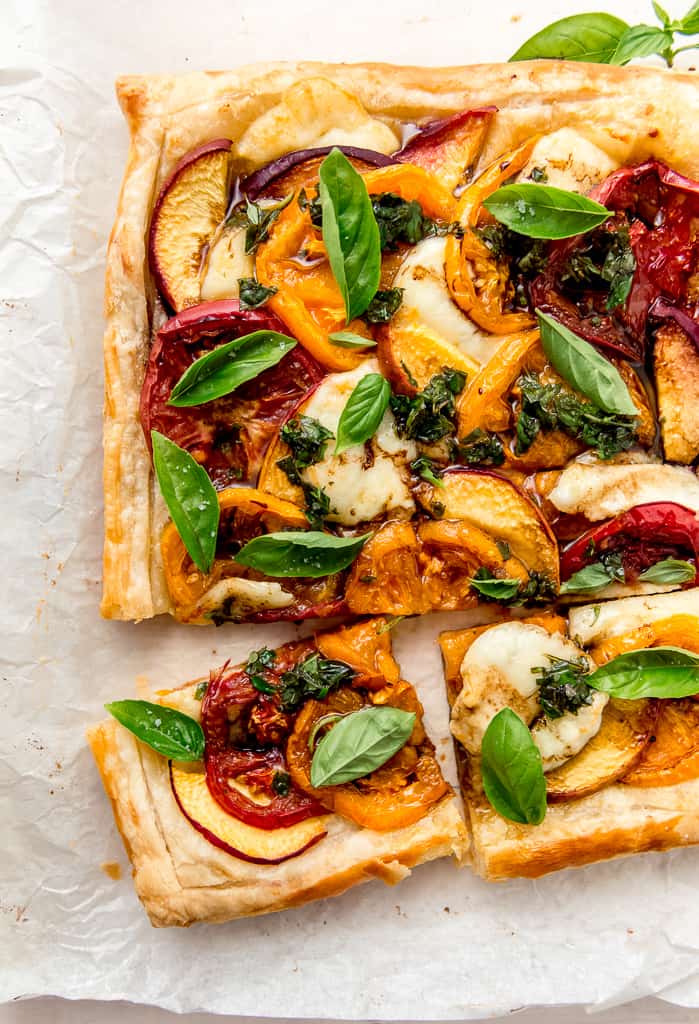 Other Delicious Tomato Recipes:
Peach Caprese Tart
LittleFerraroKitchen.com
Ingredients
Peach Caprese Tart
Flour

for dusting

1

sheet puff pastry

thawed

3

medium sized heirloom tomatoes

cut into ¼ inch slices

1

peach

sliced thin

6

ounces

low moisture mozzarella

Olive oil for drizzling

for drizzling
Instructions
Pre-heat oven to 400 degrees Fahrenheit.

On a lightly floured surface, unfold puff pastry and dust with flour on top. Use a rolling pin to gently roll pastry so it is a bit thinner.

Line a 9 x 13 sheet pan with parchment paper and place puff pastry onto pan. If there is excess dough hanging, cut it off so the pastry sits in the pan nicely.

Use a knife to score a half inch border around the pastry and use a fork to dock holes all over the middle of the pastry. This will help prevent puffing up. Pre-bake puff pastry for 10 minutes until just starting to cook through. Once done, remove from oven and let cool for 15 minutes. The pastry will have puffed but will deflate as it settles.

Meanwhile, place sliced tomatoes on a paper towel lined plate and sprinkle with salt. Let tomatoes sit for at least 20 minutes. Once ready, press the tomatoes with more paper towels to grab as much moisture as you can.

As soon as the pastry is cool enough to the tough, layer sliced tomatoes, peaches and mozzarella onto the tart. Drizzle with olive oil and sprinkle everything with salt and bake for 25-28 minutes, until the pastry is lightly golden brown.

While tart bakes, make the basil oil by blending olive oil and basil leaves together. Once tart is finished baking, remove from oven and let cool for 5 minutes.

Garnish caprese tart with basil oil, balsamic glaze and fresh basil leaves.
Notes
Use any variety of tomatoes, just be sure to drain and press with paper towels to remove excess moisture. 
If top of pastry is baking too quickly, cover with foil for the last 10 minutes. 
I used buffalo mozzarella in this recipe but cow milk mozzarella will work very well. 
Nutrition
Calories:
411
kcal
Carbohydrates:
24
g
Protein:
11
g
Fat:
30
g
Saturated Fat:
8
g
Polyunsaturated Fat:
3
g
Monounsaturated Fat:
17
g
Cholesterol:
15
mg
Sodium:
290
mg
Potassium:
251
mg
Fiber:
2
g
Sugar:
4
g
Vitamin A:
871
IU
Vitamin C:
10
mg
Calcium:
223
mg
Iron:
1
mg
Did you make this recipe?
Let us know by leaving a comment and 5 star rating!