Just one more tomato recipe, I say. One last summer-hurrah as we welcome the falling leaves and growing gourds. This will be the first fall I experience with the changing foliage in nearly 20 years. But first, one last summer recipe, to bid adieu accordingly.
I thought this would be a proper farewell to summers end. And it was a glorious summer. We moved up to the Pacific Northwest, went camping (in a REAL tent), went apple, raspberry, strawberry and blueberry picking and ate out hard earned work all summer long. Farmers markets were frequent, ferry rides and island hopping. Grilling everything and anything we can find, and of course, inhaling our weight in heirloom tomatoes.
Keeping it classic, this bread recipe couldn't be simpler and thanks to some inspiration, came together fairly quickly. I imagine all sorts of toppings and additions…preserved lemons and olives? Capers and eggplant? I'll let your taste buds decide, but really the toppings and creativity are endless.
So before we obsess with pumpkin all the things and sweat pants in lieu of shorts. Lets welcome the changing season with a nice bridge into fall. Sweet summer heirloom tomatoes nestled into a pillow of delicious carbs, freshly torn basil leaves and a healthy drizzle of olive oil, herbs and salt. Summer, you were great, but I can't wait for you, fall!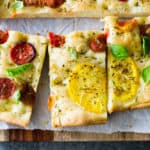 Print Recipe
Heirloom Tomato Focaccia
Ingredients
1

cup

warm water

2

Tb

sugar

1

packet yeast

1/4 ounces

4

cups

all purpose flour

sifted

2

tsp

salt

1/4

cup

olive oil + more for topping

Sliced heirloom tomatoes

various sizes and colors

3

garlic cloves

thinly sliced

Fresh rosemary and thyme

leaves removed and finely chopped

Salt and pepper

to taste
Instructions
Begin by adding warm water and to a large mixing bowl (or your stand mixer bowl) and adding the yeast and sugar. Use a fork to mix and allow to rest for about 10-15 minutes so the yeast can activate. It should get foamy with little bubbles.

Next slowly add the flour and salt and using a dough hook on your stand mixer, begin mixing everything together.

Next, drizzle in 1/4 cup olive oil and continue mixing/kneading for about 10 minutes. The dough should be well combined and slightly sticky.

Once done, brush olive oil all over a large cookie sheet and turn the dough onto the sheet. Use oiled hands and stretch the dough so it fits the sheet and use your fingers to make deep dimples all over the dough.

Next, add sliced tomatoes and garlic all over, gently pressing down into the dough. Sprinkle with chopped herbs and season with salt and pepper and another drizzle of olive oil. Then cover with plastic wrap and allow to rest for about 40 minutes.

When ready, pre-heat oven to 425 degrees F and bake focaccia for about 25 minutes or until the edges are golden brown.

Once done baking, remove fro oven and allow to cool slightly before cutting into.