Heirloom tomato and garlic focaccia is the perfect addition for your summer dinner plans. Sweet heirloom tomatoes are nestled into a pillow of delicious carbs and garnished with freshly torn basil leaves and a healthy drizzle of olive oil, fresh herbs and flakey sea salt.
What is Focaccia?
Focaccia is an Italian flatbread, with similar ingredients to pizza dough. Focaccia is often made with a healthy amount of olive oil and herbs and can be topped with all sorts of different toppings.
Ingredients:
The base of focaccia welcomes creativity and seasonal ingredients. Roasted garlic and herb focaccia is another classic flavor combination and I have plans on making focaccia with different toppings such a olives, preserved lemons, zucchini and sundried tomatoes.
Active Dry Yeast: I often buy these in the ¼ ounce packet size and this recipe calls for 2 packets. I have also made this with rapid rise yeast, which works great.
All Purpose Flour: We like King Arthur flour and have never had any problems with texture or quality.
Salt: Both Kosher salt and a flakey sea salt such as Fleur de Sel are used in this focaccia recipe. The Kosher salt is added as the dough is being made and the flakey salt is reserved for garnishing and texture.
Heirloom Tomatoes: Heirloom tomatoes are often sweeter and less acidic than other varieties. Have fun with the shapes, color prep the tomatoes and sizes to add a visual and flavor contrast. Be sure to prep the tomatoes before topping the focaccia, by blotting anh excess moisture to present a soggy bread.
Garlic: Slices of fresh garlic are nestled onto the focaccia along with the tomatoes. You could also roast the garlic as well.
Fresh Herbs: Thyme, rosemary and basil are added before baking. Fresh basil leaves are added after the bread is baked.
A Few Tips about Tomato Focaccia
The dough can be made ahead of time and proofed in the refrigerator for up to a day in advance.
Blot any excess moisture on the tomatoes before topping, to prevent a soggy dough.
Focaccia keeps well for up to 3 days, but would not recommend any longer as it will begin to dry out.
Recipes to Enjoy with Focaccia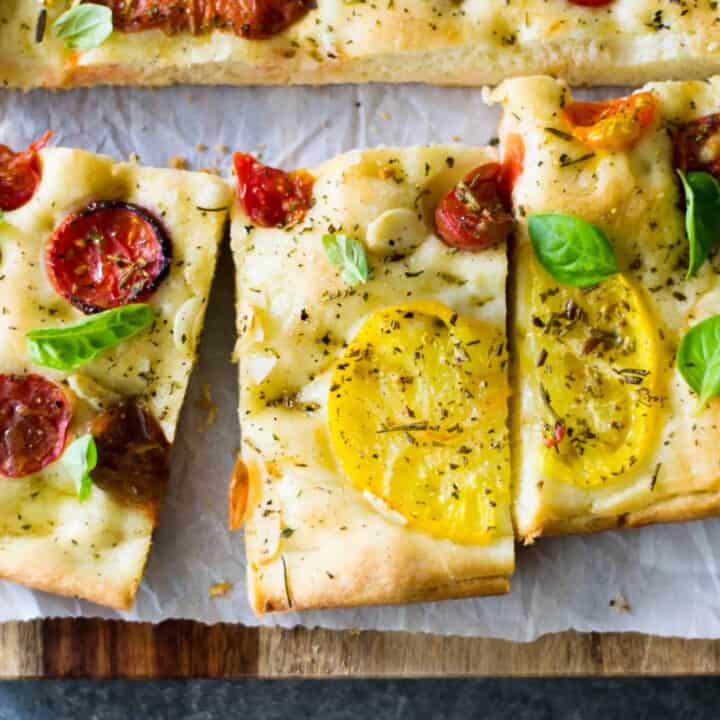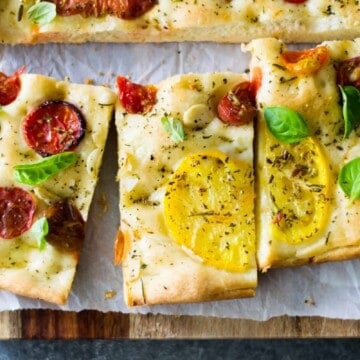 Heirloom Tomato and Garlic Focaccia
LittleFerraroKitchen.com
Heirloom tomato and garlic focaccia has slices of tomatoes and garlic nestled into savory focaccia bread with loads of fresh herbs.
Ingredients
Tomato Toppings
2-3

Heirloom tomatoes

various sizes and colors, sliced into ¼ inch slices

4

garlic cloves

thinly sliced

¾

cup

olive oil

1-2

stems

Fresh rosemary and thyme

leaves removed and finely chopped

2

teaspoons

Flaky sea salt

Basil leaves

for garnish
Instructions
Make the Dough: Add warm water and to a large mixing bowl (or your stand mixer bowl) along with yeast and sugar. Use a fork to mix, then rest for about 10-15 minutes so the yeast can activate. It should look foamy with little bubbles.

Attach a dough hook onto electric mixer and slowly add in the flour, salt and olive oil. Continue mixing until just combined and a ball of dough forms. Turn dough onto a lightly floured surface and knead for a few minutes until dough is smooth.

To make by hand, add flour to yeast mixture in batches and mix with a spatula, then knead with your hands to form a cohesive mass, this could take up to 10 minutes.

Let Dough Rise: Place dough into a lightly oiled bowl, turning so all sides are lightly covered with oil. Place a sheet of plastic wrap on top and let rise in a warm spot until doubled in size, about 1 ½ hours.

Prep the Tomatoes: While dough proofs, place sliced tomatoes on a paper towel lined plate and lightly sprinkle with salt to help draw out excess moisture. Use another sheet of paper towel to blot as needed.

Turn Dough onto Baking Sheet: Once focaccia has doubled in size, remove plastic wrap and gently punch down the dough to deflate. Oil a cookie sheet with 2-3 tablespoons of olive oil and turn the dough onto the sheet.

With oiled hands, gently stretch the dough so it reaches the edges of the cookie sheet. Use your fingers to press in deep dimples into the dough.

Garnish Dough: Add sliced tomatoes and garlic all over the top of the dough, gently pressing down into the dough. Sprinkle with chopped herbs and season with salt and remaining olive oil.

Let Dough Rise Again: Cover dough with plastic wrap and rise for another about 30 minutes.

Pre-Heat Oven: While dough proofs for a second time, pre-heat oven to 425 degrees Fahrenheit.

Bake: Bake focaccia for about 35-40 minutes or until the edges are golden brown.

Once done baking, remove from oven and allow to cool for at least 15 minutes before serving. Garnish with fresh basil leaves, if desired.
Notes
The size of cookie sheet used in this recipe is 9 x13. 
You can make the dough ahead of time and let it proof overnight or all day in the refrigerator.
Dough Recipe adapted from 
Lidia Bastianich
Nutrition
Calories:
326
kcal
Carbohydrates:
41
g
Protein:
6
g
Fat:
15
g
Saturated Fat:
2
g
Polyunsaturated Fat:
2
g
Monounsaturated Fat:
11
g
Sodium:
780
mg
Potassium:
110
mg
Fiber:
2
g
Sugar:
1
g
Vitamin A:
173
IU
Vitamin C:
3
mg
Calcium:
14
mg
Iron:
3
mg
Did you make this recipe?
Let us know by leaving a comment and 5 star rating!