Slow roasted tomatoes are cooked with olive oil and garlic and served with a bright basil oil and creamy burrata.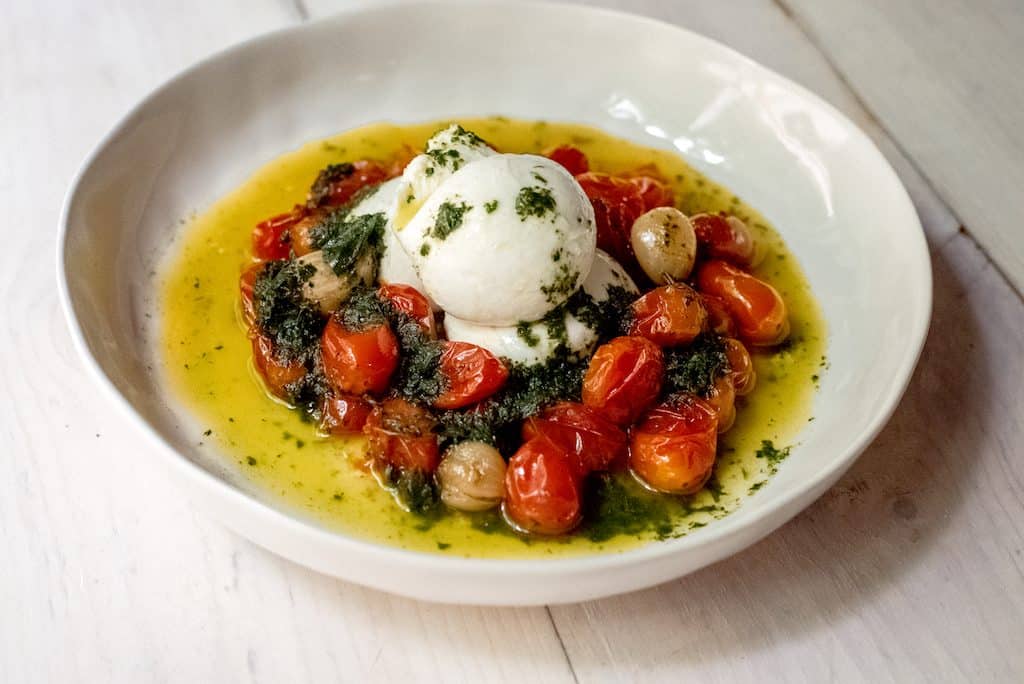 This recipe is consistently on the weekday rotation. It's one of those, 'not really a recipe-recipe" and for years, I've just been throwing this together so quickly and easily, I finally took the time to measure. And really, at that, there is not much measuring.
A few weeks ago I shared this same exact recipe for roasted tomatoes and the most incredibly easy basil oil on my Instagram page and I was quite surprised with the positive and excited responses I got! And I can see why.
Roasted Cherry Tomatoes with Garlic
Sweet cherry tomatoes are roasted in a good amount of olive oil with whole garlic cloves. The garlic cloves soften and sweetens to the most incredible savory sweet candy and I can go through the entire bulb when it's cooked this way.
The olive oil takes on the tomato and garlic flavors and trust me when I say to make sure you have extra bread for the incredible sopping experience. I like to save the rest of (if there is any) infused olive oil and use it for another salad or toss with pasta.
And if you're looking for other recipes to use roasted tomatoes...
Add them to grilled pizza and drizzle that delicious infused oil on top. Or stuff the roasted tomatoes with basil oil into a calzone.
The basil oil is an addiction on it's own. Use it to drizzle over avocado and basil bruschetta or with Italian peppers and onions.
And if you have an extra ball of burrata around, definitely add some to a squash flower pizza!
Roasted Tomatoes with Basil Oil and Burrata
LittleFerraroKitchen.com
Slow roasted tomatoes are cooked with olive oil and garlic and served with a bright basil oil and creamy burrata.
Instructions
Preheat oven to 400 degrees Fahrenheit and add cherry tomatoes and garlic cloves to a small baking dish.

Pour in enough olive oil to generously coat everything and season with salt and pepper.

Roast tomatoes for about 40 minutes, until garlic cloves soften and cherry tomatoes begin to char. Once, done, remove from oven and allow to cool for a few minutes.

While tomatoes are roasting, make the basil oil by blending together the olive oil, lemon juice and basil leaves. Blend everything togetehr thoroughly and there are no large basil pieces left. Taste for seasoning and adjust as needed.

To serve, place burrata in the center of a bowl and add roasted tomatoes and garlic around the cheese. Drizzle basil oil on top and a sprinkle of sea salt. Serve with crusty grilled bread.
Nutrition
Calories:
771
kcal
Carbohydrates:
12
g
Protein:
3
g
Fat:
81
g
Saturated Fat:
11
g
Cholesterol:
1
mg
Sodium:
29
mg
Potassium:
540
mg
Fiber:
2
g
Sugar:
6
g
Vitamin A:
1155
IU
Vitamin C:
58.7
mg
Calcium:
37
mg
Iron:
2.2
mg
Did you make this recipe?
Let us know by leaving a comment and 5 star rating!