What better way to celebrate Hanukkah, then with a colorful and fun latke bar with all sorts of toppings to choose from! Some favorites are brisket topped latkes with romesco sauce and latkes topped with creme fraiche, lox and caviar. Have fun mixing and matching all of the latke toppings, but the real question is, what would you top your latke with?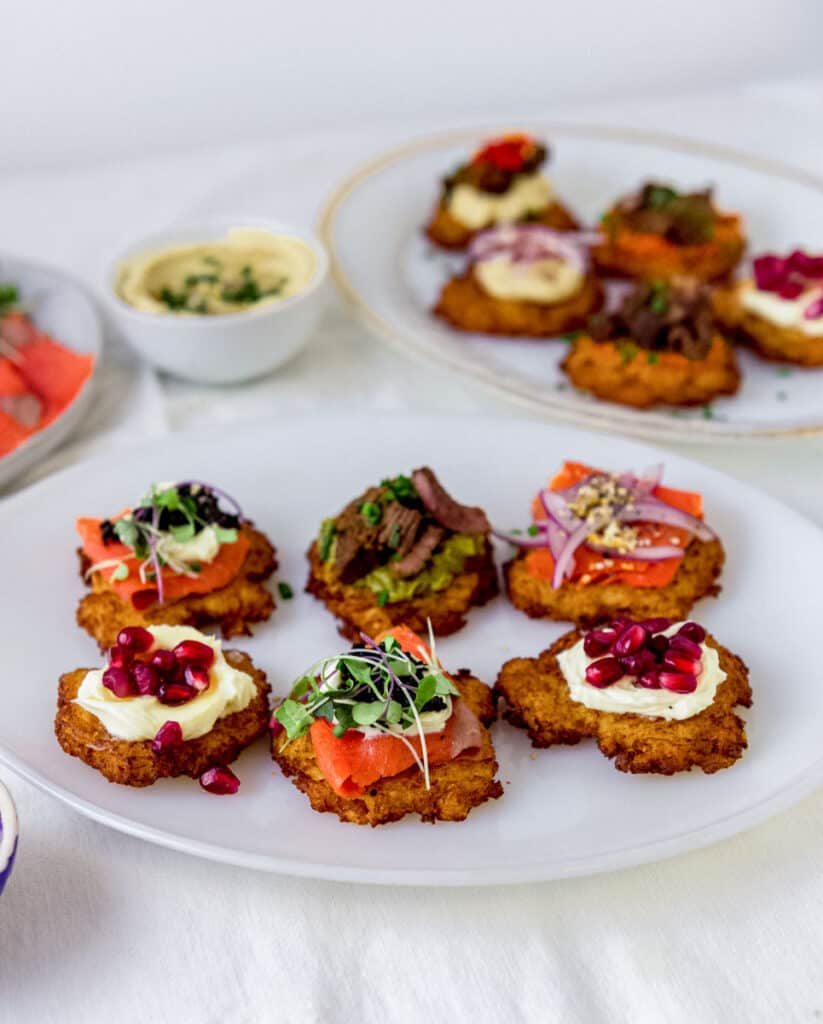 Hanukkah is one of my favorite holidays to cook for! I have so much fun creating a different type of latke with different vegetables and toppings every year. Some of my favorites might be these hatch chile and cheddar latkes and purple sweet potato latkes with kimchi, which are a fun twist to the traditional potato latkes.
Latke Bar
A few years ago I hosted a latke party and made a full on latke bar with all the toppings and lots of Fun Latke Recipes like these, It was so much fun! I used my mom's crispy potato latkes recipe as a base and had all sorts of toppings to choose from, such as creme fraiche or sour cream, lox, different salts such as truffle salt and had guests build their own latke!
Hot Tip: I took advantage of my grocery stores hot bar and salad bar to help with some of the toppings and make the prepping even easier.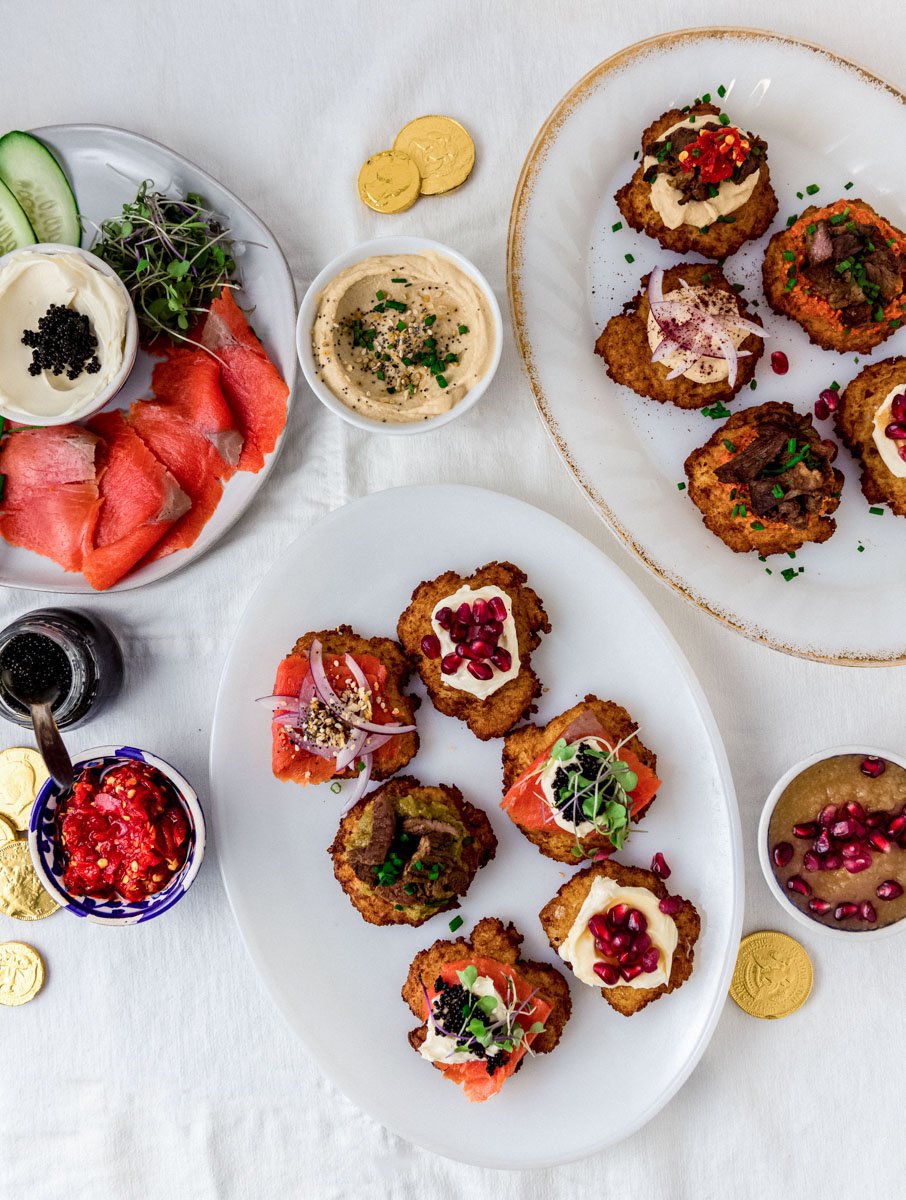 Favorite Latke Toppings
The possibilities are endless, but here are some of my favorite latke toppings for inspiration.
Brisket + Guacamole + Cilantro
Lox + Pickled Onions + Everything Bagel Spice
Salmon + Creme Fraiche + Caviar + Microgreens
Creme Fraiche + Pomegranate Seeds
Romesco Sauce + Brisket
Hummus + Pickled Onions + Sumac
Creme Fraiche + Apple Sauce + Pomegranate Seeds
Creme Fraiche + Lox + Cucumber
Hummus + Brisket + Calabrian Chiles
Creme Fraiche + Apple Sauce + Pomegranate Seeds
Hummus + Harissa
How to Set Up a Latke Bar
One of the reasons I love having a latke party so much, is because its colorful, fun and customizable.
Depending how many people you are having, make a batch or two of latkes ahead of time and chill or freeze until right before the party.
When making the latkes, keep them on the smaller, appetizer size.
When ready to assemble, heat your oven to 350 degrees Fahrenheit and place latkes on a lined baking sheet.
Bake latkes until warmed through and slightly crispy on the edges. *Note: Nothing compares to freshly fried latkes, but re-heating works great!
Assemble the toppings in various bowls and plates with a platter of hot latkes at the center.
Have your guests assemble their own latke and enjoy!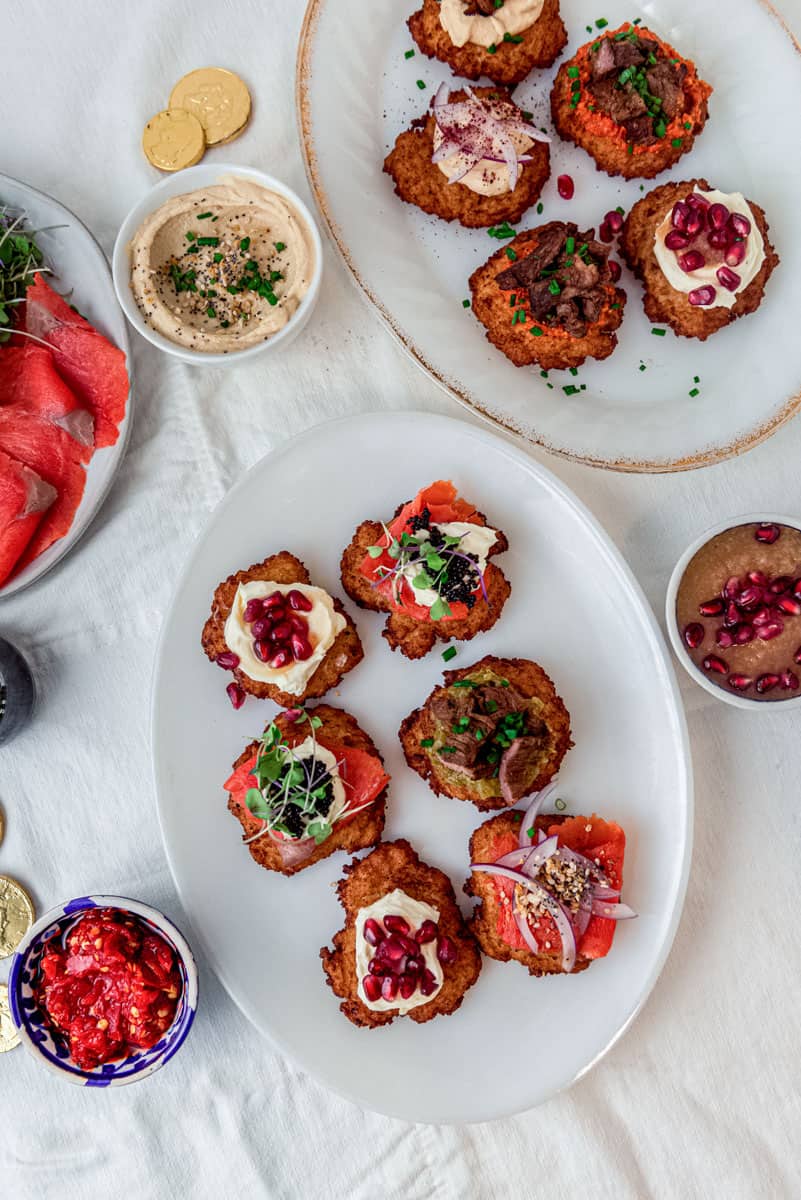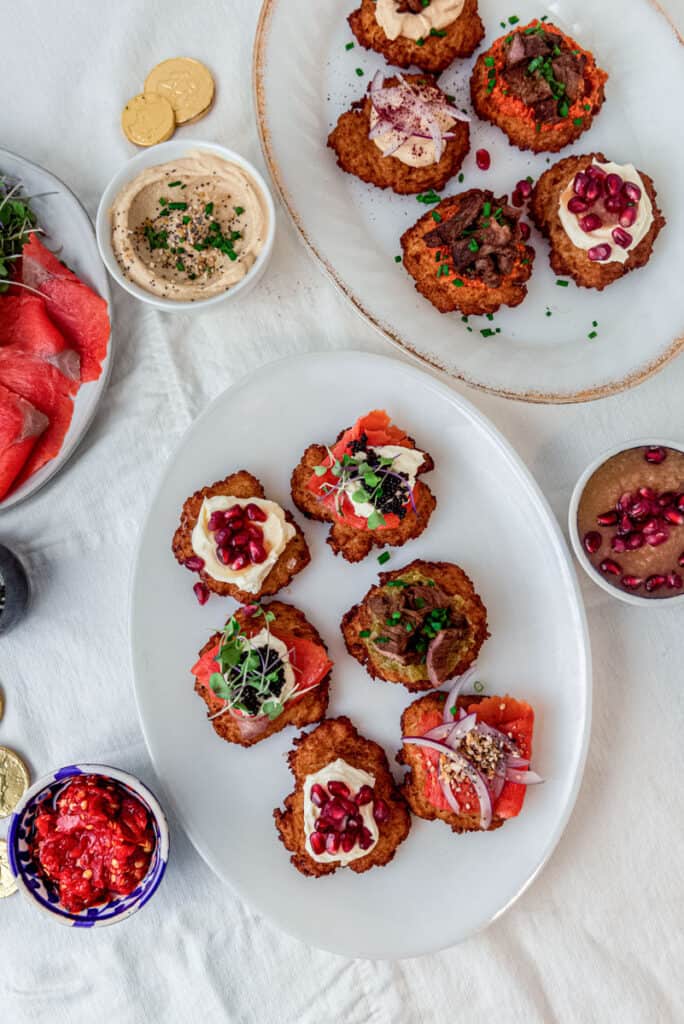 More Hanukkah Recipes to Try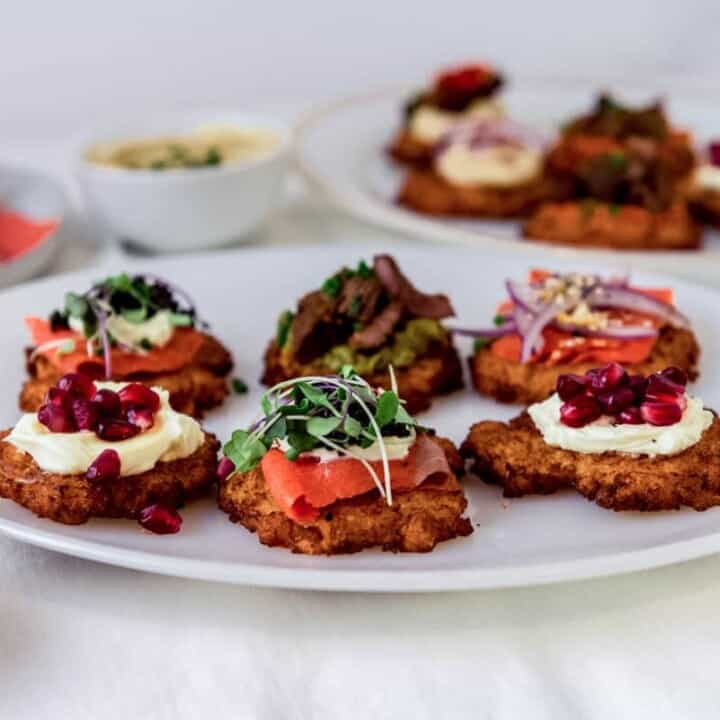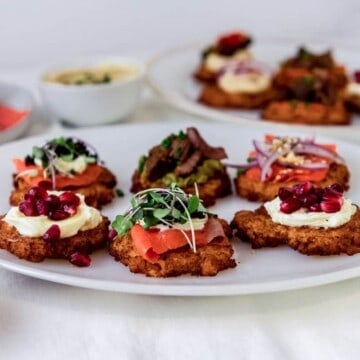 Latke Bar with Toppings
LittleFerraroKitchen.com
What better way to celebrate Hanukkah, then with a latke bar! Have a latke party with potato latkes and all sorts of toppings to chose from!
Ingredients
Latke Toppings
Creme Fraiche

Lox

Cucumber Slices

Microgreens

Pomegranate Seeds
Instructions
Potato Latkes
Using a food processor with a shred attachment, shred the potatoes, onion and zucchini. If you don't have one, a box grater with large wholes works great.

Working in batches, use a clean kitchen towel and take about a cup of the mixture and tie it up inside the towel and squeeze out as much liquid as possible.

Add the shredded vegetables to a large bowl, along with the eggs, matzo meal and Kosher salt and stir to combine well.

Heat wide skillet over medium heat and pour about ½ inch of vegetable oil in the pan and heat the oil so it comes up to 350 degrees Fahrenheit. Use a large regular tablespoon to scoop up the latke mixture and carefully place it in the hot oil, frying 3-4 latkes at a time.

Fry the latkes on first side for 3-4 minutes and then flip over and fry other side for another 3 minutes, until golden brown on both sides.

Transfer fried latkes onto a wire rack to drain any excess oil and immediately sprinkle with salt while the latkes are still hot.

Serve latkes with assorted garnishes and toppings.
Notes
Latke mixture yields about 10-12 latkes, depending on the size, make them smaller to yield more. 
When frying, look for the crispy edges, then flip over. 
Cooked latkes can be made ahead and re-heated in the oven until warmed through.
Don't add toppings until you are ready to serve, as some of the toppings can make the latkes soggy. 
To make latkes gluten free, substitute potato starch or gluten free flour blend for the all purpose flour. 
Nutrition
Calories:
100
kcal
Carbohydrates:
19
g
Protein:
4
g
Fat:
1
g
Saturated Fat:
0.4
g
Polyunsaturated Fat:
0.3
g
Monounsaturated Fat:
0.4
g
Trans Fat:
0.004
g
Cholesterol:
41
mg
Sodium:
119
mg
Potassium:
415
mg
Fiber:
2
g
Sugar:
2
g
Vitamin A:
126
IU
Vitamin C:
11
mg
Calcium:
24
mg
Iron:
1
mg
Did you make this recipe?
Let us know by leaving a comment and 5 star rating!