Every year I create a fun new latke recipe and this year I am blending my Jewish background with my Hawaii upbringing and sharing taro latkes with wasabi sour cream and poke. Not your traditional latke to say the least, but the combination of fried taro with spicy cream and poke is one not to be missed.
I am blending my background in latke form this year. You know how much I LOVE to create fun latke mashups every year. Do you remember my hatch chile latke with guacamole I did a  few years ago? Or one of my favorite latkes to fry, yucca latkes?
A Little Bit about Taro
I found a huge taro stump just like the ones my step dad grows back in Kona. Usually when I go to the store and see taro, it can be the small roots which are more difficult to shred into latkes for this reason.
If you're not familiar with taro, here is what it looks like being harvested. This was a few years ago in my moms backyard and we just steamed it simply with coconut milk.
However, taro is a starchy root and when squeezed of it's liquid (like you would do for latkes), it's milky and thick and the shredded taro will clump together. That's why I don't recommend putting it through the shredder attachment of your food processor, like I normally would for latkes.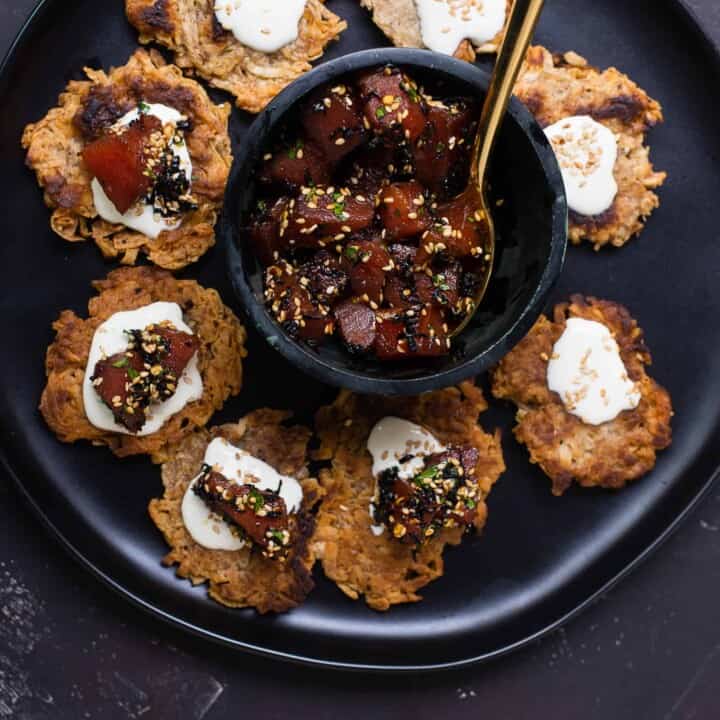 Print Recipe
Taro Latkes with Poke
Ingredients
Taro Latkes
3

cups

shredded taro

1

whole egg

1

tbsp

flour

1/2

tsp

salt + more for garnish

1/4

tsp

pepper

Canola or vegetable oil

for frying
Wasabi Sour Cream
1/3

cup

sour cream

1/2

tsp

wasabi powder or wasabi paste

or more if you like it hotter
Poke
5

ounces

sushi grade ahi

cut into 1/2 inch cubes

2

tbsp

shoyu soy sauce

1

tbsp

sesame oil

1

tbsp

sesame seeds

1

tbsp

seaweed

1

tsp

Hawaiian salt

1

tsp

red pepper flakes
Instructions
First make the taro latkes. Cut off the outter thick layer of taro and shred using a hand grater. (It's too starchy for food processor shredder).

Then combine shredded taro in a bowl with egg, flour, salt and pepper and mix to combine.

Heat a large cast iron skillet over medium-high heat with enough oil to coat the bottom. Use a tablespoon of mixture and gently add it to the hot oil. It should sizzle immediately once oil is ready. Fit about 4 latkes (depending on size of pan) and fry for about 3-4 minutes on each side until golden brown.

Reserve latkes to a paper towel lined plate and sprinkle with additional salt.

For the wasabi mayo, simply mix together the sour cream and wasabi paste. The sour cream will become thinner once whisked so stick it back in the fridge to firm up a bit if preferred.

To make the poke, simple toss all the poke ingredients together.

Assemble the latkes by dolloping sour cream on the latkes and then topping with poke.
Notes
I don't recommend using a food processor for the taro, instead use a box grater to grate taro because it is so starchy.
Nutrition
Calories:
99
kcal
|
Carbohydrates:
10
g
|
Protein:
5
g
|
Fat:
5
g
|
Saturated Fat:
1
g
|
Polyunsaturated Fat:
1
g
|
Monounsaturated Fat:
1
g
|
Trans Fat:
1
g
|
Cholesterol:
26
mg
|
Sodium:
551
mg
|
Potassium:
262
mg
|
Fiber:
2
g
|
Sugar:
1
g
|
Vitamin A:
465
IU
|
Vitamin C:
2
mg
|
Calcium:
37
mg
|
Iron:
1
mg