I think I'll get right to the point today.
I made hatch chile latkes. Ant they are pretty damn awesome.
The first time I had hatch chiles was with Joe's sister in Maryland. She used to live in New Mexico and one morning when visiting the Ferraro fam, she made scrambled eggs with hatch chiles. It was amazing. Creamy scrambled eggs with spicy green chiles all throughout! Now that she lives in Maryland, she has to order hatch chiles frozen from New Mexico..and I can see why…they are addicting!
And this is the amazing package that Hatch Chiles.com sent over! Addicting! A 2.5lb bag of chopped roasted chiles and another 2.5lb bag of whole roasted chiles. Half of the chopped bag is already devoured in every breakfast egg dish we have had over the last week. Addicting..I'm telling you!
So..hatch chile latkes. We don't always have to wait until December to enjoy these fried potato patties. I went with a Southwest flair and added chopped hatch chiles and shredded cheddar cheese to my mom's famous latkes. They fried up perfectly and each bite offered gooey cheese all throughout the latkes. To counter the spicy bite, I also made a quick hatch chile guacamole and garnished with fresh tomatoes and a healthy squeeze of lime. Spicy, cheesy, savory, creamy and fresh in every bite!
I still have plans for the rest of those hatch chiles. I'm thinking breakfast burritos, veggie burgers and lots of scrambled eggs!
Have you had hatch chiles and what do you add them to?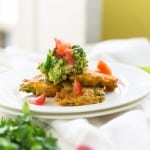 Print Recipe
Hatch Chile Latkes with Hatch Guacamole
Ingredients
Hatch Chile Latkes
4

russet potatoes

peeled and cut in quarters

1

onion

outer skin removed and cut into quarters

4

eggs

1

cup

hatch chilles

roasted and chopped,

1/2

cup

matzo meal

1

cup

cheddar cheese

shredded

Salt and pepper

to taste
Hatch Chile Guacamole
1/2

cup

hatch chiles

roasted and chopped finely

1

avocado

mashed

1/2

lime

juiced

Small bunch of cilantro leaves

chopped

Salt and pepper

to taste

Chopped tomatoes
Instructions
Using a food processor, attach a shredding blade to your food processor. Shred the potatoes and onion.

Use a clean dish towel and scoop about a cup of the vegetable mixture at a time and squeeze out the excess water. This is so important to squeeze out as much moisture as possible so you can get crispy pancakes. Place in a bowl.

Add hatch chiles, cheese, eggs, matzo meal and salt and pepper and mix thoroughly. The mixture shouldn't be too wet but be able to hold together well.

Heat a large skillet with oilm at about 370 degrees F. I test this out by place a small piece of potato in, if it sizzles immediately, it's ready. Also, if you'd like, test a small amount for seasoning.

Using a tablespoon, form latkes and fry on each side until golden brown.

When done, place on wire rack to cool and sprinkle with additional salt, if desired.

To make the hatch guacamole, add all ingredients to a bowl and mix well. Taste for seasoning.

Layer guacamole on top of latkes and garnish with like and chopped tomatoes.
A HUGE thank you to the guys over at Hatch Chile for sending me a beautiful box of frozen chiles! I loved that they were roasted and prepped already for me, so that I don't have to wait until they are in season here in Cali and roast a whole bunch myself!