Another beautiful rainbow to share today. Isn't mother nature just amazing? I am always in awe when I am gifted with beautiful natural colors like this. Red, orange and yellow mini bell peppers with bright green basil. I just can't get enough of it. Isn't mother nature amazing?
In anticipation for upcoming Brunchweek, Baloian farms sent a bunch of us (bloggers) beautiful bags of mini bell peppers. As far as Brunch week goes, that will be later in May where an entire week will be all for brunch…so stay tuned for that deliciousness.
I couldn't wait to use these gorgeous peppers and am quickly reminded that red bell peppers have nearly 3x the amount of Vitamin C than oranges do!
Italian style peppers and onions is an easy addition to an antipasto platter. Sweet and slightly caramelized, I often make roasted peppers and keep them in the fridge. Throw a few garlic cloves in and you have an instant sandwich topper and antipasto starter that sweetens every bite. This time instead, I fried pepper and onion strip and let them caramelize in the pan. The trick is to not move them around much because you want the heat to stick to the vegetables and brown ever so slightly. Put whole garlic cloves in first and let them infuse the oil and tan in color. The thinner you slice the onion, the sweeter it becomes. I also added a sprinkle of fresh oregano, red pepper and topped it with fresh basil.
I have to say this was inspiration from my favorite You Tuber, Laura in the Kitchen. She reminded me that roasted isn't the only way to go and I am so glad I fried these gorgeous rainbow strips up! We enjoyed them with an antipasto platter of artichokes and caprese salad and the next day threw the rest in some marinara we had for dinner which was a delicious and sweet addition.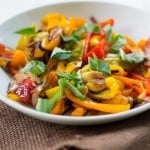 Italian Style Peppers and Onions
Ingredients
4

mini bell peppers

or 2 large bell peppers, seeded and sliced

1/4

red onion

sliced thinly

4

garlic cloves

skin removed

1

tsp

fresh oregano

roughly chopped

Pinch

red pepper flakes

Salt and pepper

to taste

Olive oil for drizzling

Few leaves of fresh basil

chopped
Instructions
Begin by heating a large non-stick skillet with olive oil and place the garlic cloves in. Allow the garlic to infuse the oil and begin to carmelize. This should take about 5 minutes.

Add the peppers, onions, oregano, red pepper and salt and pepper. Place on medium to medium-high heat and allow the vegetables to cook down. Try not to toss the vegetables around, but instead allow them to fry and change in color. This should take about 15 minutes.

Every so often, turn the vegetables and then let them fry on the other side.

When done, place vegetables in a serving plate and sprinkle with additional salt if necessary adn fresh chopped basil.