Roman style fried artichokes recipe inspired by the famous fried artichokes in the Jewish Ghetto in Rome. Baby artichokes are gently fried in olive oil and seasoned simply with sea salt and lemon juice.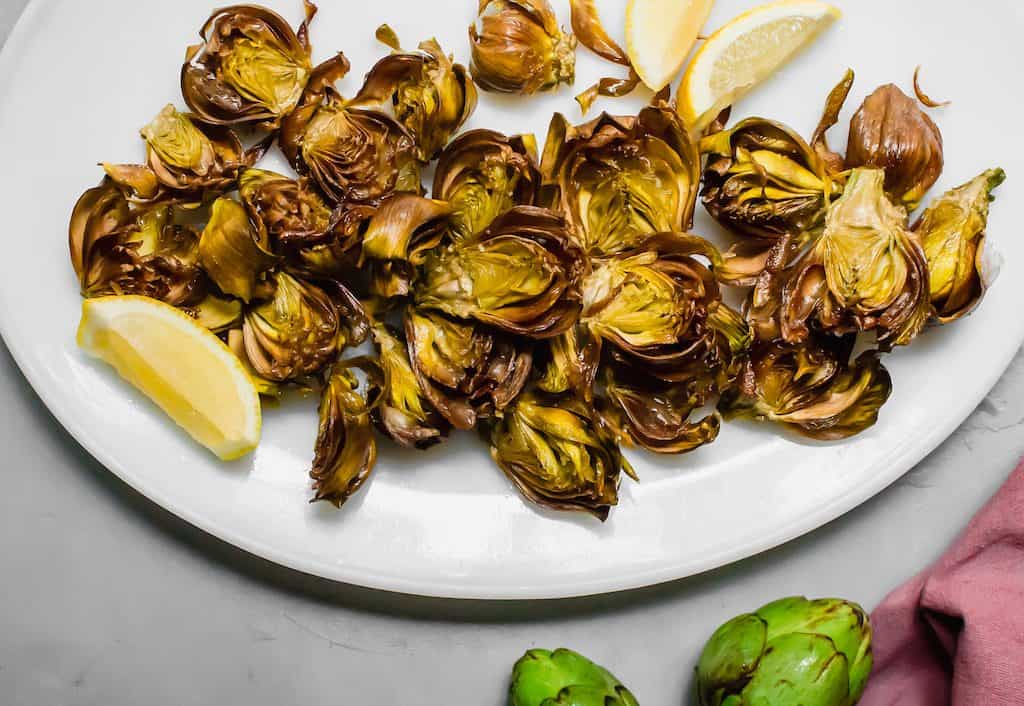 Oh if I still had the photo from our trip to Rome. One of the first places we had to go to was the Jewish Ghetto. A small village outside of the hustle of tourists.
On the agenda were their infamous Roman style or Jewish style fried artichokes and in Italian, called carciofi alla giudia, a recipe I am sure dating back to the 16th century! The only picture I have is in my memory.
A man sitting in front of the restaurant we had lunch at on a wickery wooden chair with piles of artichoke leaves around him. He was peeling the leaves off of, what looked like thousands of artichokes (I don't think it was..but you never know!) and prepping them with confidence and speed. I will never forget that moment. Nothing will compare to that experience, but here is my simple take on that moment.

How do you make carciofi alla giudia aka Roman fried artichokes?
Baby artichokes are used in this recipe but feel free to do the same for regular size artichokes, you would need to peel and cook a bit longer.
The big takeaway with these Roman fried artichokes is that the artichokes are fried in olive oil. Not common to fry in such a delicate oil, but when in Rome.... well, you know the saying.
Begin by peeling the outside leaves until you are left with the tender center, it will almost look like the shape of an endive. Cut in half and soak in lemon water to stop any browning. Then fry the artichokes in oil.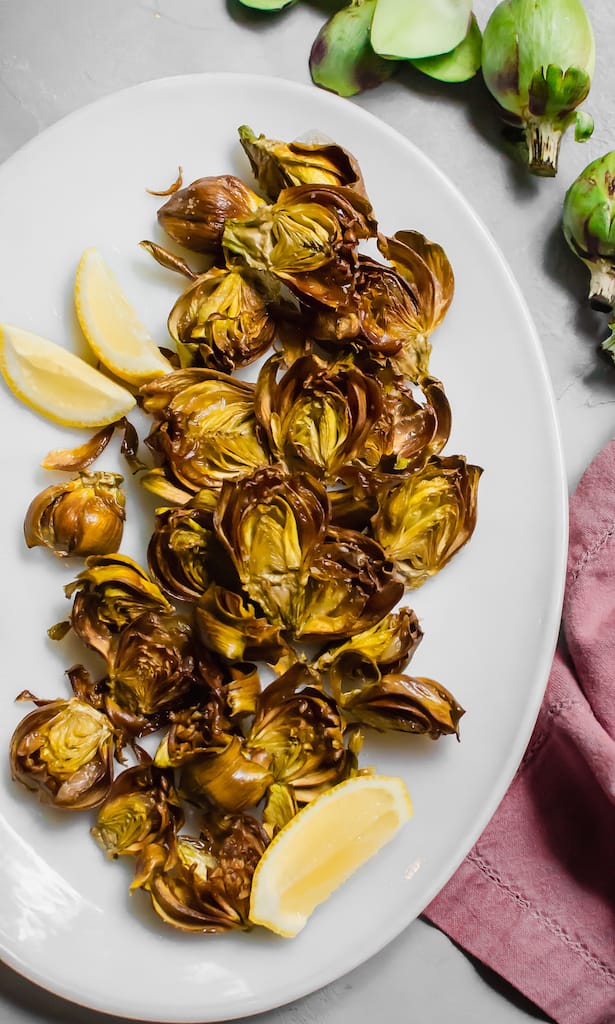 Once you make these Roman style fried artichokes, you will understand the fascination with them. Simple recipe made with the best ingredients. The olive oil doesn't make these fried artichokes heavy in any way, but gives off a beautiful floral note that other oils just can't offer.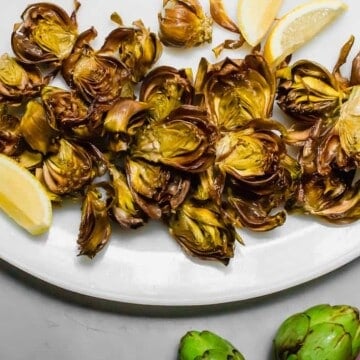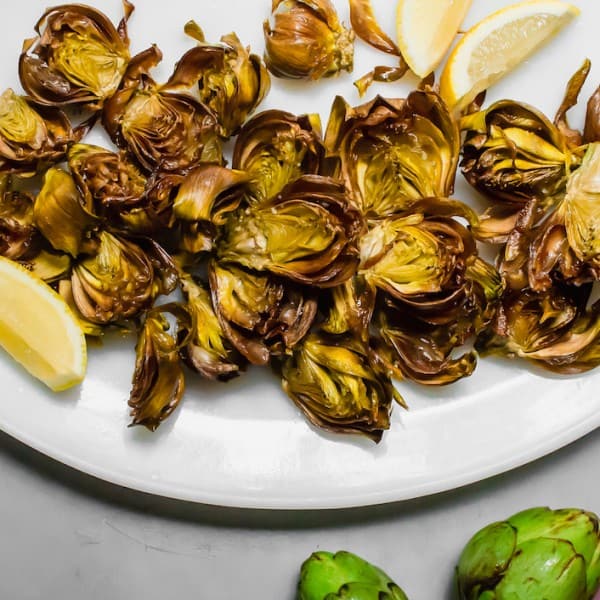 Roman Style Fried Artichokes
LittleFerraroKitchen.com
Roman style fried artichokes recipe inspired by the infamous fried artichokes in the Jewish Ghetto in Rome. Artichokes gently fried in olive oil and seasoned simply with sea salt and lemon juice.
Ingredients
Instructions
Begin by cleaning the artichokes by removing all the tough outer leaves and until you reach the tender and tight forming center.

Cut artichokes in half and place in bowl of water, squeezed with lemon juice and leave the lemon halves in the water. This will help slow down the browning.

Heat a medium sized pot with olive oil until it reaches about 350 degrees Fahrenheit. I also test it with a small piece of leaf and if it sizzles right away, it's ready.

Drain artichokes and put them dry as best as you can. Add about half the artichokes to the oil and fry for about 10 minutes, until the outsides are crisp. Do this in several bathes.

Once done, use a slotted spoon to remove the artichokes and drain on a paper towel. Season immediately with sea salt and serve with fresh lemon juice.
Nutrition
Calories:
615
kcal
Carbohydrates:
58
g
Protein:
17
g
Fat:
43
g
Saturated Fat:
6
g
Sodium:
570
mg
Potassium:
149
mg
Fiber:
27
g
Sugar:
10
g
Vitamin A:
4050
IU
Vitamin C:
66.3
mg
Calcium:
187
mg
Iron:
8.2
mg
Did you make this recipe?
Let us know by leaving a comment and 5 star rating!