This herb crusted boneless rib roast is the epitome of an impressive holiday main course! A boneless rib roast is slathered with a flavorful garlic and herb compound butter and roasted until charred and incredibly tender.
Boneless Rib Roast
I took to my husband for this recipe, as he's been making prime rib for years! The recipe and ingredients are simple, yet make for a truly impressive dinner experience.
This boneless rib roast is rubbed with a fresh and flavorful herb and garlic compound butter, then roasted on high to achieve that desired caramelized crust. After 15 minutes, the temperature is lowered so the rib roast finishes cooking low and slow and achieves a delicious juicy and tender product.
Because we usually serve boneless prime rib during the holidays, I like to keep it comforting and classic and serve a slice along side of mashed potatoes with roasted garlic and lemon roasted brussels sprouts.
Why You'll Love this Recipe
Simple and Easy Recipe to Prepare! Once you acquire the rib roast, the rest is a breeze.
Incredibly Flavorful! The garlic herb compound butter is easy to make, incredibly flavorful and versatile for other proteins such as a good roast chicken.
Impressive Main Course! A boneless rib roast is the standing ovation of any holiday meal!
Ingredients
Boneless Rib Roast: Also called standing rib roast, this is considered to be a premium cut of beef, hence the reason to cook it for special occasions, such as holidays. This recipe is uses a boneless rib roast, which is easier to slice, but you can also use a bone in rib roast.
Unsalted Butter: The base of the compound butter, use softened unsalted butter so you can control the amount of salt.
Fresh Parsley: Chop fresh parsley leaves well and add it to the softened butter. The fresh parsley gives the richer meat a fresh and flavorful layer of flavor.
Fresh Sage: Sage leaves have an earthier aroma and flavor that gives the compound butter a more complex and savory bite.
Garlic: Finely chop garlic or use a microplane to grate it finely. Don't be shy with the garlic and use a good amount, the rub roast can handle it!
Kosher Salt: This is a good hunk of meat and uses a good amount of Kosher salt.
Black Pepper: If you have a pepper grinder that has different settings, this is the time to grind black pepper to a course grind. As the roast cooks, the herbs and black pepper create a fantastic crust.
How to Cook Boneless Rib Roast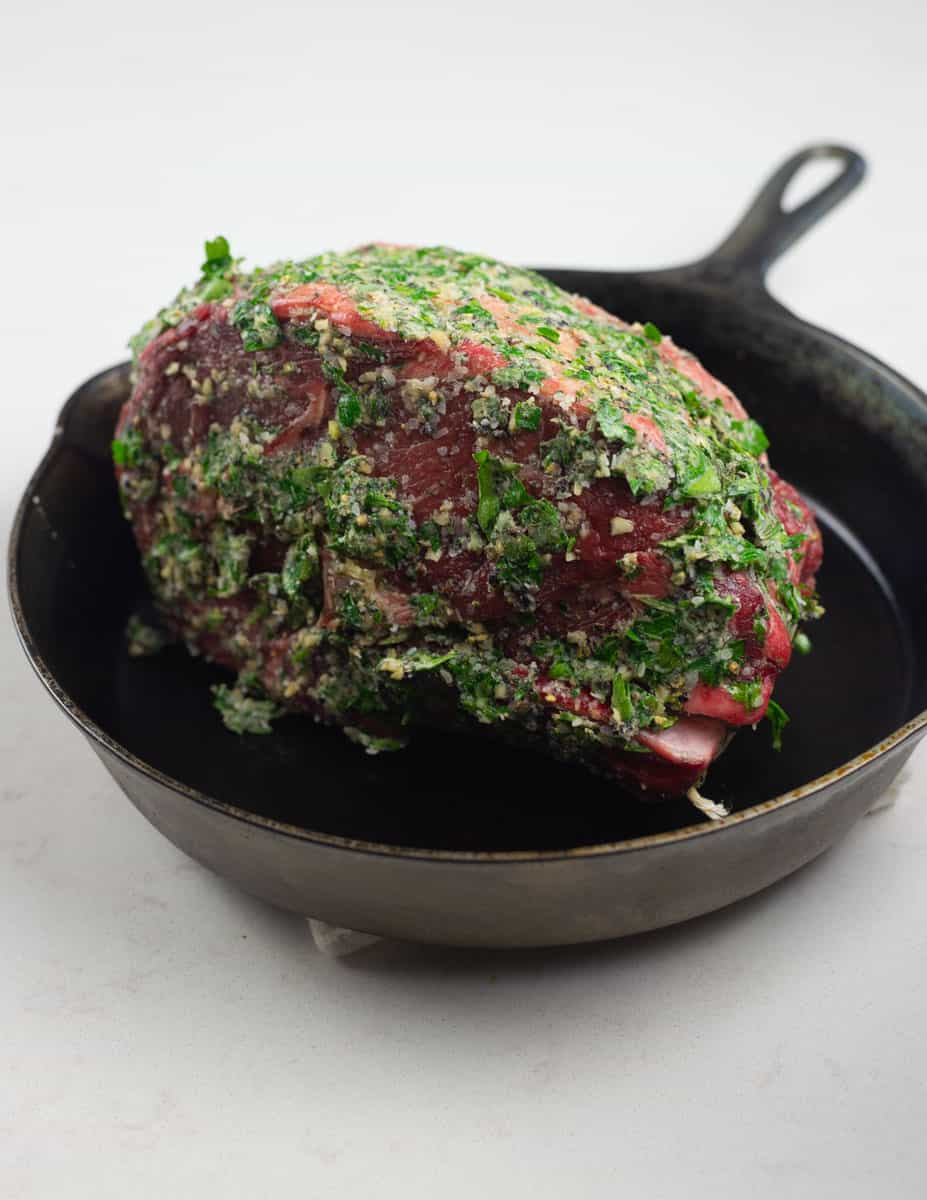 Make the Herb Compound butter. To a bowl, add the softened butter, chopped parsley, chopped sage, grated garlic, Kosher salt and coarsely ground black pepper and mix well so everything is incorporated evenly.
Dry the rib roast very well with paper towels, this helps the butter adhere to the meat better. Rub the herb compound butter all over the rib roast and place the roast in a cast iron skillet, fat side up.
Roast at 500 degrees Fahrenheit for 15 minutes, then reduce the temperature to 325 degrees Fahrenheit and continue cooking for 45-50 minutes or until the center reaches an internal temperature of 125 degrees Fahrenheit for medium rare. *Note: exact timing will depend on how many pounds your roast is, but rule of thumb is 13-14 minutes per pound for medium rare.
Remove roast from the oven and let the roast rest for at least 15 minutes before slicing.
Cut the roast into 1/2 inch slices and serve with your favorite side dishes.
What to Serve with Rib Roast?
Dollop or horseradish
Mix horseradish with sour cream and serve alongside