Classic tiramisu recipe layered with flavors of espresso and amaretto for an extra pop of flavor. Creamy, decadent and slightly nutty from the almond liqueur, this is a recipe everyone should have in their repertoire.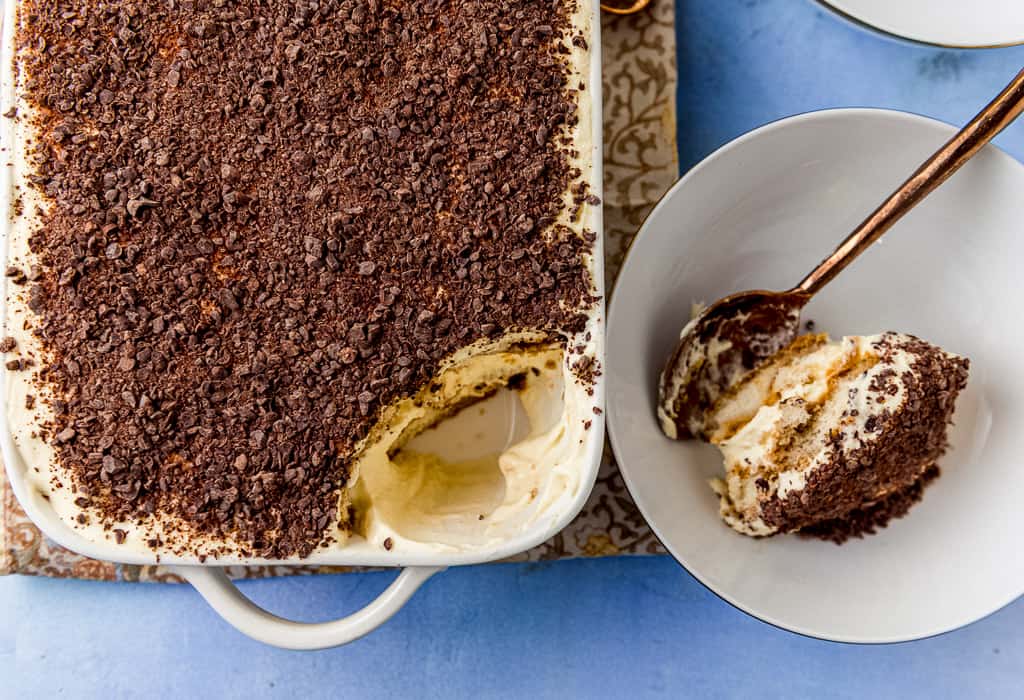 Tiramisu with Amaretto
This tiramisu recipe is one for a celebration!
There are several versions of tiramisu where the ladyfingers are dipped in either cognac, rum or kahlua, but the addition of nutty and smooth Amaretto takes the tiramisu recipe over the top.
Tiramisu with Sabayon
One of the steps is to make a sabayon- basically whisking egg yolks and sugar over a double boiler, which both cooks the eggs and thickens into the creamiest consistently. A very similar step is used when making a lemon souffle and I highly recommend doing this in lieu of whipping raw pasteurized eggs. The creamy texture and fluffiness is worth the extra step!
If you are looking for a tiramisu recipe without eggs, check out this recipe for egg-free tiramisu.
Must Need Ingredients for Amaretto Tiramisu
Large Eggs: the freshest ones you can find because the creamy yolks make all the difference!
VERY strong coffee: or brewed espresso: Cooled, this is the perfect time to keep leftover morning coffee.
Amaretto: Almond liqueur, I use Disaronno.
Vanilla Extract and Almond Extract: The almond extract compliments the amaretto and a little is all you need. You can also use all vanilla extract if that's what you have.
Mascarpone: An Italian creamed cheese that is different than Americanized block of cream cheese. Many grocery stories carry mascarpone and it's another must have for this recipe.
Lady Fingers: Arguably one of the most important ingredients in tiramisu. Make sure to find hard ladyfingers so they can soak up the favored coffee.
Chocolate Shavings: Traditionally unsweetened cocoa powder is dusted on top but for a bit of extra sweetness, this tiramisu is topped with finely shaved dark chocolate. (*Tip: good quality dark hot chocolate is perfect for this!)
More impressive desserts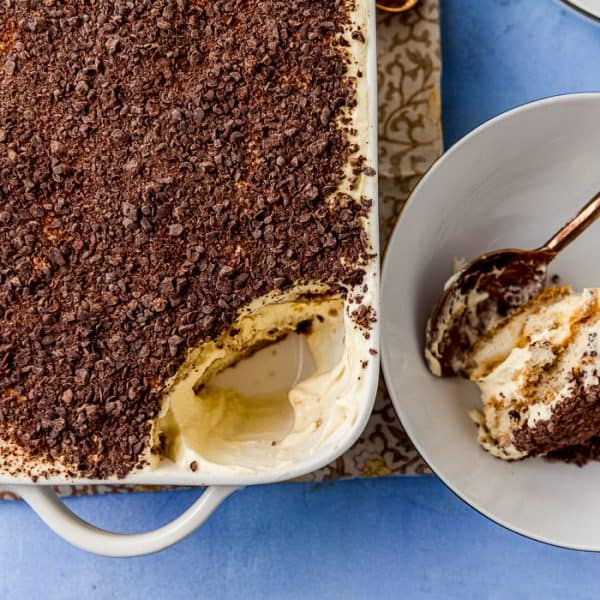 Amaretto Tiramisu
LittleFerraroKitchen.com
Classic tiramisu recipe with amaretto for an extra pop of flavor. Creamy, decadent and slightly nutty from the almond liquor, this is a recipe everyone should have in their repertoire.
Instructions
Start by making the sabayon and whisk the egg yolks, sugar, vanilla extract and almond extract until smooth. Bring a pot of water to a simmer and place bowl on top of the pot, making sure the water is not touching the bottom of the bowl.

Continue whisking for about 10 minutes, until mixture is slightly thickened and a light yellow color. Remove from heat and set aside while you prep the rest of the tiramisu.

Using an electric mixer, whisk mascarpone, dark rum and amaretto until smooth. Slowly drizzle in egg mixture and whisk until combined.

In a separate bowl, whisk the heavy cream until soft-medium peaks, about 3-5 minutes. Then fold in half of the whipped cream into the mascarpone mixture until incorporated and finish with the other half. The mixture will look a bit loose but will firm up as it chills.

Meanwhile, in another bowl, stir the coffee, dark rum and Amaretto together. Dip both sides of the ladyfingers into the coffee mixture and place in a 9inch x 13inch casserole dish, lining up the ladyfingers so they are in a snug single layer.

Spread half of the mascarpone mixture onto the first layer and dip the rest of the ladyfingers into the coffee mixture for the second layer and spreading the remaining mascarpone mixture on top.

Place a sheet of plastic wrap
Notes
Save the leftover egg whites for a soufflé, frittata or meringue. 
A quick dip into the coffee is all you need, the ladyfingers soak up the liquid very well. 
Tiramisu needs to be made ahead so the ladyfingers soft and everything can set, so plan ahead. 
Tiramisu can last chilled for up to 5 days. 
Recipe inspired by Natasha's Kitchen.
Nutrition
Calories:
490
kcal
Carbohydrates:
29
g
Protein:
7
g
Fat:
37
g
Saturated Fat:
22
g
Trans Fat:
1
g
Cholesterol:
203
mg
Sodium:
67
mg
Potassium:
130
mg
Fiber:
1
g
Sugar:
15
g
Vitamin A:
1242
IU
Vitamin C:
1
mg
Calcium:
99
mg
Iron:
2
mg
Did you make this recipe?
Let us know by leaving a comment and 5 star rating!