Seven Layer Rainbow Cookies
A classic in Italian bakeries, seven layer rainbow cookies are stacked with an almond sponge, a thin layer apricot jam and covered with chocolate.
Ohh…Rainbow cookies! This takes me back to my childhood. The sweet smell of Jewish and Italian bakeries in New York, rainbow cookies were bought by the dozen by this one!
However, living in Southern California, it's hard to find these colorful treats…so what better way to make it happen, than to make them yourself…easy peasy, right?
I do have to add that I am so grateful for blogging about something colorful and and happy right now. Our beautiful town of
Seal Beach
has been rocked this week in
recent happenings
. I don't want to go into too much verbiage on this post, but please keep our peaceful beach community if your thoughts!
Now back to the cookies! These little rainbow bites are more like a petite cake bite. And let me tell you, this was no easy task! Three individual layers of almond cake, gently folded with egg whites. Strained apricot preserves snugly smears in between the cozy layers of moist cake and gives you that little bit of sweet fruit finish, that of course blends perfectly with everything else. Finally slowly melted bittersweet chocolate coat the entire masterpiece and harden to a thin shell. Sweet fruit, moist cake, almond and thin chocolate reveal my absolute favorite childhood vice.
Quick Disclaimer: I do HAVE to mention, that if you are planning on making this recipe, allow ample amount of time! These cookies need at least 8 hrs of chilling time before pouring the melted chocolate over, and then another couple of hours of freezing time after chocolate and before cutting.
Ingredients:
4 large eggs, separated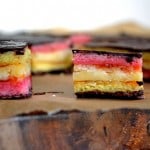 Print Recipe
Seven Layer Rainbow Cookies
A classic in Italian bakeries, seven layer rainbow cookies are stacked with an almond sponge, a thin layer apricot jam and covered with chocolate.
Ingredients
4

large eggs

separated

1/2

teaspoon

cream of tartar

1

cup

sugar

separated

1

8-oz tube of almond paste

2 1/2

sticks

1 1/4 cups unsalted butter, softened

1

teaspoon

almond extract

2

cups

all purpose flour

1/2

teaspoon

salt

25

drops red food coloring

*I used natural food coloring, see notes

25

drops green food coloring

*I used natural food coloring, so it was blue and yellow, see notes

1 – 12

ounce

jar apricot preserves

heated and strained

7

ounces

bittersweet chocolate
Instructions
Preheat oven to 350 degrees Fahrenheit and butter a 13 x 9 inch baking pan and line bottom with parchment paper, leaving a 2 inch overhang, then butter the paper as well.

Beat egg whites and cream of tartar in mixer fitted with whisk attachment at medium-high speed until they just hold stiff peaks.

Stream in 1/4 cup sugar and continue beating at high speed until whites hold stiff glossy peaks, then transfer to another bowl.

In the same (now empty) mixing bowl, switch to a paddle attachment and beat the almond paste and remaining 3/4 cup sugar until well blended, about 3 minutes.

Add butter and beat until pale and fluffy. Add yolks and almond extract and beat until combined well, for another 2 minutes. Then reduce speed to low, then add flour and salt and mix until just combined.

Fold half of the egg white mixture into almond mixture to lighten, then fold in remaining whites.

Divide batter among 3 bowls. Stir red food coloring into one , green food coloring into another, and leave the third batch plain. Set white batter aside.

Chill green batter, covered. Pour red batter into prepared pan and spread evenly with offset spatula (layer will be about 1/4 inch thick). Bake red layer 8 to 10 minutes, until just set. Then once done, use paper overhang and transfer red layer to a rack to cool.

Clean pan, then line with wax paper and butter paper in same manner as above. Bake white layer in prepared pan until just set. As white layer bakes, bring green batter to room temperature. Transfer white layer to a rack. Prepare pan as above, then bake green layer in same manner as before. Transfer to a rack to cool.

Line a clean baking sheet with parchment paper and once all the layers are cooled, invest green layer onto sheet. Spread half of the preserves, then place while layer on top, then another layer of preserves and finally the red layer.

Cover entire sheet with plastic wrap and place another baking sheet on top to weigh down. Chill for 8 hours or overnight.

Remove weight and plastic wrap and bring layers to room temperature. Melt chocolate in a double boiler with a heat safe bowl set over a saucepan of barely simmering water, stirring until smooth.

Trim edges of the cookie with a long serrated knife. Quickly spread half of chocolate in a thin layer on top of cake.

Chill, uncovered, until chocolate is firm, about 15 minutes. Cover with another sheet of wax paper and place another baking sheet on top, then invert cake onto sheet and remove paper. Quickly spread with remaining chocolate. Chill until firm, about 30 minutes.

Freeze entire cake for a few hours until everything is firm. Then it is much easier to cut with a sharp knife into squares.

Cut lengthwise into 4 strips. Cut strips crosswise into 3/4-inch-wide cookies
Notes
* I used organic food coloring this time and this was also the first time I worked with any type of food coloring. I liked how my red/pink turned out, but my green didn't come out as I hopped. I'm not sure if it was due to it being organic, or maybe I should have condensed it more?
Because it was organic, I had to mix blue and yellow together, so I used 40 drops-blue and 5 drops-yellow.
* I heated a jar of preserves and strained the entire jar through a sieve. Then I weighed the strained amount and divided it in half, so half for each layer.