Blueberry and Apple Borekas with Honey Tahini
Probably a bit of a stretch to call this borekas, because if you remember, I originally introduced them as one of our favorite savory Turkish bites. I have never ever seen sweet borekas before, but there is a first for everything, yes?
Little did I know, that this once City girl would be in her total happy place in the middle of nowhere picking organic blueberries off it's bush and picking apples with chickens scouring around nearby. After a perfect afternoon, which is only a 15min drive from our new home, we left with nearly 6lbs of organic blueberries and apples and enough blueberries to make both these blueberry and apple borekas as well as this deliciously sweet blueberry crumb bars.
Whether we'll call them borekas or not, these little pastries are fast, easy and perfectly sweet for the Jewish New Year. And as a perfect introduction for Rosh Hashanah (is anyone else planning their menu yet?), I made blueberry and apple borekas with a sweet tahini honey glaze.
Another usual savory bite, tahini is an ingredient I use for just about everything; dressings, dips and spreads and naturally don't see it used as a sweet ingredient. Tahini is mixed with a bit of honey and warm water and with a bit of elbow grease, turns into a beautiful pourable consistency.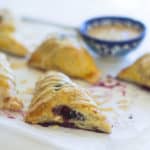 Print Recipe
Blueberry and Apple Borekas with Honey Tahini
Ingredients
2

cups

of chopped and peeled apples

cut into about 1/2 inch cubes

1/2

tsp

cinnamon

4

Tb

sugar + more sugar for sprinkling on top

1

tsp

vanilla extract/paste or 1 vanilla bean

scraped

1

cup

fresh or frozen blueberries

1/2

lemon

juiced and zested

1

package

2 sheets puff pastry, thawed

Flour for dusting on surface

1

egg + water for egg wash
Tahini Glaze
1/2

cup

tahini

2

Tb

honey

1/4-1/2

cup

warm water
Instructions
First make the filling. In a bowl, add together the cubed apples, blueberries, sugar, vanilla, cinnamon and lemon zest and juice. Toss everything together and allow to sit while you prepare the puff pastry.

Unfold puff pastry on a floured surface and roll out a bit so the pastry is a bit thinner.

Then cut pastry sheet into 9 even squares (18 total for both sheets) and add about a tablespoon of filling to each square.

Whisk together the egg and water in a small bowl and brush the edges of each square with the egg wash and then folding the dough together making a little pouch. Use your fingers or a fork to crimp the edges and it's ok if you stretch the dough a bit, the fruit will shrink as it bakes.

Brush more egg wash on top of the folded pastry and sprinkle with more sugar. Use a knife to cut little skits on the top.

Place borekas on lined baking sheet and bake at 325 for 20-25 minutes, or until the filling begins to ooz out and the pastry is golden brown.

Once done, remove from the oven and allow to cool a bit while you make tahini glaze.

To make the tahini glaze, in a bowl add the tahini and honey and 1/4 warm water. Use a fork or whisk to whisk everything together until it is smooth and pourable. As it sits, it will get firmer so you can add a bit more warm water and mix until desired consistency.