An unbelievable Turkish breakfast, including borek, sausage and eggs and an array of fruits and vegetables.
I can't believe it will almost be a year since Joe and I traveled to one of our favorite places in the world. I had always dreamt of traveling to Istanbul and walking on the same pavement my ancestors have.
There were 2 spectacular moments that I will never ever forget. The first was on the first night of our trip. We were exhausted, jet lagged and the only thing we saw was the inside of the cab and our hotel room. Then suddenly at about 3am, we were both woken by the pitter patter of rain drops over the city. We opened the window for fresh air and were instantly greeted with the call to prayer. It was chilling and beautiful. I believe it was the first call to prayer of the day, right before sunrise. We will never forget that.
Woke up to a rainy 5am call to prayer. #istanbul

View on Instagram
The 2nd spectacular moment was lavishing over a true Turkish breakfast. One of the other reasons we chose to travel to Istanbul was right after we watched Anthony Bourdain's show, No Reservations. Joe and I were both in awe of the City, the food and especially the Turkish breakfast. So of course, Joe remembered the restaurant where Bourdain went and we went on our merry way. In true language barrier fashion, we managed to tell the cab driver the restaurant, called Kale but pronounced Ka-LAY (if I remember correctly) and 20 minutes later we were ready to feast on the best breakfast of our entire lives.

Kale sits directly across from the gorgeous water way and the ocean views are just spectacular. I know nothing will ever compare to the initial experience of being served fresh pomegranate-orange juice and clotted cream with local honey of that morning. The Turkish sausage and eggs were addicting, warming and savory, it was truly the perfect moment.
We have been dreaming of re-creating the Turkish breakfast when we got home to the States and it only took..oh..about 9 months, but we finally did it!. Turkish breakfast is like no other..and I am so excited to walk through each element that we enjoyed.
Turkish Sausage and Eggs:
This is one of the most common breakfast dishes, next to Menemen (which I will share soon). Basically it is spicy beef sausage called Sucuk with spices that taste like cumin and perhaps cayenne. The sausage is sliced and cooked with over easy eggs and then topped with cheese, we chose a mild feta.
Clotted Cream with Honey (Kaymak):

I have heard this is also called "Turkish crack" and I can see why. Smooth, velvety, luxurious clotted cream sits in thick sweet honey. You won't be able to stop slathering thick pieces of fresh bread through this..because we didn't. If you ever had clotted cream on hand for a reason, please...let it be this!
Eggplant Borek:
This was my personal touch. It is not surprise that I love, love borek! Flaky pastry with any filling of your choice! We did enjoy cheese borek at breakfast quite a few times, but eggplant sounded so luscious, I couldn't pass it up. (Recipe at the bottom of this post).
Other Breakfast Accompaniments:
Tomatoes, cucumber and olives
Freshly squeezed orange and pomegranate tea
Hot tea
Various fruits: figs, berries, anything in season.
Bread...lots of bread!

Thank you Istanbul for treating us to a true feast for the palette! We will never forget the view, the experience and the hospitality! Turkish food, people (and the breakfast) has a very special place in our hearts (and our appetites).
More Breakfast Ideas
More Turkish Inspiration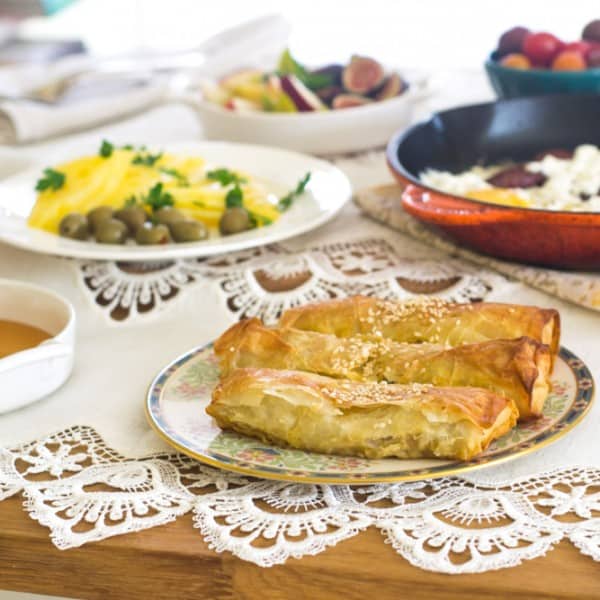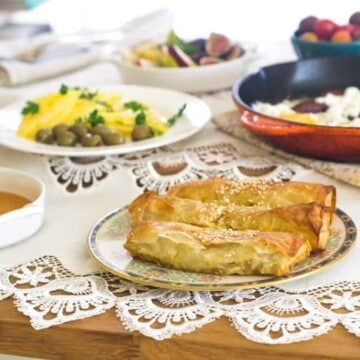 Eggplant Borek
LittleFerraroKitchen.com
An unbelievable Turkish breakfast, including eggplant borek, sausage and eggs and an array of fruits and vegetables.
Ingredients
Glaze
¼

cup

milk

¼

cup

olive oil

¼

cup

melted butter

2

eggs
Other Accompaniments
Scrambled eggs

Olives

Clotted Cream + Honey

Fresh fruit

Turkish beef sausage
Instructions
First, place eggplant in a colander over the sink and sprinkle salt generously all over, tossing and making sure all the eggplant is coated with salt. Allow to sit for 30 minutes.

After about 30 minutes, the eggplant should have released water. Rinse the salt off and lay the eggplant on a paper-towel lined baking sheet. Use other paper towels to press down, releasing additional water until it is dry.

Next, in a large skillet on medium heat, saute onion and serrano until cooked down and tender. Add garlic and cook for another 1-2 minutes until caramelized. Add cubed eggplant and cook for about 15 minutes until eggplant softens and breaks down.

Once eggplant is tender enough for your liking, season with salt and pepper add tomato paste and paprika. Mix well and continue to cook on low until eggplant is very soft and tender.

In a small bowl, mix together the glaze and set aside.

Lay 2 sheets of phyllo dough (or yufka) on a flat, clean surface. Use a pastry brush to brush dough with glaze mixture. Then use a table spoon to spoon eggplant towards the bottom of the pastry. Roll dough up, tucking in the sides like a burrito and lay in an oiled baking sheet, seam side down.

Finish with the rest of the mixture and brush glaze on the top of the borek. Sprinkle with sesame seeds.

Bake borek at 350 degree F oven for 25 minutes or until borek is golden brown. When done, allow to cool for 10 minutes before serving.
Nutrition
Calories:
171
kcal
Carbohydrates:
16
g
Protein:
3
g
Fat:
11
g
Saturated Fat:
4
g
Polyunsaturated Fat:
1
g
Monounsaturated Fat:
5
g
Trans Fat:
0.2
g
Cholesterol:
38
mg
Sodium:
168
mg
Potassium:
149
mg
Fiber:
2
g
Sugar:
2
g
Vitamin A:
282
IU
Vitamin C:
2
mg
Calcium:
20
mg
Iron:
1
mg
Did you make this recipe?
Let us know by leaving a comment and 5 star rating!