Purple sweet potato haupia pie with deep purple potatoes and a coconut layer topped with macadamia nuts and shredded coconut.
Growing up in Hawaii, haupia is one of my favorite flavors and if you love coconut, you will love this Hawaii spin on sweet potato pie. The filling is made with purple sweet potatoes and topped with a Hawaii favorite, haupia, which is a lightly sweet coconut pudding.
The sweet potato haupia pie is finished with chopped macadamia nuts and shredded coconut. And even more impressive once you cut through the striking layers.
Hawaii is a melting pot of food and cultures. One of my favorite flavors is both purple sweet potatoes and haupia, which is a sweetened coconut pudding. You will often find a similar recipe to this pie, but made as bars and cut into squares. However, I am channeling holiday baking so a purple sweet potato pie it is.
Purple Sweet Potatoes
In Hawaii, you'll find Okinawan sweet potatoes, which have a very light tan skin and dark purple flesh. They're harder to find on the mainland, but a good substitute are stokes purple potatoes, which have a darker exterior and are a bit more starchy.
Stokes purple potatoes are used in this recipe and as you can tell, provide a striking purple color. Just like for sweet potato pie, start with peeling and cubing the potatoes and bring them to a boil and cook until very tender. The water will turn a dark color and the potatoes color stays in tact. And if you have leftover purple sweet potatoes, save some for ube cheesecake bars!
Haupia Recipe
If you see the word "haupia" in Hawaii, it always means coconut. One of my favorite bites is haupia mochi which is made with coconut and rice flour and is sweet, chewy and addictive. You can also find haupia served as a thickened coconut pudding cut into squares.
To make haupia for the sweet potato pie: Combine equal parts cornstarch and sugar to warmed coconut milk and whisk until thickened. Then pour over the purple sweet potato pie and top with shredded coconut and macadamia nuts.
When you cut through a slice, you'll see the beautiful rich purple layer and the white coconut haupia layer.
A Few Cooking Notes
Chill the baked pie before adding the haupia layer.
Prep and boil the sweet potatoes up to 3 days ahead of time.
This recipe has been tested with both homemade pie crust and store bought pie crust.
Whisk the haupia layer until thick and the consistency of honey.
Pie can be made ahead of time and completely assembled up to 3 days before serving.
More Hawaiian Recipes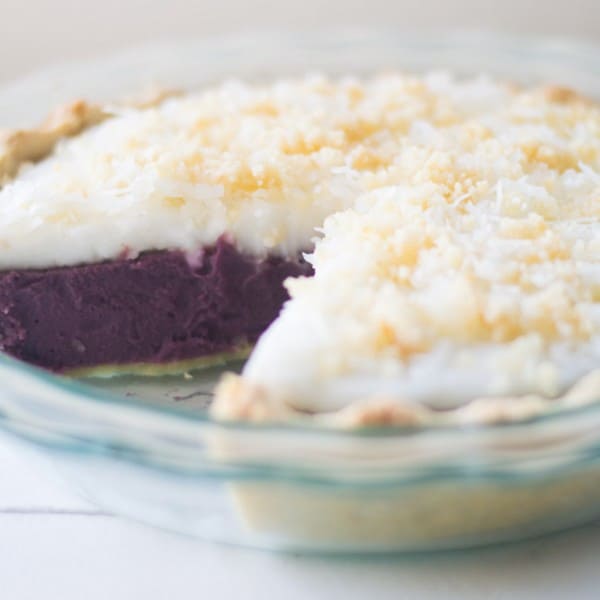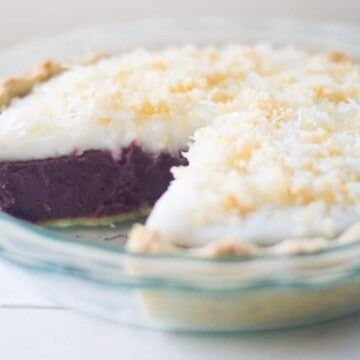 Purple Sweet Potato Haupia Pie
LittleFerraroKitchen.com
Purple sweet potato haupia pie with deep purple potatoes and a coconut layer topped with macadamia nuts and shredded coconut.
Ingredients
Instructions
Make the pie crust. Add the flour, butter, salt and sugar to a food processor and pulse a few times until the butter looks like small peas. With the motor running, slowly add the cold water, and pulse together until a ball of dough forms.

Dive dough in half and wrap in plastic wrap, forming a smooth round disk. Place dough in fridge for at least 20 minutes (or freezer for 10-15 minutes). This will be your crusts for both pies.

Make the sweet potato filling. Boil purple sweet potatoes potatoes for about 20 minutes until the potatoes are very soft. Then pour water out and add potatoes to (clean) food processor and pulse a few times to puree potatoes.

Add melted butter, evaporated milk, eggs, sugar and flavorings. Process everything together until mixture becomes a smooth creamy consistency. Set aside.

Roll out pie crust. Once pie crust is chilled, roll out to about ½ an inch wider than the pie dish you'll be using. Roll out on a floured surface with a floured rolling pin and fit into a 9 inch pie dish. Crimp the edge of pie into desired pattern. Repeat with other dough if making 2 pies.

Bake sweet potato pie. Pour sweet potato filling into pie shells and bake at 350 degrees Fahrenheit for 40-45 minutes. You will know pie is done when the crust is lightly golden brown and you can insert a knife into the potato layer and it comes out clean. If crust browns too fast, cover with foil and continue baking.

Cool pie to room temperature. Once pie is done remove from oven and allow to cool to room temperature for a few hours. Or place in fridge overnight.

Make the haupia layer. Mix together the sugar and cornstarch in a bowl and set aside. Heat coconut milk and water in a small pot until warm and add the sugar and cornstarch mixture. Whisk together and continue whisking for 5-8 minutes until sugar dissolves and haupia becomes thick, almost the consistency of thick honey. Once ready, pour haupia over sweet potato layer and top with chopped macadamia nuts and shredded coconut.

Allow pie to set and chill for several hours until haupia layer is cool and serve.
Notes
Recipe yields 2-9 inch sweet potato pies
This recipe has been made with frozen store bought pie crust and homemade pie crust. The store bought pie crust was shallower so you may have leftover potato mixture.
Make ahead suggestions: prep potatoes and peel and boil until very soft then store in fridge for up to 3 days before making pie. 
3 medium purple sweet potatoes, cooked and pureed yields about 3-4 cups.
Baked pie will last, assembled, in fridge for up to 5 days.
Nutrition
Calories:
383
kcal
Carbohydrates:
43
g
Protein:
4
g
Fat:
22
g
Saturated Fat:
13
g
Polyunsaturated Fat:
1
g
Monounsaturated Fat:
7
g
Trans Fat:
1
g
Cholesterol:
66
mg
Sodium:
115
mg
Potassium:
204
mg
Fiber:
2
g
Sugar:
18
g
Vitamin A:
6574
IU
Vitamin C:
1
mg
Calcium:
30
mg
Iron:
2
mg
Did you make this recipe?
Let us know by leaving a comment and 5 star rating!