If you have ever been to Hawaii and had a "plate lunch", you know how creamy and delicious Hawaiian macaroni salad is! Creamy and slightly sweet, Hawaii's mac salad is a comfort food favorite!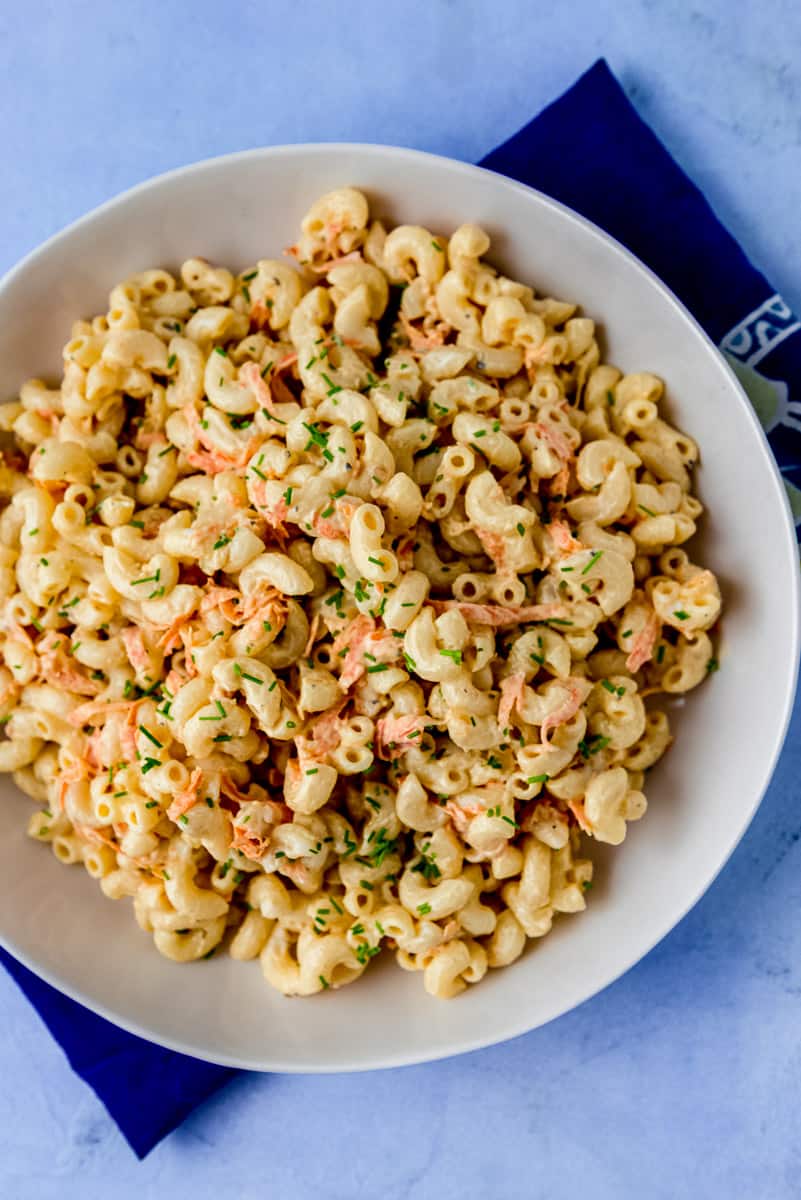 Growing up in Hawaii, plate lunch is part of the culture and there are a few key components to a delicious plate lunch. The protein, such as shoyu chicken or kalbi ribs, a scoop of white rice and another scoop of Hawaiian style macaroni salad. Or as the locals call it, "mac salad".
Jump to:
🤙 What is Hawaiian Mac Salad
Hawaiian mac salad is an integral part of the food culture of Hawaii and many locals have their own macaroni salad recipe. Though mac salad is not Hawaiian food, it is said to have been brought over by the plantation owners who came from Europe.
These days, this creamy macaroni salad is a staple of local food in Hawaii. And there are a few key ingredients and tips that make for a delicious or "ono" (delicious in Hawaiian), authentic macaroni salad.
An authentic Hawaiian style macaroni salad recipe has to be incredibly creamy, savory and slight sweet with no large or crunchy pieces. Therefore the simple ingredients of carrots and onion are finely grated and mixed into the mac salad very well.
📋 Ingredients
Hawaiian macaroni salad is simple and has a handful of ingredients. There are variations that are added, such as tuna or hard boiled eggs as well. But the star of the show is creamy and thick Best Foods Mayonaise.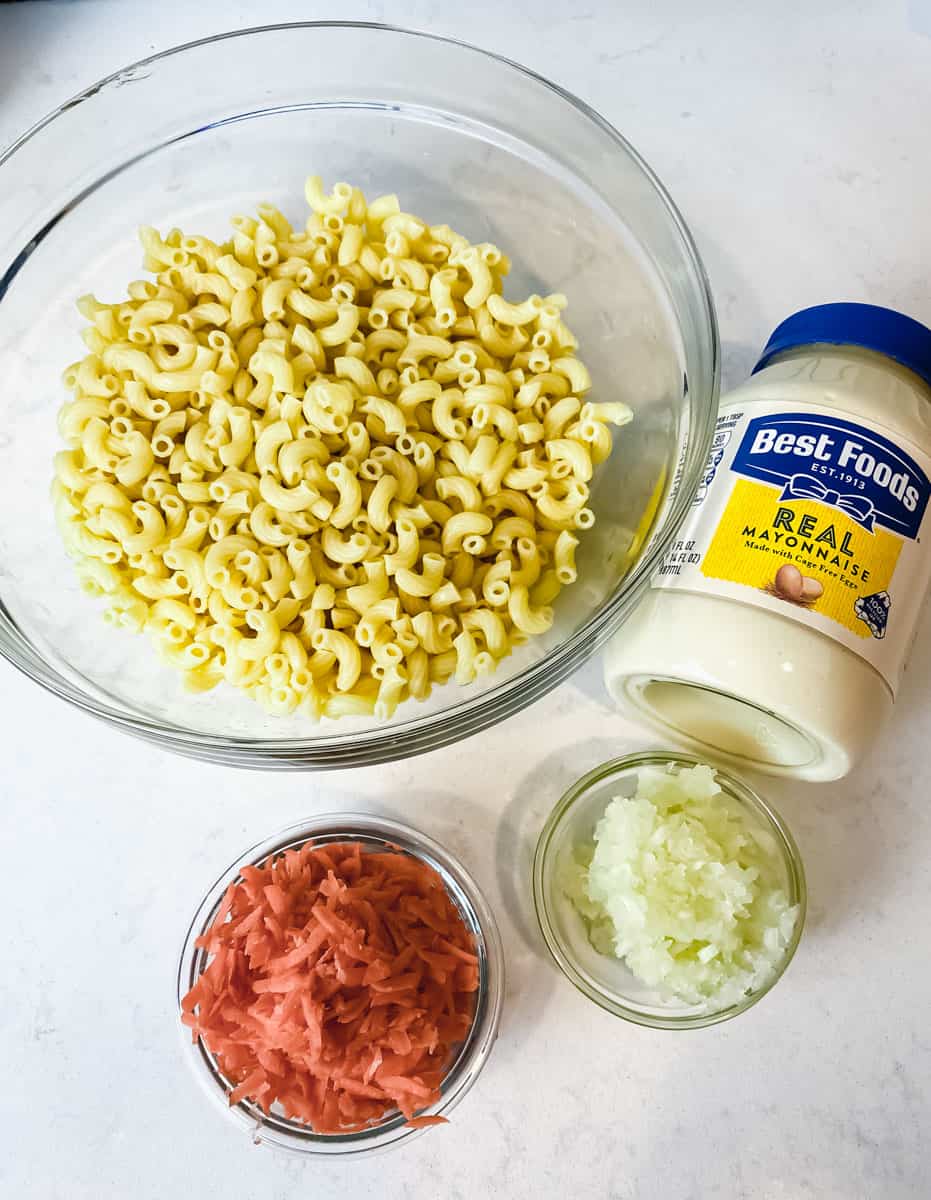 Elbow Macaroni: This is the classic shape of local style mac salad. The small shape of the elbow noodles soaks up the mayonaise, making a creamy result.
Best Foods Mayonnaise: If you asked any local in Hawaii what mayonnaise is best, they will say Best Foods. It's thick and creamy and the flavor is iconic. The sister brand is Hellman's mayonnaise, which is the same product.
Grated Carrot: Grating a carrot is worth the step to achieve the right texture. Use the large holes of a box grater. The carrot also gives a bit of sweetness to the mac salad.
Grated Onion: If you can find a sweet onion or sweet Maui onion, use that. If not, a yellow or white onion would work great. Grate the onion so there are no large pieces to bite into.
Sugar: A touch of white sugar gives the entire mac salad a bit of sweetness.
Vinegar: To counter the sweetness from the sugar and carrot, a touch of apple cider vinegar or rice wine vinegar adds a layer of brightness to the decadent macaroni salad.
Salt and Pepper: Taste as you go and adjust as needed. I like a lot of black pepper in my mac salad but start small and add more as you taste.
See recipe card for quantities.
⏲️ Instructions
Cook elbow macaroni fully, drain and rinse under cold water and let the macaroni cool completely.
Once cooled, add the macaroni to a large bowl along with the grated carrot, grated onion, mayonaise, vinegar, sugar, salt and pepper and stir to combine very well.
Cover the macaroni salad with plastic wrap and place in the refrigerator for at least 1 hour, so the flavors can blend.
Once the mac salad is chilled, taste for seasoning and adjust as needed. Garnish with chives if preferred and serve.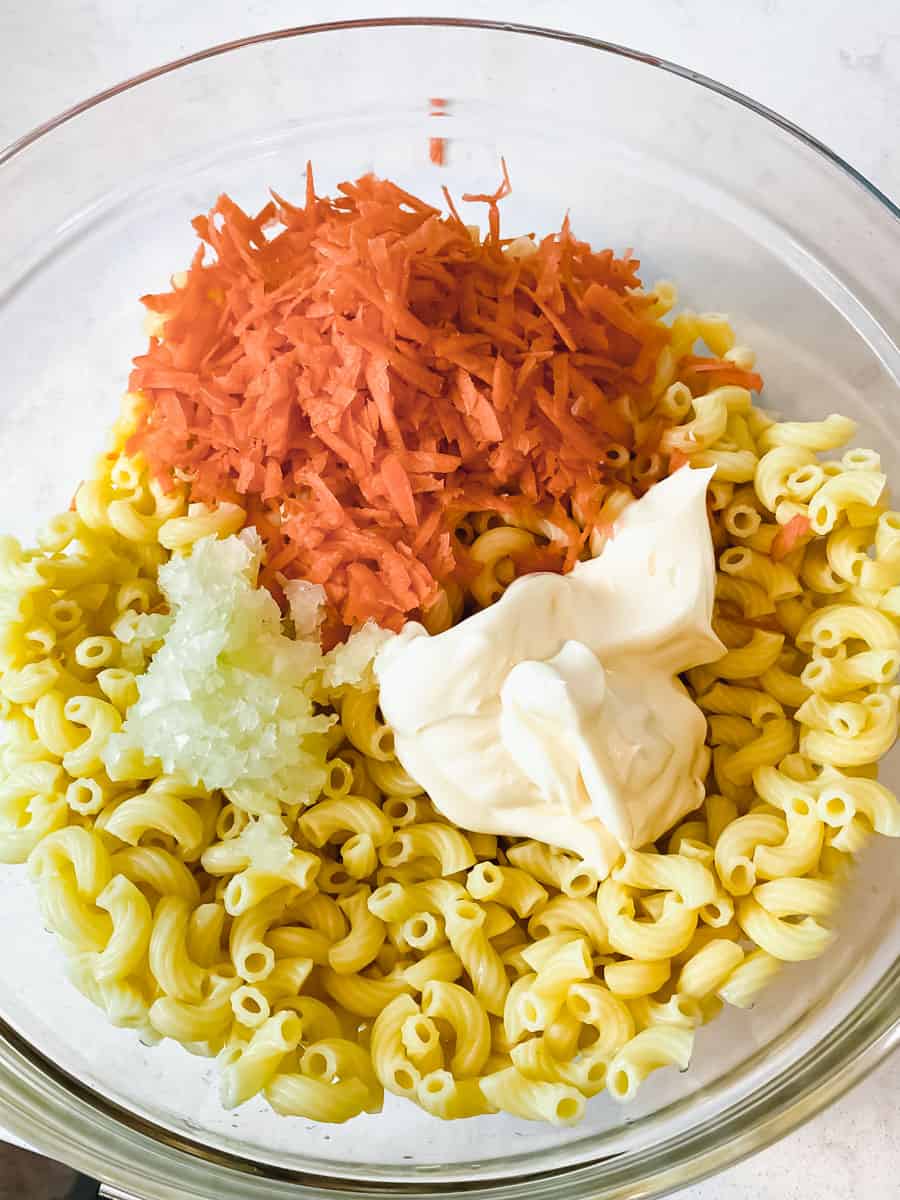 Step 1. Add the cooked and cooled macaroni, grated carrot, grated onion, mayonaise, sugar, vinegar, salt and pepper to a large bowl and stir to combine.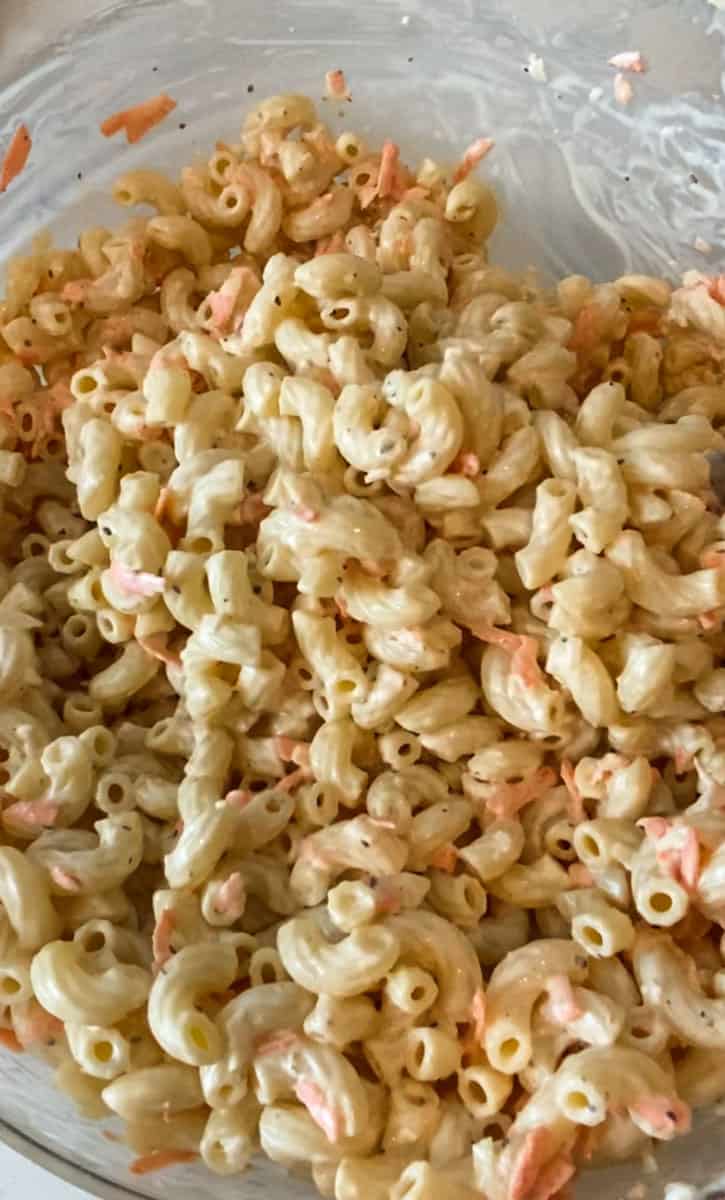 Step 2. Once mixed, chill the mac salad in the refrigerator for at least 1 hour so all the flavors come together. taste for seasoning and add adjust, as needed.
Recipe Tip:
As the macaroni salad settles, it will soak up the mayonnaise and other flavors and change the flavor slightly from when it's first mixed. Once it's chilled, taste for seasoning and adjust as needed.
🌺 Variations
There are a few variations for Hawaiian mac salad and depending on where you go in Hawaii, you'll see one or more of these styles.
Hard Boiled Eggs: Chop 3-4 hard boiled eggs and add that to the macaroni salad when you are mixing everything together.
Potato Mac Salad: Peel russet potatoes and cut them into small ¼ inch to ½ inch cubes and boil until incredibly tender and cooked through. Then chill the potatoes and add them to the macaroni salad along with the mayonaise, carrots and onion and stir to combine.
Canned Tuna: Hawaiian macaroni salad with tuna is another very popular variation. But it has to be the tuna in oil, for the best flavor!
Fried Spam: Cut slices of spam and fry until golden brown and crisp on the outside. Then cut into small cubes add add to the macaroni salad.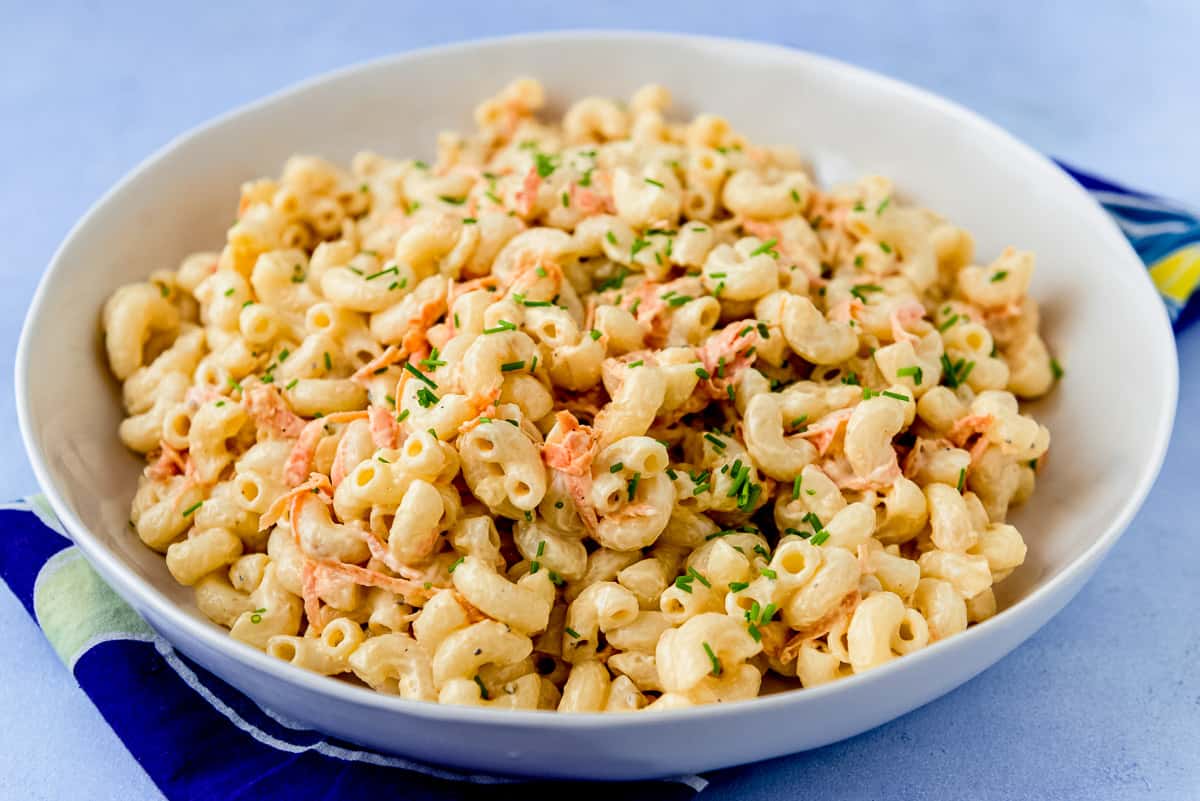 Storage
Keep macaroni salad in an air tight container or sealed bowl with plastic wrap and in the fridge. Macaroni salad will last up to 4 days and gets better as it sits.
FAQ
How do you keep macaroni salad from absorbing too much mayonnaise?
Make sure to chill the cooked macaroni noodles fully so it doesn't absorb too much mayonnaise at first. As the macaroni settles, it will absorb some of the mayonnaise, but not as much when chilled.
Should you rinse the macaroni noodles?
Yes, once the macaroni noodles are cooked, drain and rinse under cold water to stop the cooking and rinse away any excess starch. Then chill the macaroni fully and once chilled, stir the mayonaise in.
More Hawaiian Recipes to Try
These are my favorite dishes to serve with Hawaiian Macaroni Salad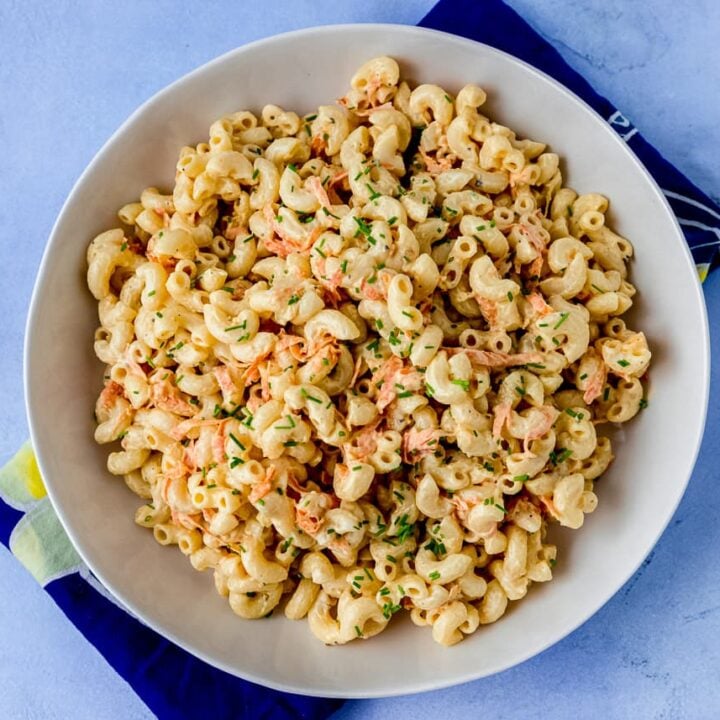 Hawaiian Macaroni Salad
LittleFerraroKitchen.com
Hawaiian macaroni salad is local style comfort food! This easy macaroni salad is creamy and simply made with carrot, onion and mayonnaise.
Instructions
Boil the macaroni noodles in a large pot of water until cooked through according to box directions, about 8 minutes.

Once cooked, drain the noodles and run the noodles under cold water to stop the cooking.

Transfer the cooked noodles to a bowl and refrigerate until completely chilled, about 30 minutes.

Once the noodles are chilled, add the mayonnaise, grated carrot, grated onion, sugar, vinegar, salt and pepper and stir to combine very well.

Taste for seasoning, though the flavor will change slightly after it's chilled further.

Place a sheet of plastic wrap over the bowl and chill in the refrigerator so the flavors can blend together, for at least 1 hour.

Taste for seasoning again and adjust as needed. Garnish with chives, if deserved and serve.
Notes
Don't go too heavy with the mayonaise at first, because as the macaroni salad sits, it will absorb the mayonaise mixture. 
the macaroni salad will change slightly in flavor from when it's first mixed to after it's chilled, so taste for seasoning both times and adjust as needed. 
Macaroni salad tastes better as it sits and will last in the fridge for up to 4 days. 
Nutrition
Calories:
503
kcal
Carbohydrates:
44
g
Protein:
8
g
Fat:
32
g
Saturated Fat:
5
g
Polyunsaturated Fat:
19
g
Monounsaturated Fat:
7
g
Trans Fat:
0.1
g
Cholesterol:
18
mg
Sodium:
567
mg
Potassium:
169
mg
Fiber:
2
g
Sugar:
3
g
Vitamin A:
1365
IU
Vitamin C:
1
mg
Calcium:
20
mg
Iron:
1
mg
Did you make this recipe?
Let us know by leaving a comment and 5 star rating!