Shoyu poke is a popular poke style that you'll find all over the Hawaiian islands. This version of ahi tuna poke has cubed ahi (tuna) that is seasoned with shoyu (soy sauce), sesame oil and sliced sweet onions.
As I looked back on the recipes that I've shared, I can't believe I never shared a Hawaii classic, ahi shoyu poke! I grew up on various types of poke in Hawaii, ahi poke and and octopus (tako poke) are some of my favorites.
Ahi Tuna Poke
Tuna poke has become incredibly popular on the mainland over the last few years, with all kinds of different variations, poke bowls and flavorings. I've even had fun playing with cultural twists and during Hanukkah, made a "Hawaiian Latke" where I made Taro Latkes with Poke!
When I was growing up in Kona, I don't remember there ever being different poke bowls, we would just order poke from the deli at the grocery store and eat it right out of the container.
This shoyu poke recipe is possibly the most popular style. Cubes of tuna are seasoned with shoyu, sliced sweet onion, sesame oil and sesame seeds, Hawaiian salt and a touch of red pepper flakes for a bit of heat.
Shoyu Poke vs. Hawaiian Poke
Most people may call shoyu poke, Hawaiian poke, but they are actually different.
Hawaiian poke is tossed Hawaiian salt and onion as well, but the difference is added roasted kukui nut, which is harder to find on the mainland.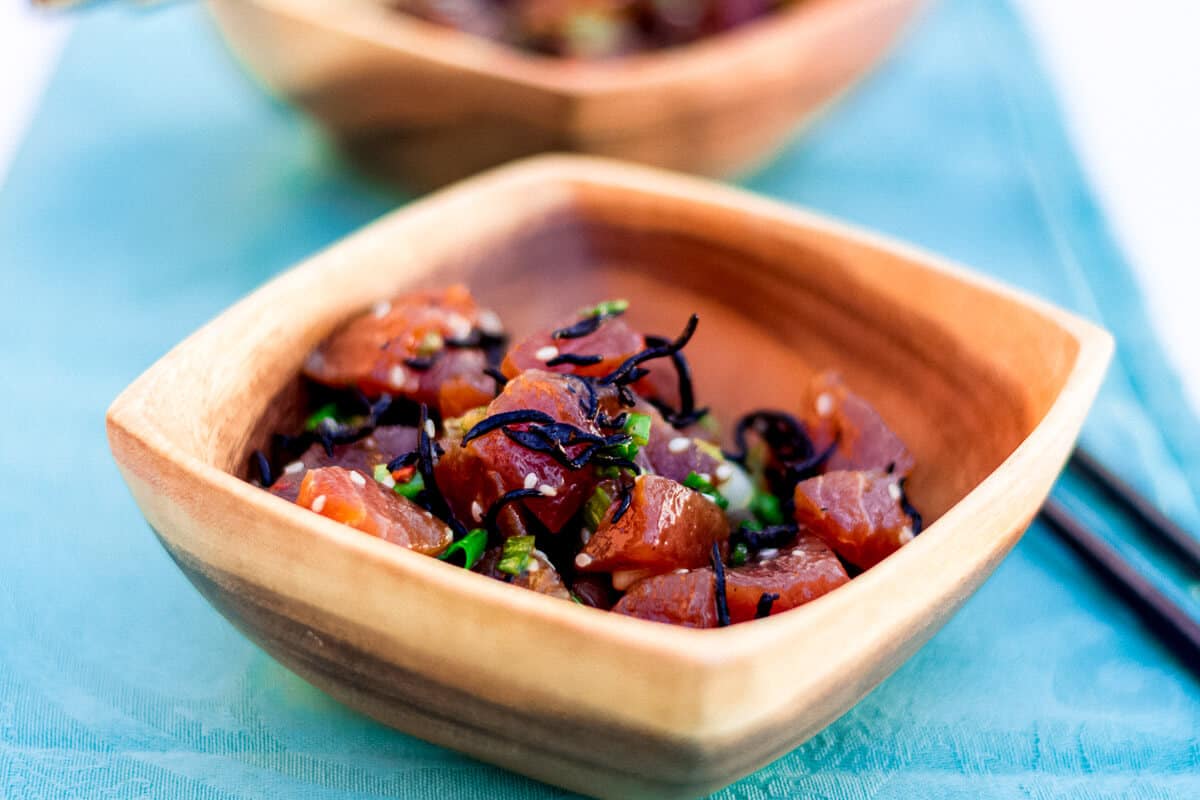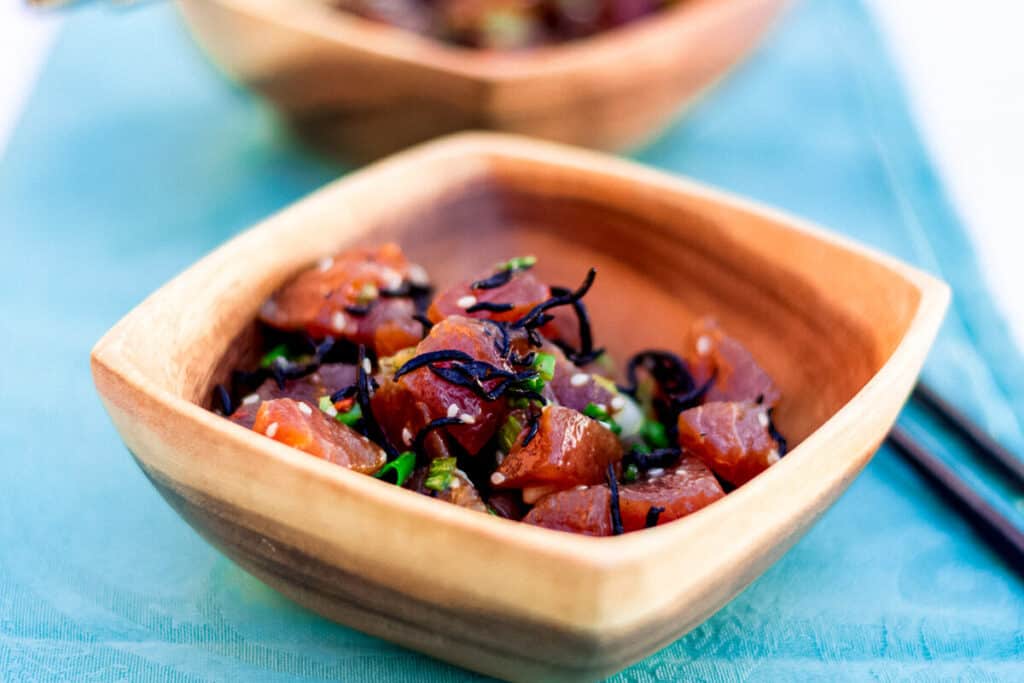 Shoyu vs. Soy Sauce
Shoyu is a Japanese style of soy sauce and is the popular soy sauce that is used in Hawaii. You'll find shoyu in every home and at most restaurant tables.
Aloha shoyu is a popular brand used in Hawaii and personally, I find this shoyu a bit sweeter and more mild than traditional soy sauce.
Shoyu Poke Ingredients
Poke is really a "to your own taste buds and preference" recipe. I've made poke recipes with red onion or with avocado and different types of seaweed and ginger. But really, use what you have on hand.
My only suggestion is to not let the flavorings overpower the already beautiful fish, add just enhance the ahi.
Ahi (Tuna): Yellowfin tuna that has been immediately frozen is safe to eat. Look for good quality tuna that does not have any added dyes.
Shoyu: A Japanese style of soy sauce that is a bit more sweeter and mild than other soy sauce. Aloha Shoyu is a popular brand used in Hawaii.
Sesame Oil: If you can find toasted sesame oil, that gives great flavor!
Sesame Seeds: Black or white sesame seeds work here.
Ogo Seaweed: This is the brand used in this recipe. It's chopped and dried and re-hydrates as the poke sits.
Sweet Onion: If you're in Hawaii and can get your hands on sweet Maui onion, that is ideal, but if you're on the mainland, sweet vidalia onion work well.
Hawaiian Salt: Highly recommend always having Hawaiian salt on hand. The grains are coarse and a little goes a long way. You can use Hawaiian salt on poke or when making kalua pork and lomi salmon.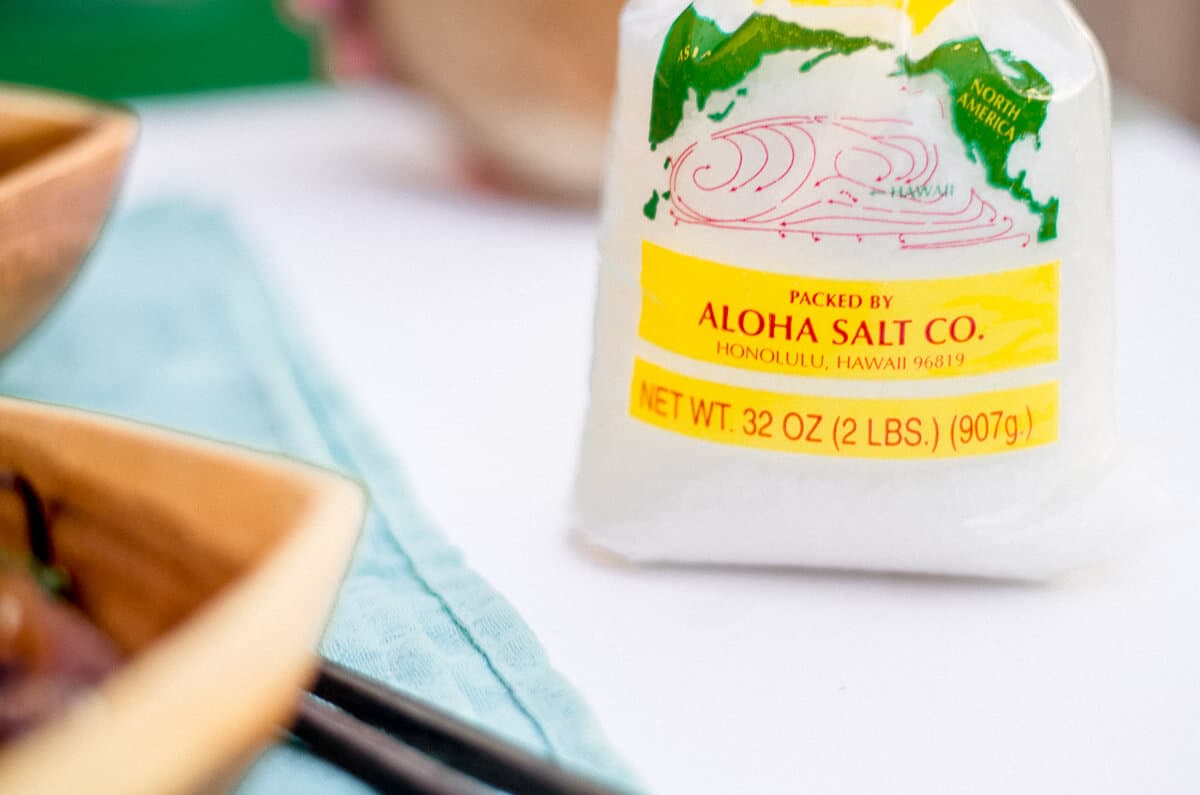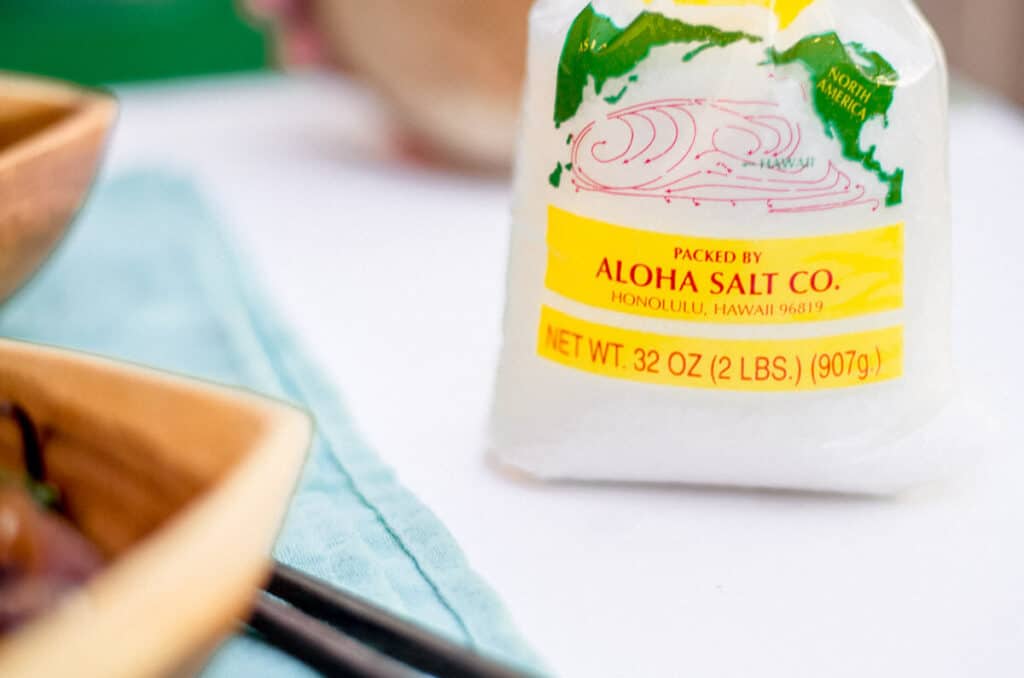 What to Look For When Shopping for Ahi (Tuna)
If buying fresh (in Hawaii), find out how long ago the fish was caught, the fresher, the better.
Ahi should have a deep color and look plump.
Don't buy fish with added colorings or dyes.
Outside of Hawaii, ahi should be frozen immediately after being caught and prepped and will stay frozen until the customer purchases.
Fish should never smell or taste "fishy", as I like to say, "the nose, knows!"
More great Hawaiian inspiration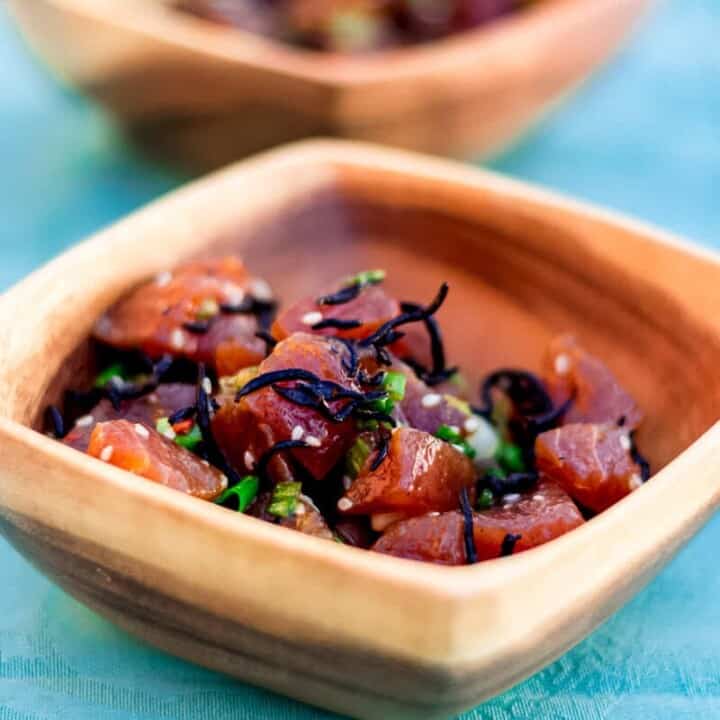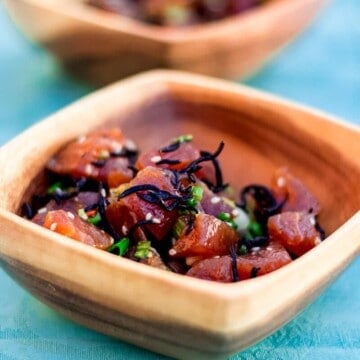 Shoyu Poke
LittleFerraroKitchen.com
Shoyu poke is a popular Hawaiian poke recipe with cubes of ahi mixed with seaweed, sesame oil, slices of sweet onion and Hawaiian salt.
Instructions
Mix all ingredients in a large bowl and refrigerate until ready to serve.

If using dried seaweed, make sure to reconstitute it in warm water before adding into dish.

Taste for seasoning and adjust as needed.
Notes
Poke is one of those recipes that doesn't need exact measurements, taste and adjust as you go. 
Poke lasts in the fridge for up to 2 days and is best enjoyed fresh. 
I would not recommend freezing poke after it has been seasoned.
Nutrition
Calories:
228
kcal
Carbohydrates:
5
g
Protein:
28
g
Fat:
10
g
Saturated Fat:
2
g
Polyunsaturated Fat:
4
g
Monounsaturated Fat:
4
g
Cholesterol:
43
mg
Sodium:
1083
mg
Potassium:
408
mg
Fiber:
1
g
Sugar:
2
g
Vitamin A:
2687
IU
Vitamin C:
3
mg
Calcium:
50
mg
Iron:
2
mg
Did you make this recipe?
Let us know by leaving a comment and 5 star rating!