Poke nachos is a fun twist of cultural fusion. Seasoned ahi poke is generously topped onto baked wonton chips and garnished with all the fun toppings, including Japanese mayo, spicy sriracha, savory furikake and creamy avocado to being it all together.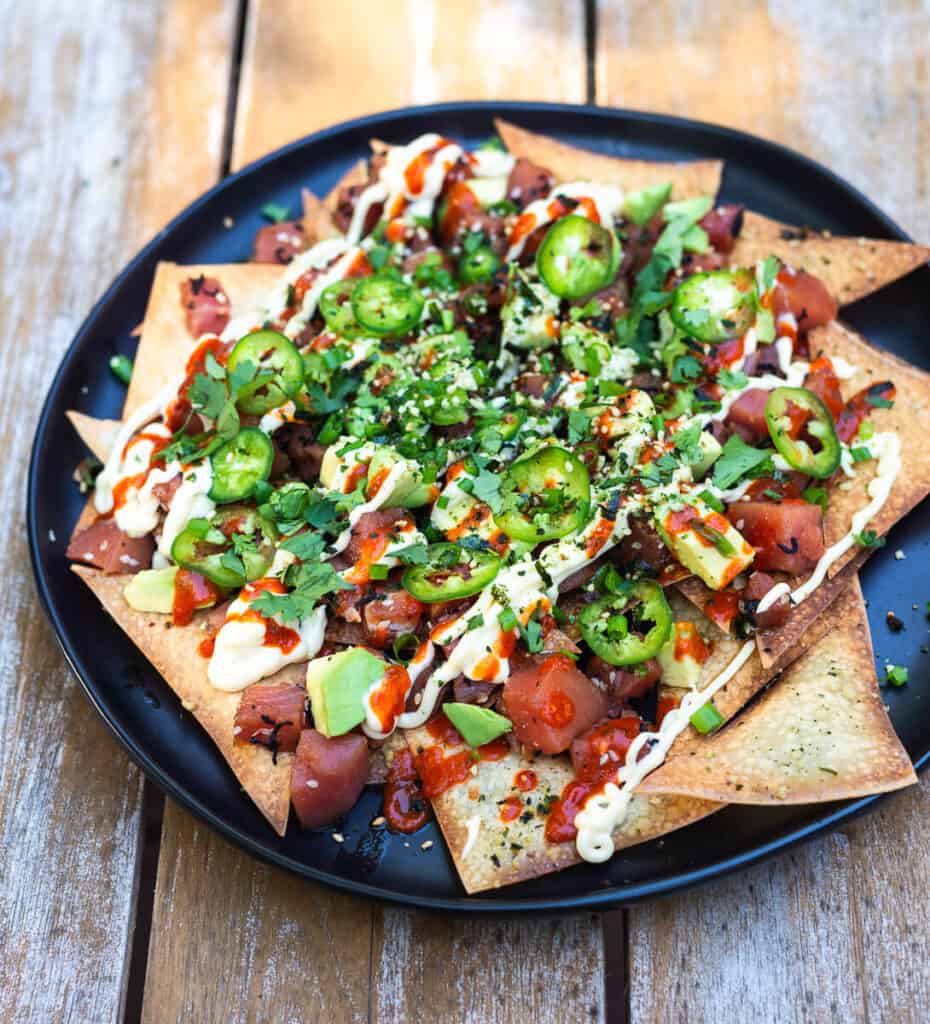 Ahi Poke Nachos
Growing up in Hawaii, I ate my weight in poke. The first thing I go when I go back home, is run to the seafood department of any grocery store and order all the different kinds of poke.
You'll often find shoyu poke, which is ahi (tuna) that is seasoned with shoyu (Japanese soy sauce), sesame oil and seaweed.
Ahi poke nachos is a fun cultural fusion recipe that you would find in some restaurants in Hawaii and is easy enough to make at home and perfect to make for a fun party appetizer!
Shoyu poke is topped onto baked wonton chips (taro chips would be fantastic too!) and garnished with all sorts of flavorful toppings, including creamy avocado, drizzles of sriracha and Japanese mayo, sesame seeds for crunch and fresh jalapeno for a bit of a kick.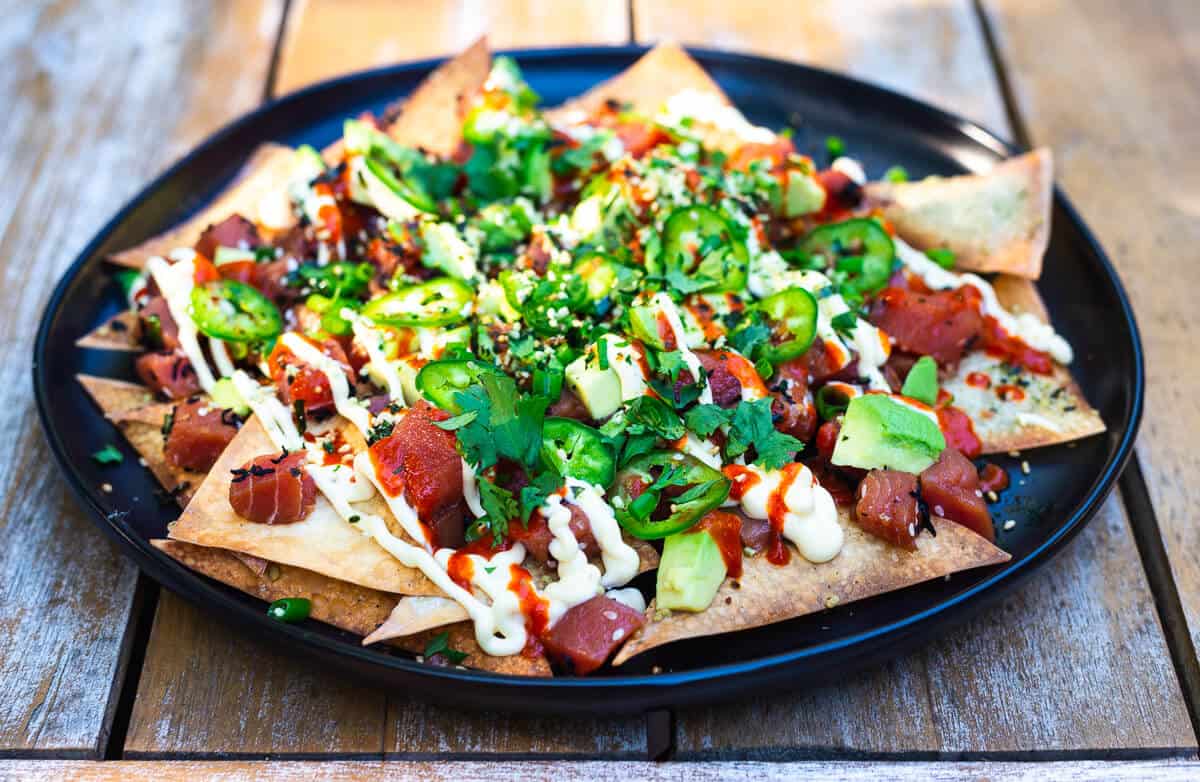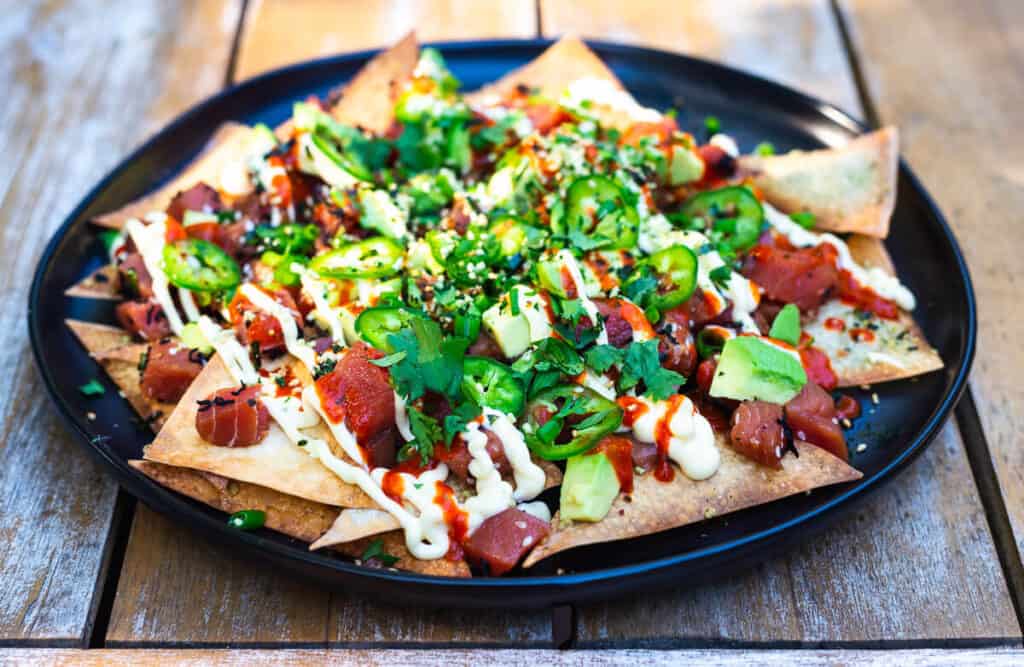 Ingredients for Tuna Poke Nachos
There are a good amount of ingredients for poke nachos, but once you make the poke, the toppings are easy.
Wonton Wrappers: Often found in Asian and international stores and most mainland stores too, wonton wrappers are cut into triangles and seasoned with furikake, which are then baked until crisp.
Furikake: A rice seasoning that often has sesame seeds and nori mixed in, though there are all sorts of different flavor variations. I love using furikake to season rice and to season rice and popcorn.
Ahi (raw tuna): Yellowfin tuna that has been immediately frozen is safe to eat. Look for good quality tuna that does not have any added dyes.
Shoyu: A Japanese style of soy sauce that is a bit sweeter and mild than other soy sauce. Aloha Shoyu is a popular brand used in Hawaii.
Sesame Oil: If you can find toasted sesame oil, that gives great flavor!
Sesame Seeds: Black or white sesame seeds, added for texture, flavor and crunch.
Ogo Seaweed: This is the brand used in this recipe. It's chopped and dried and re-hydrates as the poke sits.
Hawaiian Salt: Highly recommend always having Hawaiian salt on hand. The grains are coarse and a little goes a long way. You can use Hawaiian salt on poke or when making kalua pork and lomi salmon.
Sriracha: A flavorful hot sauce that is mild-spicy. If you prefer more mild, omit or mix some sriaracha with the mayo to mellow out the heat a bit.
Kewpie Mayo: A thick Japanese style mayonnaise that has tons of savory, rich flavor. Kewpie mayo is drizzled on top as a garnish, but mixed in with sriracha would be a delicious addition as well.
Jalapeño: Sliced paper thin and added as a garnish for added heat.
Cilantro: A few leaves added for garnish. If you don't like cilantro, omit and garnish with chopped green onion.
Wonton Chips
The base of poke nachos is wonton chips, which are very easy to make. There are 2 ways to make wonton chips.
Baked Wonton Chips. Cut wonton wrappers into triangles (if using a square shape) and lay wrappers onto an oiled baking sheet. Lightly spray the wonton wrappers with avocado oil and evenly season with furikake or sesame seeds. Bake wonton wrappers at 400 degrees Fahrenheit for 5-7 minutes until lightly golden and crisp.
Fried Wonton Chips. Pour a few inches of vegetable oil into a pot and heat oil to 360 degrees Fahrenheit. Cut wontons into triangles and places 3-4 at a time into the hot oil and fry until crisp. Continue frying in batches and then place the freshly fried wonton chips on a wire rack to drain excess oil. Season with furikake seasoning as soon as they are fried.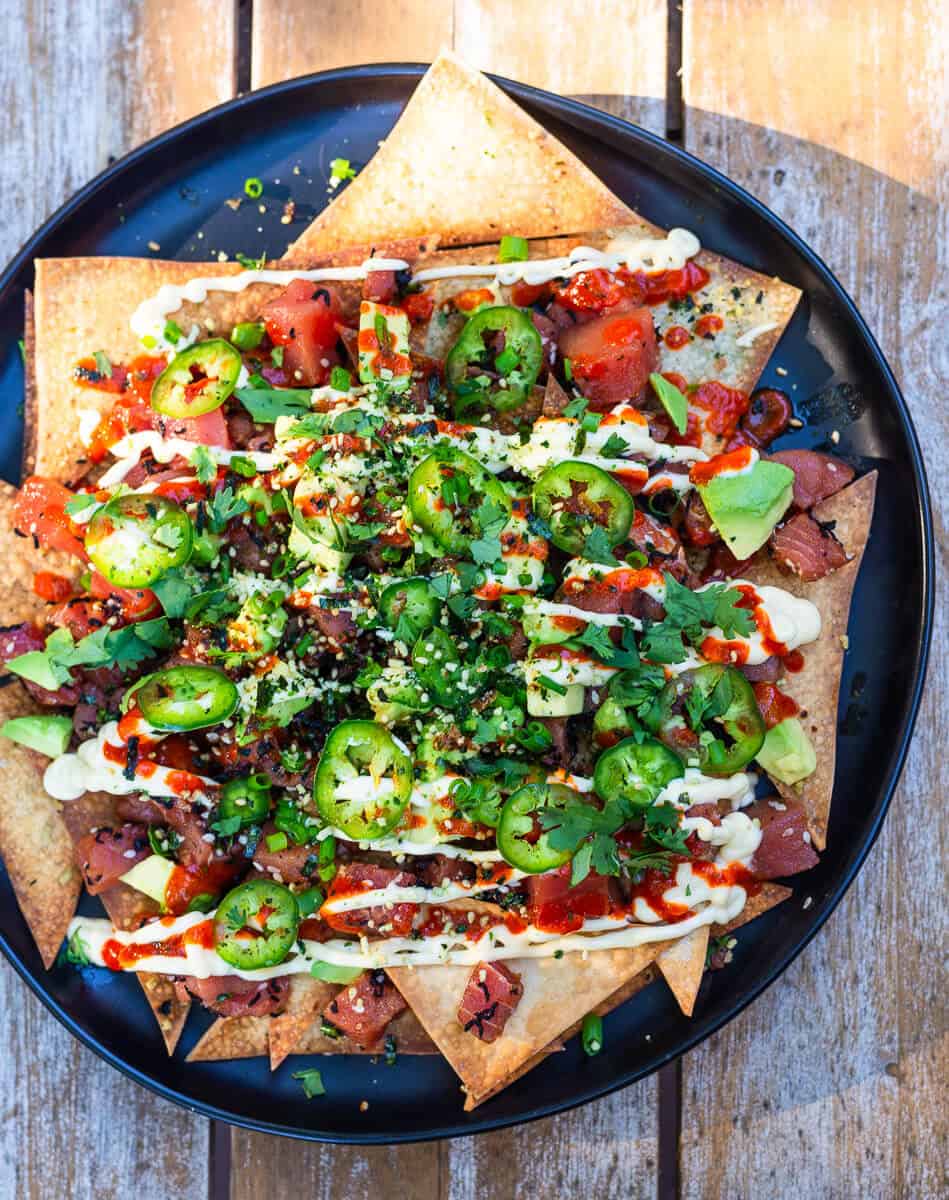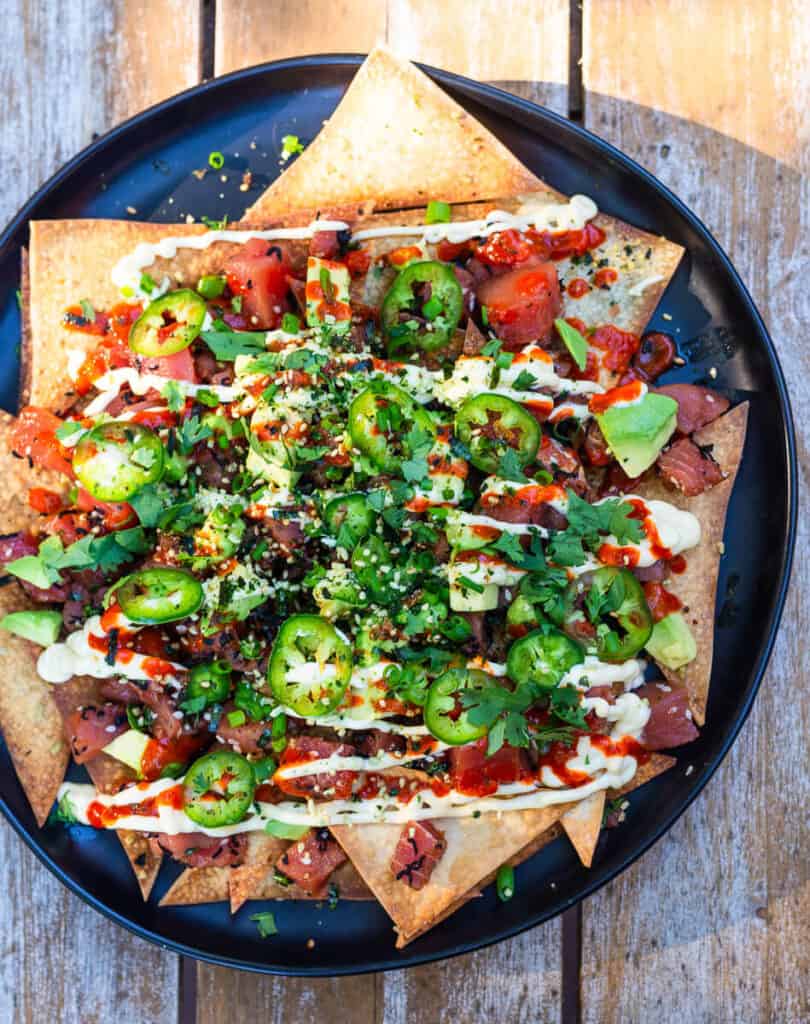 What to Serve with Poke Nachos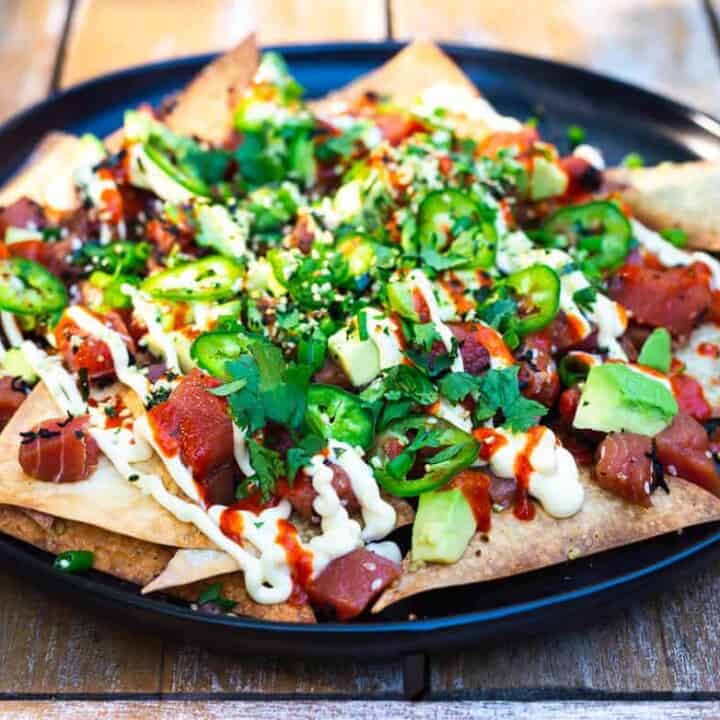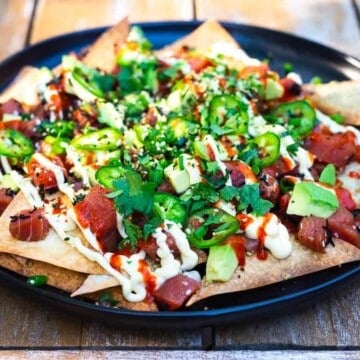 Poke Nachos
LittleFerraroKitchen.com
Poke nachos is a fun twist of cultural flavors. Ahi poke is layered onto wonton chips with sriracha and Japanese mayo and avocado.
Instructions
Make the poke. Mix all of the poke ingredients together and chill while you prepare the rest of the recipe.

Bake the wonton chips. Preheat oven to 400 degrees Fahrenheit and place cut wonton wrappers onto a parchment lined baking sheet. Lightly spray with oil and generously season with furikake seasoning.

Bake wontons wrappers for 6-8 minutes until crisp and lightly golden brown.

Layer the poke nachos. Place wonton chips onto a platter and evenly spoon poke on top of the wonton chips.

Garnish poke with a drizzle of sriracha and kewpie mayo, diced avocado, sliced jalapeno, green onions, cilantro, sesame seeds and more furikake.
Notes
Poke lasts in the fridge for up to 2 days and is best enjoyed fresh. 
To make poke nachos ahead of time, bake the wontons but keep seperate until you are ready to serve with the poke.
I would not recommend freezing poke after it has been seasoned.
Nutrition
Calories:
352
kcal
Carbohydrates:
18
g
Protein:
31
g
Fat:
18
g
Saturated Fat:
3
g
Polyunsaturated Fat:
5
g
Monounsaturated Fat:
9
g
Cholesterol:
45
mg
Sodium:
1193
mg
Potassium:
644
mg
Fiber:
5
g
Sugar:
1
g
Vitamin A:
2960
IU
Vitamin C:
12
mg
Calcium:
61
mg
Iron:
3
mg
Did you make this recipe?
Let us know by leaving a comment and 5 star rating!