Crispy and baked homemade taro chips are so easy to whip up!
First of all, I need to give a HUGE shout out to my girl, Kita from Pass the Sushi. She is the mastermind of all things technical with my blog and a total life saver. I have been freaking out and holding off on some deliciously post-worthy foods because my photos were not Pinning!
Good grief! And if you're a blogger or in any way obsessed with social media, you know that not being able to pin your images is a catastrophe.
So alas, a..million and one emails back and forth, it looks like it's working and ready to rock!
You have no idea how bloggy-happy I am right now. So get ready and go pin crazy!
There are a few things I miss from living in Hawaii. #1), my mom who just left a few days ago after spending a week for my graduation. #2, lilikoi aka passion fruit. And #3, taro chips.
Taro is a staple on the islands and my step-dad actually harvests the root right in their backyard. Check out the pictures here and for the recipe for taro and coconut.
After a trip to our favorite Asian market, I couldn't wait to slice up this purple root vegetable. And it couldn't be easier. I used one of my favorite tools, the mandolin and put it on setting 2 and sliced away. It's really starchy so be careful with your hands getting a little slippery and starchy.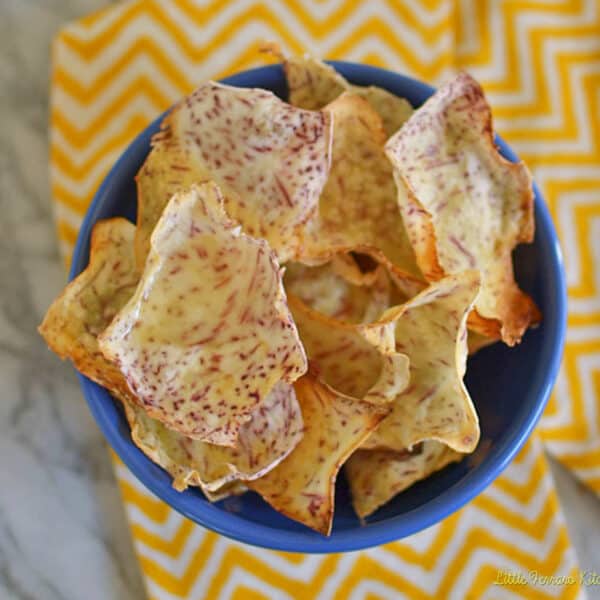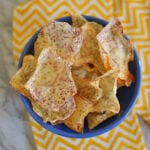 Print Recipe
Homemade Taro Chips
Crispy and baked homemade taro chips are so easy to whip up!
Ingredients
1

lb

taro

peeled

Kosher

or Hawaiian salt, to taste

Olive oil

for brushing
Instructions
If you're using a mandolin, put on the lowest setting 1 or 2 and slice the taro lengthwise.

Don't rush this step and watch your fingers as you slice. For parts that are too small to slice with a mandolin, use a sharp knife.

Place slices on parchment paper lined baking sheets and brush each slice lightly with olive oil.

Bake in 400 degree Fahrenheit oven for 20 minutes until edges are crisp. Season with extra salt if desired.
Nutrition
Calories:
91
kcal
|
Carbohydrates:
21
g
|
Protein:
1
g
|
Fat:
0.2
g
|
Saturated Fat:
0.03
g
|
Polyunsaturated Fat:
0.1
g
|
Monounsaturated Fat:
0.01
g
|
Sodium:
9
mg
|
Potassium:
480
mg
|
Fiber:
3
g
|
Sugar:
0.3
g
|
Vitamin A:
57
IU
|
Vitamin C:
3
mg
|
Calcium:
35
mg
|
Iron:
0.4
mg