Crispy and baked homemade taro chips are so easy to whip up!
Taro is a tropical plant that is grown mainly for its edible tubers in Africa, Oceania and South Asia (just like sweet potatoes and yams). While its corms, (stems), are primarily used for cooking, its leaves are also edible.
There are a few things I miss from living in Hawaii. #1), my mom who just left a few days ago after spending a week for my graduation. #2, lilikoi aka passion fruit. And #3, taro chips.
Taro is a staple on the islands and my step-dad actually harvests the root right in their backyard. Check out the pictures here and for the recipe for taro and coconut.
After a trip to our favorite Asian market, I couldn't wait to slice up this purple root vegetable. And it couldn't be easier. I used one of my favorite tools, the mandolin and put it on setting 2 and sliced away. It's really starchy so be careful with your hands getting a little slippery and starchy.
More great Hawaiian recipes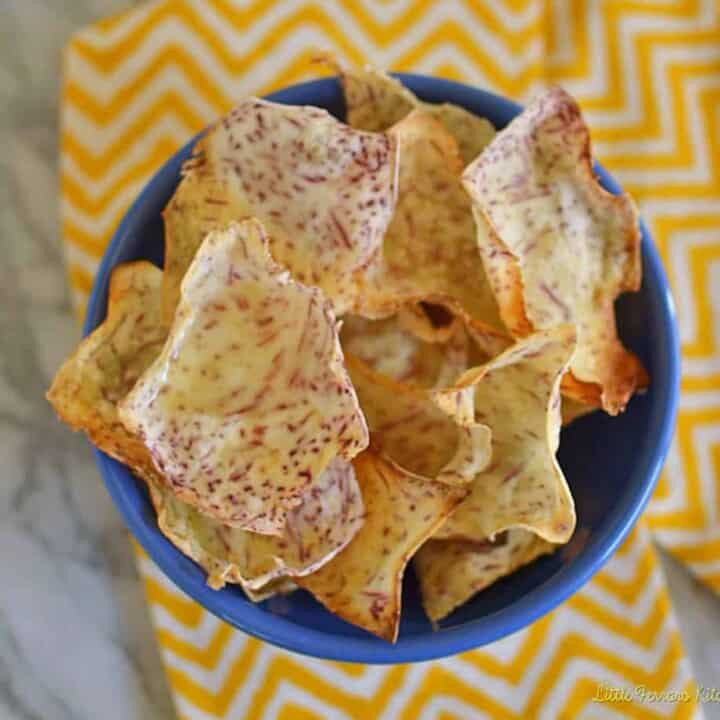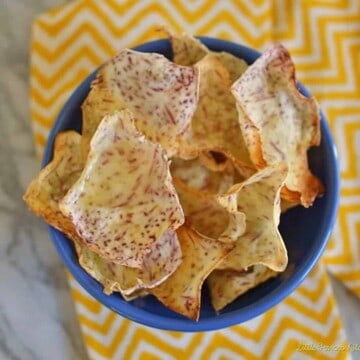 Homemade Taro Chips
LittleFerraroKitchen.com
Crispy and baked homemade taro chips are so easy to whip up!
Instructions
If you're using a mandolin, put on the lowest setting 1 or 2 and slice the taro lengthwise.

Don't rush this step and watch your fingers as you slice. For parts that are too small to slice with a mandolin, use a sharp knife.

Place slices on parchment paper lined baking sheets and brush each slice lightly with olive oil.

Bake in 400 degree Fahrenheit oven for 20 minutes until edges are crisp. Season with extra salt if desired.
Nutrition
Calories:
91
kcal
Carbohydrates:
21
g
Protein:
1
g
Fat:
0.2
g
Saturated Fat:
0.03
g
Polyunsaturated Fat:
0.1
g
Monounsaturated Fat:
0.01
g
Sodium:
9
mg
Potassium:
480
mg
Fiber:
3
g
Sugar:
0.3
g
Vitamin A:
57
IU
Vitamin C:
3
mg
Calcium:
35
mg
Iron:
0.4
mg
Did you make this recipe?
Let us know by leaving a comment and 5 star rating!