Sweet potatoes don't get nearly the cool wrap they deserve. With all the pumpkin-spice-mocha-caramel-apple hype that gets saturated during this time of year, poor little sweet potatoes are often left on the back burner.
Well, I am here today to tell you to pick up that sweet potato, because not only are they fabulous tasting, they are insanely-mega good for you! Hello beta carotene! Holla at the vitamin C!
Sweet potatoes are packed with calcium, Vitamin C and Beta carotene, potassium and folate (just to name a few) and have almost DOUBLE the fiber than pumpkins! So instead of picking up that enormously heavy Holiday pumpkin, go to the potato aisle and grab a bunch of "eye" catching sweet potatoes! (did you get the pun there?) Which are a lot easier to carry and cut into than a pumpkin! Have you ever tried to cut into a pumpkin? It's like trying to open the never-opening pickle jar.
And not only did I hook you up with a major nutritional boost with the sweet potatoes, I topped this gorgeous pigmented pie with a healthy dollop of coconut whipped cream! Which I am forever changing too! After trying coconut whipped cream, I don't think I will ever go back to the dairy kind! The flavor of coconut is extraordinary and a quarter of the sugar goes a long way. But I have to say, at first I had some trouble whipping the coconut cream up. So here are some tips when making coconut whipped cream:
1) Chill everything!! Chill the canned coconut milk overnight in the fridge and chill the mixing bowl and beaters.
2) When you open the can, remove the very watery/thin part and only whip up the thicker coconut milk.
3) Keep your eye on it. Start slow and gradually go faster. It won't whip up like very stiff whip cream but it will get thicker.
4) Add powdered sugar when it begins to get soft. I learned that the coarser sugar weighed it down and it did not fluff up as I liked (at first).
I had enough sweet potatoes to make enough for an army! As you can see here, I made little mini sweet potato pies in a jar and also had enough for a large pie. The dough is enough for either 2 pies or 12-14 mini mason jars. And how cute would it be to have little mini-pies at your Thanksgiving table. Very cute!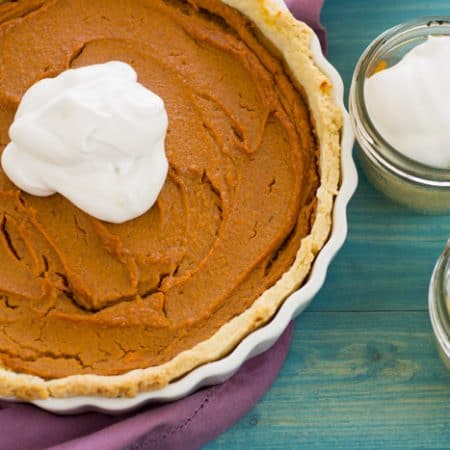 Sweet Potato Pie with Coconut Whipped Cream
LittleFerraroKitchen.com
Crust recipe adapted from the book "Pies in Jars" and Coconut Whipped Cream tutorial was used from
Oh She Glows
Ingredients
Sweet Potato Pie Mixture
3

cups

sweet potatoes

peeled, cooked and cut into large pieces

1

tsp

cinnamon

1

tsp

ginger powder

1/4

tsp

allspice

1

tsp

vanilla extract

2

eggs

3/4

c

brown sugar

freshly grated nutmeg

about 1/4 tsp
Pie Crust
2 1/2

cups

flour

sifted

1

Tb

sugar

1

tsp

salt

2

sticks of butter

chilled and cut into small cubes

4

Tb

vodka

chilled
Coconut Whipped Cream
1

can coconut milk

chilled

2

Tb

powdered sugar
Instructions
First make pie crust. In a food processor fitted with a dough blade, add the flour, salt, sugar. Pulse a few times to mix everything. Then add the chilled butter and pulse again until the dough looks like "peas". Then add your chilled vodka (this is key) until the dough comes together and looks like "wet sand" when pressed together in your hand. (Amount of liquid may vary slightly depending on weather).

Pour dough on floured surface and form together in a ball. Cut in half and wrap in plastic wrap and chill in refrigerate while you make the filling.

To make the filling, place all the sweet potato mixture ingredients in a food processor (it should be clean by now) and mix until everything is smooth and incorporated. Place in a bowl and put aside.

When dough is chilled, roll out on a floured surface util about 1/4 in thick and 10 inches side. You can either use for a whole pie crust or cut out 6-8in circles for mini mason jars.

Pour filling into pie (or jars) and bake at 400 degrees F for about 20 minutes.

While the pie is baking, make the coconut whipped cream.

If you haven't already, open the coconit mulk can and pour out the water in a seperate bowl (Save it and use for smoothies, soups, etc).

Pour the thicker coconut milk in your chilled mixer and begin to whip starting on low and gradually moving to medium-high setting. As soon as it begins to thicken, add powdered sugar and continue to beat. Check every so often for desired consistency.

When pies are done, allow them to cool for at least 15 minutes, then top with coconut whipped cream.
Nutrition
Calories:
573
kcal
Carbohydrates:
89
g
Protein:
10
g
Fat:
18
g
Saturated Fat:
15
g
Polyunsaturated Fat:
1
g
Monounsaturated Fat:
1
g
Trans Fat:
0.02
g
Cholesterol:
55
mg
Sodium:
466
mg
Potassium:
520
mg
Fiber:
5
g
Sugar:
37
g
Vitamin A:
9523
IU
Vitamin C:
4
mg
Calcium:
74
mg
Iron:
4
mg
Did you make this recipe?
Let us know by leaving a comment and 5 star rating!