A traditional Middle Eastern dish, lamb shawarma is seasoned with bold flavors of cumin, cinnamon and paprika and perfect to stuff in pita.
I have recently become addicted to the wildly popular cook book, Jerusalem. Everyone has been talking about it and how amazing this book is. I peeked at it in the book store and was in awe of its vibrant and beautiful food photography. Recipes are filled with familiar flavors that I grew up with, such as rose water, pistachio and tahini.
Then I hear from Beth from OMG! Yummy and for the last few months, she has gathered a group to virtually cook through the book! Well..most of the book. Tasting Jerusalem is the name of the group and each month a different ingredient is chosen and readers from all over the world with a fascination for the cooking, will create something based off the ingredient. It could be the same exact recipe or variation of it. How fun does that sound??
Now let's talk about zhough (Pictured above),, this is February's ingredient. An Israeli condiment, it is often called "Israeli's National Chilli Paste". I found it similar to a chimichurri with fresh ground herbs and bright lemon, but there is a distinct and addictive quality. Zhoug has smokey flavors coming from ground cumin and cardamom and fiery qualities from fresh hot peppers. I used jalapenos because that's what I had on hand and tweaked the recipe a bit. I've heard that it is so addictive that there are never any leftovers…and boy is that true! I made enough to fill a small mason jar and it was all gone by the next day! Thank goodness I had enough for the lamb shwarma. Ohh…the shwarma!

I posted this on my Instagram of just some of the spices that were part of the rub. Oh the rub…the intense smells of cinnamon and sumac permeated through our kitchen for the next 2 days. I don't think I will ever dress lamb with simple rosemary ever again, after being introduced to this blend of perfection.
And there is the hunk of meat. We dressed it with the flavors and let it sit in the fridge over night. The next day we prepped our so-cool rotisserie and let it spin and spin. I mean really…who can say they have a rotisserie in their kitchen? Such an awesome gift!
We sliced the meat thin and just like you would have with those vertical spits that you see in Turkey. That was one of our favorite smells, was the constant cooking of lamb on those open spits. The book also says that since not many people have vertical spit sin their kitchen (ha..right?), you can still make the same dish in the oven and it will come out just the same!
Needless to say dinner and lunch the next day was pretty awesome. We sliced the lamb and rolled it up in some nann bread (that's just what we had..but pita would be delicious too!) I made a quick yogurt and mint sauce and my chopped salad and piled on the spizy zhoug. And holy moly this flavor packed! Spicy and aromatic, creamy and crunchy…this took us right back to enjoying authentic kabob in Turkey.
I would like to note that we bought a 5lb lamb, bone in, which means there were a lot of leftovers (for the 2 of us). So far we've had 2 meals out of it and still have leftovers. I think this would be awesome for a small party of about 6-8 people. Have the lamb cooking and everyone can pile on their own ingredients!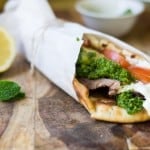 Print Recipe
Lamb Shwarma with Zhoug
A traditional Middle Eastern dish, lamb shawarma is seasoned with bold flavors of cumin, cinnamon and paprika and perfect to stuff in pita.
Ingredients
Lamb Shwarma
5

lb

leg of lamb

bone in

5

cloves

ground

1/2

tsp

cardamom

1/2

tsp

fenugreek

1

tsp

fennel seeds

1

Tb

cumin

1/2

tsp

cinnamon

1/2

whole nutmeg

grated

1/4

tsp

ginger powder

1

Tb

paprika

1

Tb

sumac

2

tsp

sea salt

3

garlic cloves

chopped finely

1

lemon

zest and juice

Small bunch of fresh cilantro

chopped

Small bunch of fresh parsley

chopped

1/2

cup

grapeseed oil

or any light oil
Zhoug
1

large bunch of cilantro

leaves and stems

1

large bunch of parsley

leaves and stems

1

jalapeno

stem removed

1/2

tsp

cumin

1/2

tsp

cardamom

1/4

tsp

sugar

1/4

tsp

kosher salt

2

garlic cloves

1/4

cup

water
Additional Ingredients and Toppings
Naan or Pita bread

1 per person

Chopped Salad – Please go here for recipe

Yogurt mint sauce – Please go here for recipe
Instructions
Lamb Shwarma
To make the lamb, add all the ingredients (exept the lamb) in a bowl and stir to combine. Score the lamb about 1/2 slits on the fat side and meat side. Rub the marinate all over the lamb, making sure to get in the slits you made. Place it in a bowl and allow it to marinate in the fridge for at least 6 hours or over night.

When ready, take the lamb out of the fridge and allow it to sit at room temperature for abotu 20 minutes. Use kitchen twine to wrap the uneven parts of the meat and make it a more uniform shape.

If using a rotiserrie, follow manufactures instructions. It took about 2 hours for our lamb to cook.

If using the oven, place lamb in an oven proof dish with fat side up. And roast at 325 degrees F for about 4 1/2 hours.

After 30 minutes of cooking, add 1 cup of hot water to the pan and baste about every hour.

The last 3 hours, cover the pan with foil so the rub doesn't burn.

When done, the meat should fall apart easily and read 160 degrees F using a meat thermometer. Allow the meat to rest for 10 minutes before slicing.
Zhoug
Place all ingredients in a food processor and pulse to combine. The sauce should not be too smooth and still have texture to it. Taste for seasoning and serve with lamb or other protein.
Putting Lamb Shwarma Together
Heat the bread in a skillet or pizza stone so that it becomes slightly crispy. Place a few slices of lamb first, then dress with chopped salad, yogurt sauce and zhoug.
Nutrition
Calories:
367
kcal
|
Carbohydrates:
4
g
|
Protein:
37
g
|
Fat:
22
g
|
Saturated Fat:
4
g
|
Polyunsaturated Fat:
10
g
|
Monounsaturated Fat:
6
g
|
Cholesterol:
114
mg
|
Sodium:
769
mg
|
Potassium:
596
mg
|
Fiber:
1
g
|
Sugar:
1
g
|
Vitamin A:
493
IU
|
Vitamin C:
10
mg
|
Calcium:
36
mg
|
Iron:
4
mg