Happy Sunday! Today, a few of my "bloggy" girlfriends are hosting a "Surprise" baby shower for our dear frint Nicole from Misadventures of a Foodie …….Oh ya….Surprise, Nicole!!
The menu for the party was only the classiest and finest, of course. Pizza, booze and brownies.I figured a four cheese pizza with sausage and roasted peppers would suffice any pregnant woman's urges. Cheese, carbs, meat and more cheese…Pass me a cold beer, would ya? Or maybe a glass of Chianti. Heck a non-pregnant-anyone would be craving this!
I'd like to call this the "ultimate Sammy Pizza" because it has all of my favorite things that I top with every single time we make pizza at home. Four cheeses (Parmesan, Pecorino, Mozzarella and Ricotta), spicy Italian sausage (the spicier, the better for me), sweet roasted peppers and garnished with fresh oregano and more chilli oil for extra heat I just can't get enough (Pepsid chaser, anyone?)

I first met Nicole last year when we both went to Temecula for a food bloggers potluck and we instantly connected! Here is this tiny blonde petite little thing jumping out of a huge Ford pickup, I knew this chick was good people. And I am soo sooo thrilled to be celebrating her new bundle with some of our friends…and in the best way possible….with food!
Please check out what our gal-friends made for Nicole's baby shower. And please head over to her blog and wish this little cutie a HUGE congratulations!   Congrats Nicole!! :))
And here's what everyone else brought to the party! And PS….here are some of my favorite tips to making the ultimate pizza!
Boozy Red Velvet Hot Chocolate from Ari's Menu
Boozy Iced Coffee from The Wanderlust Kitchen
Coconut Oil Brownies from Handle the Heat
Raspberry Lemonade Champagne Punch from Eat. Drink. Love.
Four Cheese Pizza with Sausage and Peppers from The Little Ferraro Kitchen
Crab Rangoon Pizza from Mollie's Sprinkles of Life
Grapefruit Chia Seed Cocktail from Peace Love and Oats
White Pizza with Bacon, Basil & Tomatoes from Eating Bender
Chile Relleno Pizza from Bread Booze Bacon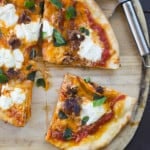 Print Recipe
Four Cheese Pizza with Sausage and Peppers
Servings:
1
personal 10 inch pizza
Ingredients
4

ounces

pizza dough

3/4-1

cup

tomato sauce

1

bell pepper

roasted and cut into 1/2 inch pieces (or use pre-roasted peppers in a jar)

1

cup

full fat ricotta cheese

1/2

cup

mozzarella cheese

shredded

1/4

cup

Parmesan cheese

freshly grated

1/4

cup

Pecorino cheese

freshly grated

1

link spicy Italian sausage

removed from casing and broken into 1/2 inch chunks
Toppings
Fresh oregano leaves

Fresh basil leaves

roughly torn

Chili flakes

or chili oil
Instructions
First, fry sausage pieces in a small skillet until cooked through and browned, about 7-9 minutes. When done, set aside on a paper-towel lined plate.

If using store bought pizza dough, separate it into 4ounce servings, per person and allow to sit at room temperature for about 20 minutes. When ready, lightly flour a clean surface and use your fingertips to press into the dough, making it a circle.

Continue working on the dough, pressing it and stretching it with your fingertips. Then flour a rolling pin and roll out the dough, keeping it into a circle shape (best you can). You may have to flour under the pizza dough as well if it sticks and continue to roll out until it is about 9-10 inches in diameter.

Next, ladle tomato sauce onto the dough, leaving about a 1/4 inch border of no sauce. Then add your favorite toppings: dollops of ricotta cheese, shredded mozzarella, cooked Italian sauce, roasted peppers and grated Parmesan and pecorino. Drizzle the top with olive oil and place in a VERY hot 500 degree oven on a pizza stone (or you can pre-heat the bottom of a baking sheet and place pizza on that). Cook for 8-10 minutes until crust is golden browned and cheese has melted.

Once pizza is done, remove from oven and add additional toppings such as fresh oregano and basil and chili oil (optional, of course). Use a pizza cutter to cut pizza into 4-6 pieces and enjoy!
Notes
Of course toppings and topping measurements don't have to be exact..have fun with your pizza!