Homemade meatballs with Sunday gravy is a true labor of love. Meatballs are mixed with three meats and seasoned with flavorful aromatics which are then simmered in marinara for hours making them incredibly tender and flavorful.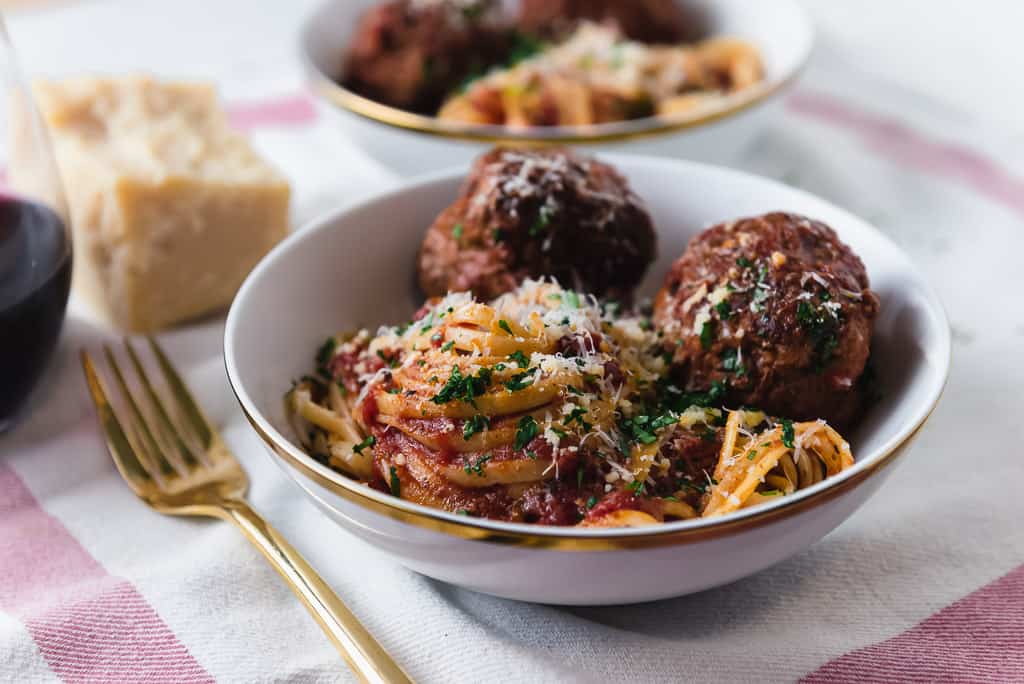 Now, not to pat myself on the back or anything, but I can make a pretty darn good Italian style meatball. I'd like to say it's one of my secret powers. Large burley "manly-men" have quite literally swooned and fainted at the first bite of my meatballs and at the very whiff of my Sunday gravy, tears from start streaming down their cheeks in glee.
A bit dramatic? Maybe, but that's how I imagine it to be.
Sunday Gravy Recipe

An Italian-American dish, Sunday gravy is a slow simmered marinara with any meat that you have. We like adding browned meatballs and Italian sausage and let the meat slowly simmer in the sauce all day long. You can also add pork chops and short ribs which will make the sauce even richer.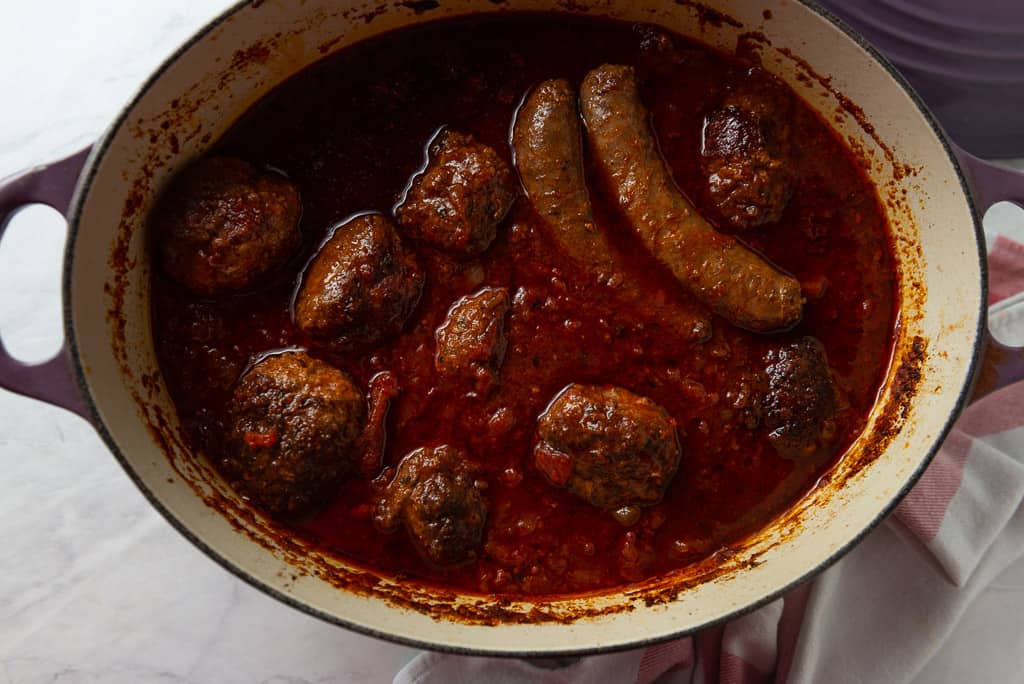 Tips for Making the Best Italian Meatballs

I have made this recipe so many times with so many variations and I'll share them all here.
Use a combination of meats, I like using ground pork, ground veal and ground beef. You can also make meatballs with a combination of Italian sausage and ground beef
Fresh breadcrumbs are always ideal but I also love using panko breadcrumbs on the regular.
Moisten the meatballs by adding a good splash of milk, it just works
Aromatics: If I have the time, I'll sauté onions and garlic in olive oil, let that cool and add that to the mixture.
Fresh herbs make a difference: parsley leaves and oregano brighten up the meatballs.
Form meatballs into balls, about the size of your palm and sear in the same pot you'll be making the Sunday Gravy. This will give the sauce great depth of flavor.
How To Cook Meatballs
Sear Meatballs: Once meatballs are formed, sear meatballs on all sides in a bit of olive oil over medium-high heat. Cook meatballs in batches and set aside on a platter. It's ok that the meatballs are not fully cooked, they will finish cooking in the sauce.
Bake Meatballs: Place meatballs on a parchment lined baking sheet and bake at 425 degrees Fahrenheit for about 10 minutes. The meatballs won't have the deep char that they do when searing, but will be cooked all the way through. At this point you can eat them immediately and/or add them to the marinara sauce.
How to Freeze Meatballs
I make a huge batch of meatballs because they freeze and reheat so well.
Freeze Uncooked Meatballs: Place formed meatballs in a single layer on a baking sheet or plate and freeze, then transfer to resealable bag. You will need to fully thaw before cooking the meatballs.
Freeze Cooked Meatballs: Same as above, but you can add the frozen meatballs to a pot of marinara until warmed through.
Freeze Meatballs in Sauce: I've done this when I'm in a rush. I place meatballs and sauce in a large resealable bag and freeze. To re-heat, I dump the entire contents into a pot and bring up to a simmer. This is a great option to use as a meatball sandwich since the meatballs may lose their shape.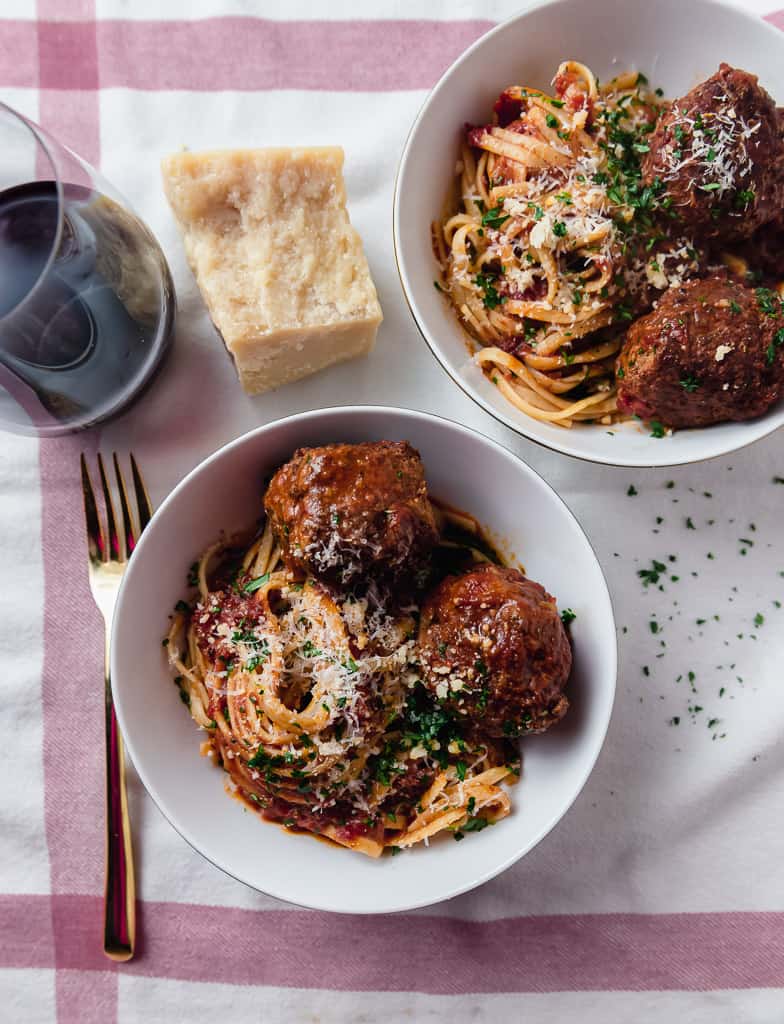 Other Italian-American Favorites to Serve Along with Sunday Gravy
More Pasta dishes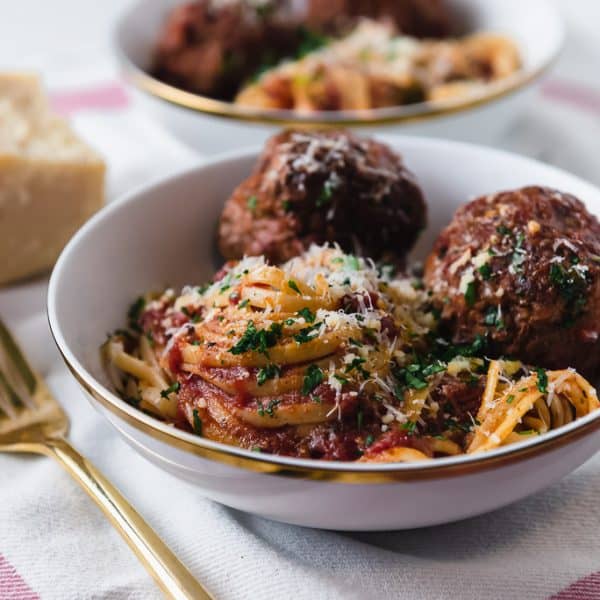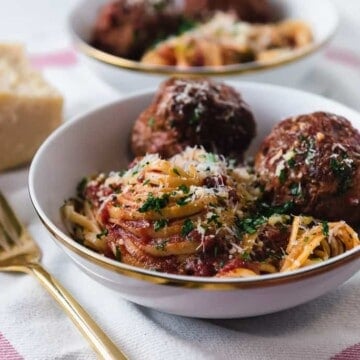 Homemade Meatballs with Sunday Gravy
LittleFerraroKitchen.com
Homemade meatballs with Sunday gravy is a true labor of love. Seasoned meatballs are simmered in marinara making them tender and flavorful.
Ingredients
Meatballs
2

tablespoon

olive oil

divided

¼

red onion

diced

3

garlic cloves

finely chopped

1

pound

ground beef

1

pound

ground pork

1

pound

ground veal

½

cup

freshly grated Parmesan

Small bunch of parsley

leaves chopped

2-3

Sprigs of fresh oregano

leaves chopped

1

egg

whisked

½-3/4

cup

fresh breadcrumbs

(can sub panko)

½

cup

whole milk

½

teaspoon

Kosher salt

Few grinds of freshly cracked black pepper
Sunday Gravy (Marinara Sauce with Meat)
Instructions
Meatballs
Drizzle 1 tablespoon of olive oil in a sauté pan and place over medium heat. Add chopped onion and sauté until lightly caramelized, about 5 minutes. Add garlic and sauté for another minute.

Remove mixture from heat and cool to room temperature for a few minutes.

In a large bowl, add the ground meats, egg, herbs, breadcrumbs, milk, salt and pepper and the onion mixture. Mix everything very well but don't over mix.

Form the mixture into into balls, about the size of your palm. You can line the meatballs on a parchment lined baking sheet before cooking.
Sunday Gravy (Marinara Sauce with Meat)
Heat a large pot or dutch oven over medium-high heat and drizzle with the other tablespoon of olive oil. Add sausage links and sear on both sides until browned and set aside.

In batches, sear meatballs on all sides until browned and set aside. It's OK if they're not cooked all the way through, the meatballs will finish cooking in the sauce.

In the same pot with the drippings, sauté the chopped onion until caramelized. About 3-5 minutes. Add garlic, red pepper flakes and herbs and sauté for another two minutes. Stir in tomato paste.

Add wine and de-glaze the bottom of pan, scraping off the bottom bits (this is all flavor) and allow to reduce slightly. Pour in crushed tomatoes and give everything a good stir. Add salt and pepper to taste.

Add the sausage and meatballs and any reserved juices back into the sauce along with the Parmigiano rind.

Bring sauce to a simmer and cove the pot halfway and cook sauce for at least 3 hours, giving the sauce a stir every so often.

When done, toss a few ladles of tomato sauce with cooked pasta and serve with meatballs and sausage. Garnish with fresh basil and grated Parmigiano.
Notes
Instead of using fresh herbs and aromatics for the meatballs, you can substitute: 1 teaspoon garlic powder, 1 teaspoon onion powder, 1 teaspoon dried oregano.
Any combination of meat will work, such as combining sausage with beef or ground turkey with sausage. Meatballs are very versatile. 
Nutrition
Calories:
762
kcal
Carbohydrates:
46
g
Protein:
41
g
Fat:
43
g
Saturated Fat:
15
g
Trans Fat:
1
g
Cholesterol:
157
mg
Sodium:
783
mg
Potassium:
966
mg
Fiber:
4
g
Sugar:
7
g
Vitamin A:
360
IU
Vitamin C:
10
mg
Calcium:
163
mg
Iron:
5
mg
Did you make this recipe?
Let us know by leaving a comment and 5 star rating!