This parmesan brussels sprouts salad has been made for years and continues to be a favorite recipe, especially during the holidays! Shaved brussels sprouts are tossed with nutty pistachios and loads of grated Parmesan cheese and dressed with the most delicious balsamic dijon vinaigrette. This will be everyone's favorite winter salad!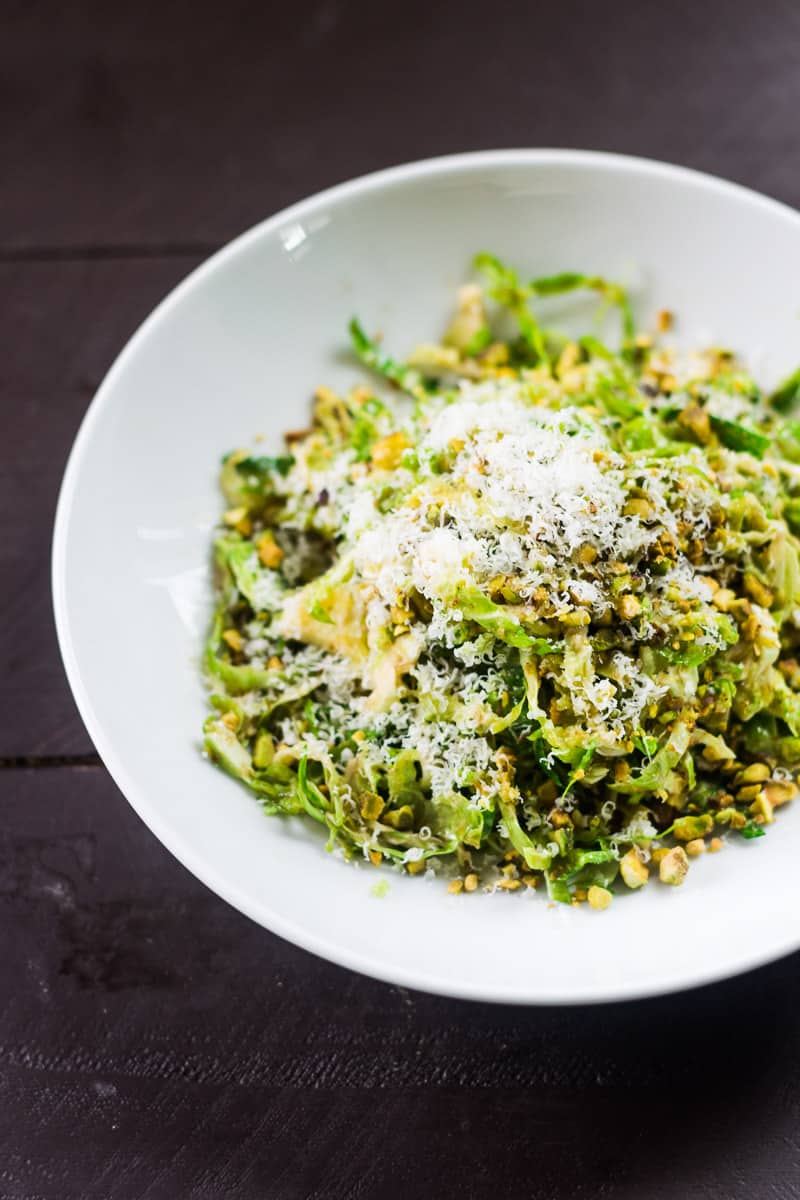 If you are looking for a crunchy and flavorful side dish or salad to serve for with these Delicious Thanksgiving Recipes or any fall dinner, you will love these salads, Kale Salad with Cranberries, Apples and Feta and Arugula Pear Salad with Parmesan Vinaigrette. I've been making these salads for nearly 10 years and they are always fan favorites!
The salad is full of textures and flavors including thinly sliced brussels sprouts that become incredibly tender yet are able to hold their structure with the lemon Dijon vinaigrette. The simple balsamic vinaigrette has both sweet and savory flavors, thanks to the Dijon mustard and touch of honey.
And a final dusting of grated parmesan cheese gives the entire brussels sprouts salad a lovely savory layer that works so well with the other ingredients.
Why You'll Love this Recipe
Lots of flavors and texture going on! Salty, crunchy, hearty and slightly sweet.
Perfect salad to make ahead! Shaved brussels sprouts hold up really well with dressing, so you can make this salad ahead of time, no problem!
This is such a delicious seasonal salad or side dish to make alongside your other favorite Thanksgiving recipes.
Ingredients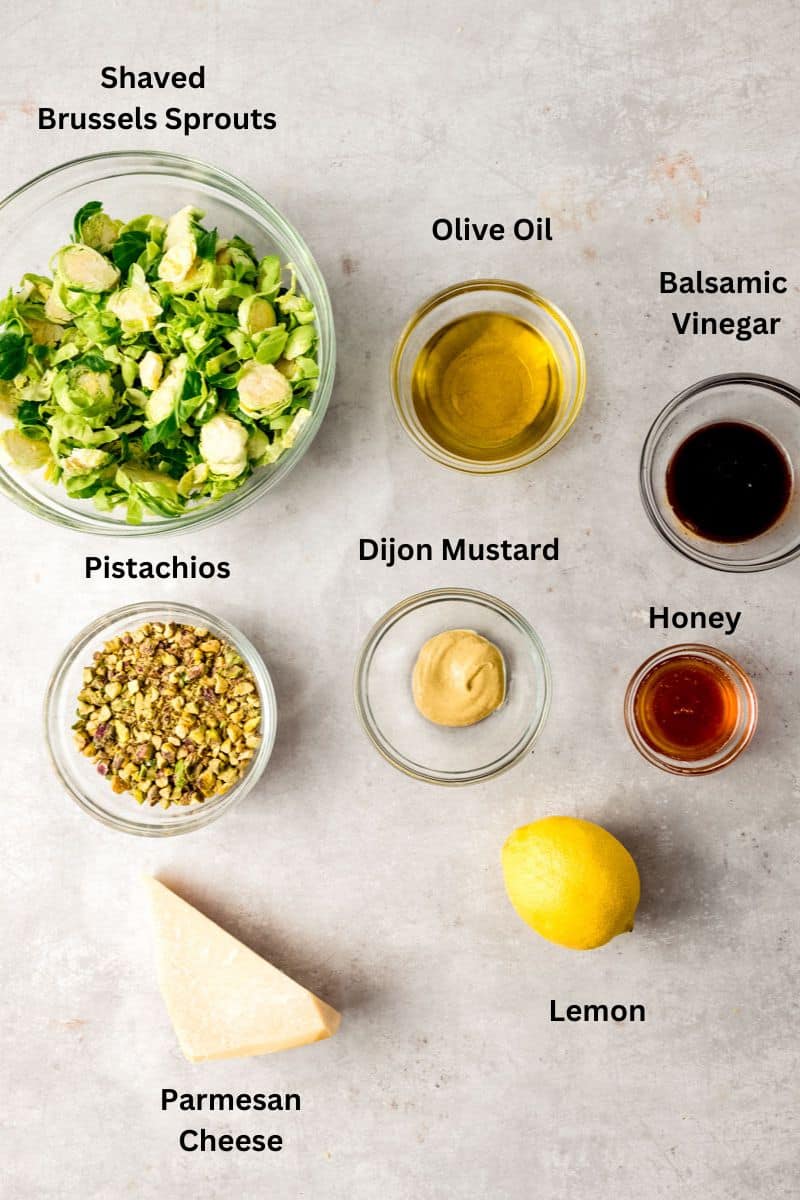 Shaved Brussels Sprouts: Most stores have shaved or shredded brussels sprouts, which makes this salad come together so quickly. But to shave them yourself, vut the brussels in half, then slice to get thin shreds.
Pistachios: Unsalted, chopped pistachios give the salad a bit of creaminess and crunch.
Grated Parmesan Cheese: A good amount of grated parmesan cheese is tossed with the brussels sprouts and pistachios and compliments the other flavors as well.
Olive Oil: This is the base of the vinaigrette. Use a good quality extra virgin olive oil, such as this Italian olive oil, which is a favorite.
Balsamic Vinegar: A small amount is added to the vinaigrette for a slightly sweet and acidic layer of flavor.
Dijon Mustard: This gives the vinaigrette a lovely savoriness and helps emulsify and thicken the dressing.
Lemon Juice: Fresh is best is what they always say, and a touch of fresh lemon juice makes all the difference and wakes up the savory flavors.
Honey: A small amount of honey is added to the vinaigrette to balance all of the savory and tangy flavors.
How to Make Parmesan Brussels Sprouts Salad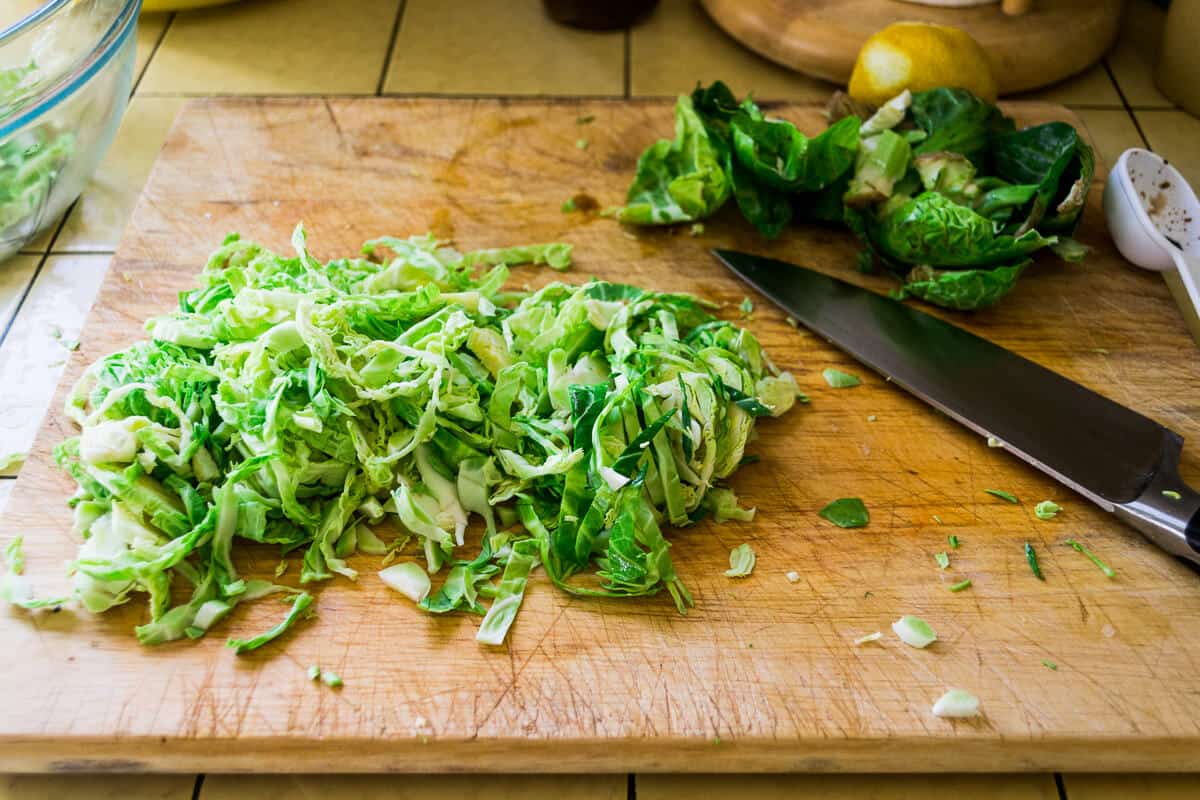 Add shaved brussels sprouts to a bowl, along with the chopped pistachios and grated parmesan cheese.
Make the vinaigrette and whisk the olive oil, balsamic vinegar, Dijon mustard, honey and a bit of lemon juice together until emulsified and well combined.
Pour the dressing over the salad and give everything a good mix and serve.
Tips, Suggestions and Substitutions
If cows milk cheese doesn't work for you, substitute the parmesan cheese with pecorino, which is a sheeps milk cheese.
Instead of using pistachios, substitute with toasted pine nuts or toasted almonds.
Other additions you can add are dried cranberries or dried cherries and roasted butternut squash.
How to shave brussels sprouts for a salad?
If using whole brussels sprouts, cut the root end off, then cut the brussels sprout in half and slice through, creating thin shreds.
Can I cut and shave brussels sprouts ahead of time?
Yes, cut and shave brussels sprouts then store in a resealable plastic bag with a sheet of paper towel in the bag, to soak up any moisture and keep the brussels sprouts fresh.
Can I make the brussels sprouts salad ahead of time?
Yes, the salad works very well made ahead. You can either assemble the salad ingredients together and toss the dressing before serving or dress the salad up to 3 hours in advance.
More Seasonal Side Dishes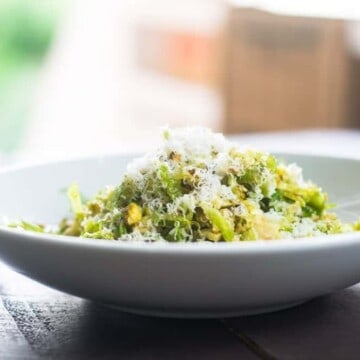 Parmesan Brussels Sprouts Salad with Pistachios
LittleFerraroKitchen.com
Shaved parmesan brussels sprouts salad is an elegant holiday side dish. Shaved brussels are tossed with pistachios and dressed in a balsamic vinaigrette.
Instructions
For the vinaigrette, whisk the olive oil, balsamic vinaigrette, dijon mustard, honey and lemon zest and juice together until emulsified and well combined.

To shave brussel sprouts, cut the stem off and cut them in half, discarding any tough outer leaves. Use a sharp knife and thinly slice the brussel sprouts into thin shavings.

Add the shaved brussels sprouts to a bowl, along with the pistachios and grated parmesan cheese.

Drizzle enough vinaigrette over the salad and give everything a good mix. Place salad into a large serving bowl and garnish with additional parmesan and pistachios.
Notes
Salad yields about 3-4 servings as a side dish and 2 servings as a main. 
You can dress the salad and make ahead up to 3 hours in advance. 
If salad is not dressed with the vinaigrette, you can make ahead up to 1 day in advance and dress the salad before serving.
You may have a little more dressing than needed for the recipe, start with enough to coat everything then add more as needed. 
Nutrition
Calories:
411
kcal
Carbohydrates:
18
g
Protein:
9
g
Fat:
36
g
Saturated Fat:
6
g
Polyunsaturated Fat:
5
g
Monounsaturated Fat:
24
g
Cholesterol:
4
mg
Sodium:
154
mg
Potassium:
555
mg
Fiber:
6
g
Sugar:
7
g
Vitamin A:
760
IU
Vitamin C:
90
mg
Calcium:
139
mg
Iron:
2
mg
Did you make this recipe?
Let us know by leaving a comment and 5 star rating!