There is nothing more satisfying than waking up to the smell of cinnamon and nutmeg baking away in the oven during the Holiday season. That's exactly how it felt as I was prepping this baked eggnog french and Joe was sleeping away the jet lag from our trip. Which I am still transitioning from…getting up at 3am is tough, but it created this amazing breakfast concoction, so not all is bad. So when Kitchen Play and Safest Choice Eggs asked me to come up with some inspiration for eggnog, breakfast it was! And speaking of breakfast concoction, I discovered that there is a difference between baked french toast and bread pudding. I asked on my Facebook page if anyone thought of any differences, and my mom said "ya!" (Mom's know best, don't they?)..French toast is crusty on the outside and bread pudding has almost a custard feel on the inside. Yes…obviously! So with this baked french toast, we have the best of both words including smooth and velvety eggnog in the center with a nice bite of french toast crust on the outside. And the best part is, it's all baked in the oven and can be prepped before anyone even knows about it!
Eggnog is the theme of the day and with copious amounts of eggs from Safest Choice, I decided to whip up a quick eggnog inspired custard for the thick challah to soak in. I love eggnog flavors and I threw them all in! Cinnamon, nutmeg, a bright zesting of orange zest and of course a good hefty shot of Brandy offers every single bite of my favorite Holiday flavors!
And if that wasn't amazing enough, jet-lag gave me this crazy idea to top the baked french toast with sauteed pears and pomegranates. I absolutely love this combination and have made it before in crumbles and it is just divine. Pears and pomegranates are so gorgeous this time of year, the pears are ripe and sweet and the pomegranate seeds are so eye-catching and bright red, it's hard to resist. As the eggnog french toast is resting after it's baked, quickly saute sliced pears in butter and brown sugar until they soften and then at the very last minute, sprinkle with gorgeous bright red seeds.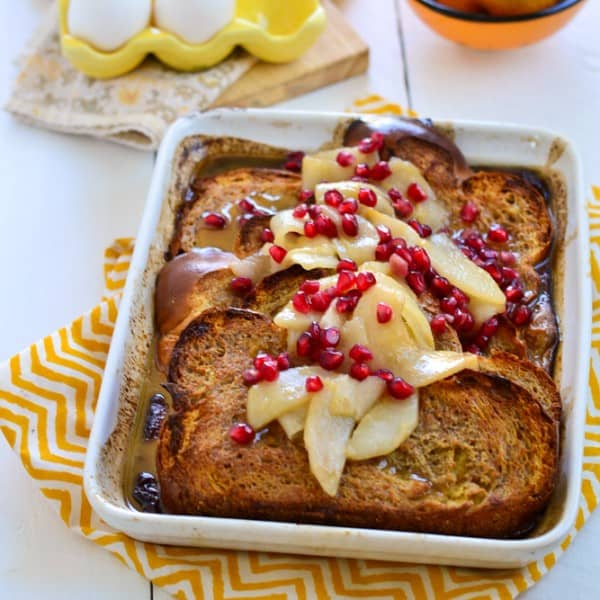 Print Recipe
Baked Eggnog French Toast with Sauteed Pears and Pomegranates
Ingredients
Eggnog French Toast

1/2

cup

heavy cream

1/2

cup

milk

4

eggs

1

oz

Brandy

1/2

tsp

cinnamon

1/2

tsp

freshly ground nutmeg

1/4

tsp

fresh orange zest

1

tsp

vanilla

1

tsp

honey

1

Tb

brown sugar

pinch

of kosher salt

1

Tb

butter

for greasing pan

4

thick slices challah bread
Sauteed Pears and Pomegranates
1

pear

peeled, cored and sliced thin

1/2

cup

pomegranate seeds

2

Tb

butter

unsalted

2

Tb

brown sugar

1/4

orange

juiced
Instructions
Use the 1Tb butter to grease a medium sized, wide baking pan. Lay challah slices, slightly overlapping if need to.

In a separate bowl, mix the rest of the french toast ingredients. Everything from the heavy cream through salt. Whisk everything together very well and slowly pour over the challah bread evenly. Cover with plastic wrap and refrigerate for at least 1 hour, or overnight if you have the time.

Take the french toast out of the refrigerator and remove plastic wrap. Recover with foil and bake at 350 degrees F for 30 minutes. Then remove the foil and bake for an additional 10-15 minutes, or until the topping gets crusty. When done, allow to rest.

While french toast is resting, make the sauteed pears. In a non-stick skillet, melt the butter and brown sugar together. Add pears and allow to cook until they begin to get soft, about 5 minutes, stirring continuously. Squeeze in orange juice and continue to stir. Turn off heat and add pomegranate seeds the last minute. Pour sauteed fruit over baked french toast.
Notes
This was a sponsored post with Kitchen Play and Safest Choice Eggs. All delicious opinions are my own.
Giveaway!
Kitchen Play and Safest Choice Eggs are hosting a Sweeptstakes/Giveaway December 4 – December 10.
Four baking prize packs will be awarded randomly. The prize packs will contain:
Sur La Table baking sheets (http://www.surlatable.com/product/PRO-189237/Sur+La+Table+Platinum+Professi…)
Sur La Table Mixing Bowls (http://www.surlatable.com/product/PRO-190183/Sur+La+Table+Red+Mixing+Bowls+…)
Sur La Table Snowman Spatulas (http://www.surlatable.com/product/PRO-1302017/Silicone+Snowman+Spatulas+Set…)
Better Homes and Gardens Baking (cookbook) (http://www.amazon.com/Better-Homes-Gardens-Baking-Techniques/dp/1118453263)
12 coupons for free dozen Safest Choice Eggs (12 dozen total)
Safest Choice whisk and potholder
Total value approximately: $150 per prize pack.
The link to the promo page on Facebook is: http://l.inkto.it/hfyb