I'd like to introduce you to my new bff , savory sausage and onion bread pudding. I think you all will get along very, very nicely. A not so distant cousin to your favorite Thanksgiving stuffing with close friends in the bread pudding group, this isn't your 'average every year the same thing stuffing'. This savory bread pudding is packed full of Italian flavor and will kick up your Thanksgiving dinner!
Inspiration for this gorgeous bread pudding came again from our favorite Mario Batali restaurant, Mozza in Newport Beach. I love their pizza so much that I've been planning on going for my birthday last week and couldn't wait! I'm salivating just thinking about it now. One of my favorite pizzas they make has spicy homemade Italian sausage with paper thin red onions. It's spicy, salty and savory..all my favorite flavors!
This recipe wouldn't have happened without this amazing package from Maestro Sausage! I still have sausage buried high in the freezer and can not get enough of the indulgent pork. Their hot Italian and goat cheese were my favorites. And for the record, I won't be offended if you decide to place some sausage links under my Hanukkah bush. Wait…that came out way wrong, right? Ok..back to the food. I mean really, how many sausage puns can you do. Don't tempt me!
Masterlink Sausage is located locally in Southern California and I have plans to visit their factory in the future. Not only is the sausage awesome, but the company and people are the best! I am so excited to include them in this recipe. And possible more future sausage recipes as well. Sausage FTW! (Is that still a phrase?)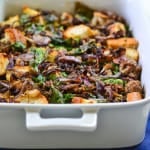 Print Recipe
Savory Sausage and Onion Bread Pudding
Ingredients
2

links of Hot Italian Sausage

or your favorite sausage

2

sprigs fresh rosemary

chopped

2-3

sprigs fresh thyme

leaves removed and chopped

1-2

sprigs of fresh oregano

leaves removed and chopped

2

garlic cloves

chopped finely

1/2

tsp

red pepper flakes

optional

3/4

cup

red wine

1/2

red onion

sliced very thin

1

loaf Ciabatta bread

stale preferred, cut into large cubes

5

eggs

1

cup

milk

1

cup

chicken stock

1

cup

raw spinach leaves

1/2

cup

freshly grated Parmesan cheese

Olive oil

for drizzling

Salt and pepper

to taste
Instructions
Remove sausage meat from casings, breaking up the meat and browning in a skillet drizzled with olive oil. Cook on medium heat until all the pieces are caramelized and cooked through.

Then add chopped herbs, garlic and red pepper. Continue to cook for 1-2 minutes until garlic is caramelized.

Add red wine and allow wine to reduce. Use a wooden spoon to scrape the pan, picking up any of the meaty bits from the pan. Continue to cook for about 3-4 minutes until wine has reduced and alcohol has cooked off. When done, set aside.

In another skillet, drizzle with olive oil and add sliced onions. Cook on medium-low until onions have softened and caramelized. About 10 minutes. The thinner you slice them, the quicker and easier they will take to soften. When done, set aside.

In another bowl, whisk together the eggs, milk and chicken stock and season with salt and pepper. (Not too much salt since you're adding the Parmesan cheese).

In a large casserole dish, drizzle the bottom with olive oil to prevent sticking. Add the cubed bread, sausage mixture and spinach. Pour over the egg mixture, gently pressing down so all the bread is soaked in. Top with caramelized onions grated Parmesan cheese and an extra drizzle of olive oil.

Cover dish with foil and allow to sit anywhere from 3 hours to overnight.

When ready, leave foil cover on and bake bread pudding at 350 degrees F for 1 hour. Then remove foil and continue to bake for another 10 minutes to brown the top.

When done, remove and allow to cool for 10-15 minutes.
Notes
Bread pudding needs to sit for a minimum of 3 hours and is best made the day before baking.