I have a thing for nutella, which is funny because I don't eat chocolate ever. But there is something about the hazelnut that does it for it. It's floral and aromatic, I would wear it if I could. We now stock our cubbards with jars of nutella but this has only been a recent discovery in the Ferraro household. A few years ago when Joe and I went to Europe, we snacked on croissants and individual sized chocolate spread. To all honesty, we both had no idea what we were tasting but it was amazing and we thought we struck a gold mine. So we got sneaky and pocketed a few of those dime sized  treats to take back with us to the States. Wow did we think we were amazing? We thought we were bringing back some kind of Italian specialty that no one heard of. Of course it wasn't until we finally came out and went grocery shopping did we see the rows and stacks of nutella stocked as high as the eye can see.
Boy did we think we struck a gold mine.

So I figured I would rekindle our love for nutella and Europe and make a very modern twist to nutella and croissants. I had a few over-ripe bananas left over and whipped up a quick bread pudding mixture. Frangelico was key and zests of orange to cut some of the sugar. I also wanted an excuse to use these cute little blue Le Creuset pots.
Nutella and banana swirled together and dripped off the sides. The eggy mixture fluffed up the croissants and created a gorgeous crusty texture with a souffle like feel on the inside. Gosh…I need to make this again and again.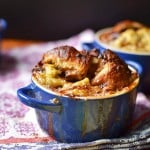 Print Recipe
Nutella Banana Bread Pudding
Ingredients
4

croissants

2

over-ripe bananas

mashed

Nutella

1/4-1/2 cup enough to spread

4

eggs

1/2

cup

milk

1/2

tsp

cinnamon

1/2

tsp

nutmeg

1

tsp

vanilla extract

1

tsp

almond extract

1

tsp

Frangellico

hazlenut liquor

Zest of 1/2 orange
Instructions
Cut croissants in half and spread each with nutella and banana. Close croissant and cut in thirds or quarters.

In a bowl, whisk together eggs, milk, cinnamon, nutmeg, vanilla and almond extract, frangelico and orange zest.

Place croissant quarters in baking dish and pour egg mixture over making sure all the bread is covered well. Cover with foil and allow to soak for 30 minutes.

*I used individual baking dishes and put 3-4 quarters in each. You can also use a 9x13 baking dish and pour everything in.

Bake in 350 degree oven for 25 minutes covered with foil. Remove foil and continue to bake for additional 10 minutes.