Classic Eggplant Parmesan recipe is a favorite comfort food. Peeled and fried eggplant is generously flavored with fresh herbs and Parmesan cheese that is then baked with layers of marinara and mozzarella.
One of my absolute favorite recipes ever, eggplant Parmesan is not often made in this house. Actually, eggplant isn't either because a certain <ahem> someone doesn't think he likes eggplant. Well, well....until now!
The secret to really good eggplant? Peel it!
The one time we both truly enjoyed eggplant was when we were in Turkey a few years ago. Could have been the amazing scenery. Could have been the amazing meal. Or it could have been that the tender eggplant was peeled, offering only the best most delicious parts of the fruit.
Since then, we decided to only peel the eggplant and it makes a HUGE difference, especially in this eggplant Parmesan recipe. As the eggplant fries, the entire slice becomes tender and crispy without having that leftover tough skin to chew on.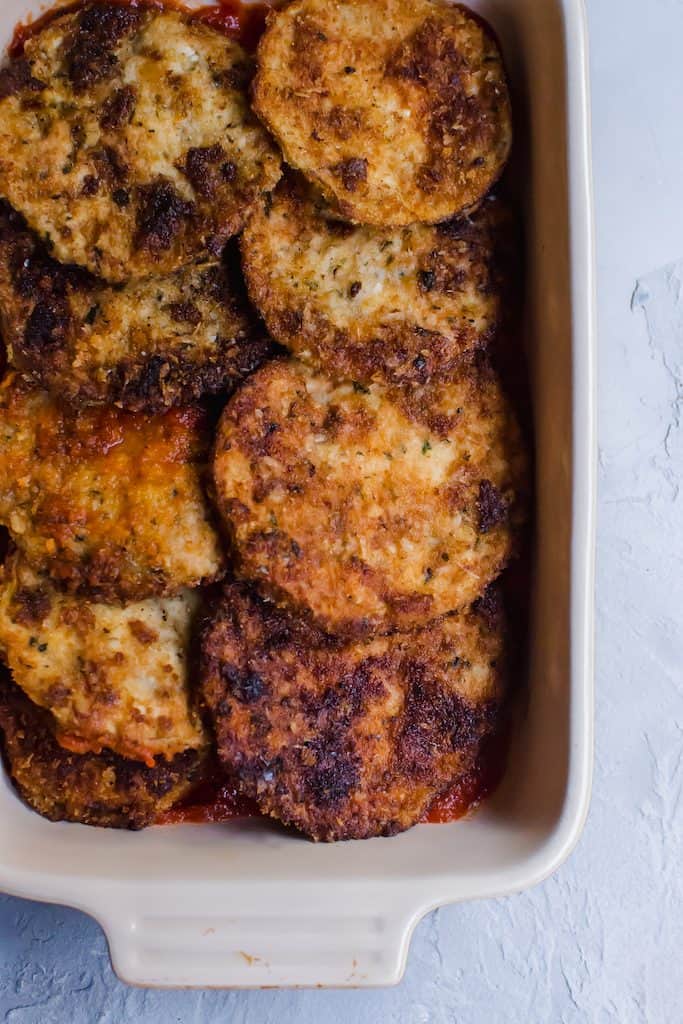 Yes, you should fry the eggplant.
Let's be real here. Eggplant Parmesan is essentially a casserole. The ultimate comfort food. The one recipe you beg for when all else is going wrong. Enjoy it and fry it.
Now speaking of frying, let's take the extra moment to really up the flavor factor of the breadcrumbs. This is the ultimate flavor vessel so take advantage of that. In my recipe, I flavored the breadcrumbs with lots of fresh herbs, grated Parmesan cheese and for a bit of a contrast and my favorite ingredient ever, lemon zest.

Making Eggplant Parmesan Takes Time
I would not say this is a weeknight dinner. Frying individual slices of eggplant takes time, including changing the oil every few batches or so. Because we are taking such good care of the eggplant, I like to get help from the store and use a really good quality marinara sauce, such as Rao's.
What To Serve With Eggplant Parmesan
There is nothing like a decadent pasta side dish to go with eggplant parmesan, such as my penne with vodka sauce or for a lighter side, my shaved brussels sprouts with pecorino and pistachios would be a lovely refreshing side dish.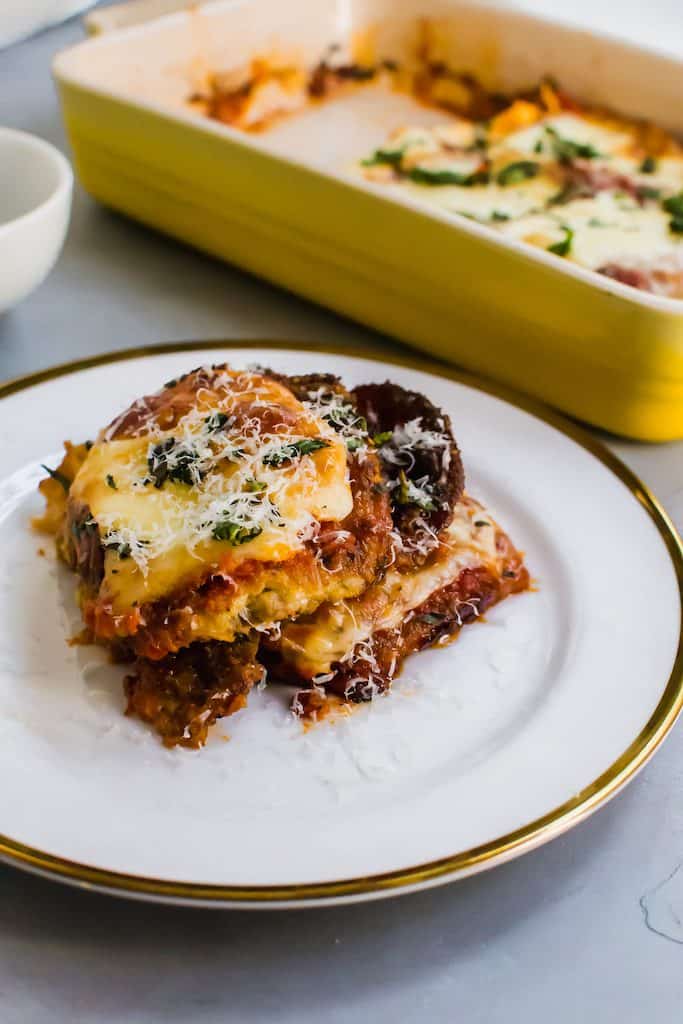 More eggplant recipes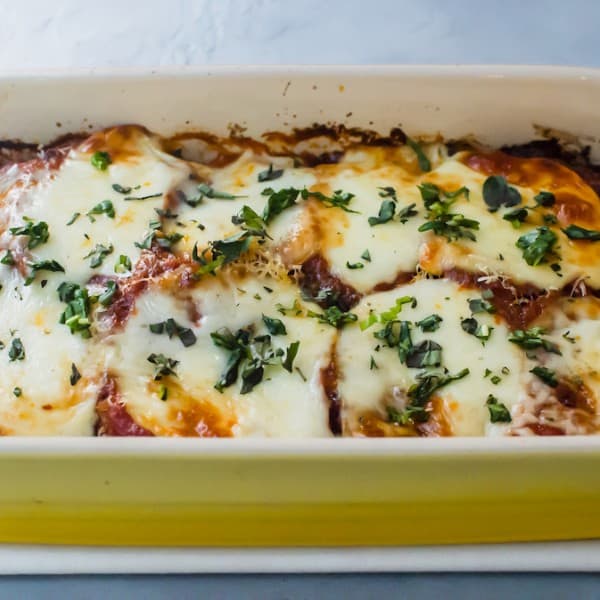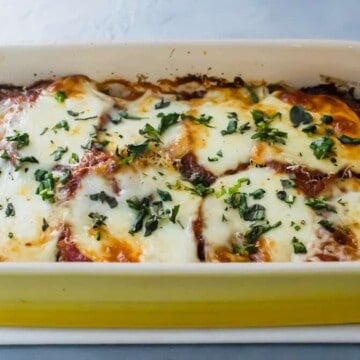 Eggplant Parmesan Recipe
LittleFerraroKitchen.com
Classic Eggplant Parmesan recipe is a favorite comfort food. Peeled and fried eggplant is generously flavored with fresh herbs and Parmesan cheese that is then baked with layers of marinara and mozzarella.
Ingredients
2

large eggplant

peeled and sliced into ½ inch slices

Canola

vegetable or grapeseed oil for frying
Breadcrumb Mixture
2

cups

Panko breadcrumbs

gluten free breadcrumbs works too

Zest of 1 lemon

Fresh oregano leaves and thyme

stems removed and chopped
Wet Mixture
4

eggs

whisked

2

tablespoons

of milk
For Layering
2

cups

marinara sauce

1

pound

log of fresh mozzarella cheese

sliced into ¼ inch slices

Fresh basil and oregano for garnish
Instructions
Begin by laying the sliced eggplant on a rack fitted on top of a baking sheet and sprinkle kosher salt all over the top. Leave eggplant for 20-30 minutes so the salt can extra extra moisture.

Then use a paper towel and blot any excess moisture and salt off the eggplant slices.

In a shallow dish, combine the breadcrumbs, parmesan cheese, lemon zest and herbs and stir to combine.

In another bowl, whisk together eggs and milk.

Dip each eggplant slice into the egg mixture, allowing any excess to drip off and then coat in the breadcrumb mixture on all sides. Continue with the rest of the eggplant and set aside on a baking sheet.

Heat a large skillet with oil and bring to medium-high heat. Fry 3-4 eggplant slices at a time until golden brown, about 3-4 minutes then flip over and fry the other side for 2-3 minutes.

Once done, remove fried eggplant to rack or paper towel lined baking sheet and immediately sprinkle with salt.

Pre-heat oven to 400 degrees Fahrenheit and pour ½ the marinara sauce on the bottom of your baking dish. Then layer eggplant slices and another layer of marinara and finally top with sliced mozzarella and grated Parmesan cheese.

Cover baking dish with foil and bake for 20 minutes until cheese has melted. Then remove foil and continue baking for 10 minutes until cheese is bubbling and lightly golden.
Nutrition
Calories:
597
kcal
Carbohydrates:
57
g
Protein:
34
g
Fat:
25
g
Saturated Fat:
13
g
Cholesterol:
177
mg
Sodium:
1757
mg
Potassium:
866
mg
Fiber:
8
g
Sugar:
13
g
Vitamin A:
1205
IU
Vitamin C:
10.1
mg
Calcium:
630
mg
Iron:
5
mg
Did you make this recipe?
Let us know by leaving a comment and 5 star rating!