If I had to live on one drink (well, besides water) for the rest of my days…I would chose sangria. I love the fruity and robust flavors of the drink. I love topping it with something bubbly and watching the fruit slices twirl in the glass.
When I was little, we always went to this Mexican restaurant in Brooklyn and I remember there always being a large pitcher of red sangria to be shared throughout the table. Having the advanced pallet of any 12 year old, mom always saved the fruit for me. The apples and orange slices were dark purple and soaked up all the wine like a sponge. I am sure I got some kind of mini-buzz from that, or at least I thought so. I probably shouldn't be admitting this to the world though..right?
Sangria is so versatile and I am always looking for different fruits and twists to make on the classic. So far I've made white wine sangria with pear and grapes and of course a very traditional red wine sangria with peaches and oranges (how I remember having it) and every time I make sangria at home, I am always leaning for the red bottle, which is probably more dangerous to admit since it is a little too easy to drink! One of my favorite fruit combinations is pear and pomegranate ever since I made it into a crumble and I can't get enough of it!
So the question is…what flavor concoction should I think of next??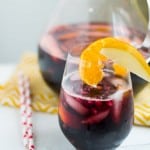 Print Recipe
Pear and Pomegranate Sangria
Ingredients
1 750

ml

bottle red wine

2

Pears

thinly sliced

1

Orange

sliced

1

cup

Pomegranate seeds

1

cup

Pomegranate juice

2

oz

Grand Marnier

2

oz

St. Germaine

Sparkling wine or sparkling water
Pomegranate Simple Syrup
1 1/2

cup

pomegranate seeds

1

cup

sugar

1

cup

water
Instructions
First make the simple syrup. In a small pot, combine the pomegranate seeds, sugar and water. Bring to a boil and allow to boil for 5 minutes until the sugar dissolves. Strain and discard seeds. Allow to cool while making the rest of the sangria.

In a large pitcher, add the fruit, red wine, St. Germaine, Grand Marnier and pomegranate juice. When the syrup is cool enough, add that as well and mix.

Chill for at least 2 hours and when ready to serve, pour in glasses and top with sparkling wine (or water) and garnish with pear slices and pomegranate seeds.