Welcome to Day #5 of Christmas Week, a multi-blogger event co-hosted by Kim of Cravings of a Lunatic and Jen from Juanita's Cocina! Each day we will be celebrating the holidays with a different set of Christmas-themed treats, as well as a fabulous Christmas giveaway. We hope you enjoy this fabulous event. Tune in each day starting today, Monday, December 9th and ending Saturday, December 14th.
I have to be honest when I share this recipe and say that I was being a bit selfish. These are some of my favorite drink flavors. Tart pomegranate and spicy ginger make for a good cocktail to me. I absolutely adore pomegranate as it is such a beautiful fruit and holds such deep history. Pomegranates are one of the several bites we have during Rosh Hashanah to bring in the Jewish New Year and I have also heard that pomegranates were seen as a "symbol of life" and ancient Egyptians would be buried with pomegranates in hopes of a second life. (Historians, do I have this right?)
This ice cold cocktail has warm flavors and looks gorgeous for the Holidays, plus it has major health kuddos. Besides benefiting from heart-disease fighting pomegranates, ginger is amazing for digestion! (Good reason to make yourself one right now..right?) Ginger is another flavor I absolutely adore. It's spicy and deep and we always have different forms of ginger in our fridge and pantry to spice up a dish or drink. One of my favorite simple ginger tricks is to make ginger simple syrup, which is amazing in cocktails (just like this!) It keeps well and takes 10 minutes to make and is always ready when you are! I also leave a piece of the ginger root in with the syrup and the entire concoction permeates with the fresh smell and awakens all your senses.
And if this cocktail wasn't gorgeous enough, I thought i had to throw in some more gingery-feel. After going to the store and seeing a small container of crystallized ginger going for nearly $6.00, I ran home and made some myself for..well..nothing!  Crystallized ginger is another awesome little snack to keep in the house..and would be a gorgeous Holiday food gift as well. And guess what…takes 20 minutes to make. And you probably have ginger and sugar in your kitchen, which means I just helped you save $6.00 🙂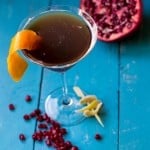 Print Recipe
Pomegranate Ginger Champagne Cocktail
Ingredients
Cocktail
1/2

c

pomegranate juice

1

Tb

ginger syrup

See recipe here

1

oz

orange liquor

Splash of champagne or sparkling water

Pomegranate seeds

for garnish

1

orange peel

for garnish

Ice
Crystallized Ginger
1, 2

in

piece of fresh ginger

peeled and sliced thin (or more ginger if you'd like)

1 1/2

cup

sugar + more for dusting

1 1/2

cup

water
Instructions
In a shaker, add ice, pomegranate juice, ginger syrup and orange liquor. Shake well and pour into a chilled martini glass. Garnish with pomegranate seeds, orange peel and top with a splash of champagne.

To make the crystallized ginger: In a small pot, add the water and sugar and bring to a boil. Add the peeled ginger and allow the ginger to cook in the sugar syrup for 20 minutes.

When done, ginger should be tender. Gently pour onto a parchment lined baking sheet and allow to cool for 10 minutes, then roll ginger in reserved sugar so it coast all over evenly.

Serve with cocktail or save in an air tight container or give as a gift!
Visit all the other Christmas Week Peeps for more Holiday Baking Goodness:
Eggnog and Cranberry Thumbprints by The Dutch Baker's Daughter
Giveaway!!
Today's #ChristmasWeek giveaway comes courtesy of Freund Container & Supply. Freund Container & Supply has been helping build businesses since 1938 as the largest distributor of glass bottles, containers, and wholesale packaging supplies online. Freund offers over 5,000 items in stock every day, 98% same day shipping, and low-price guarantees. Take a look at Freund's wide selection of jars, tins, bottles and vials for all your crafting and food related needs!
Today's winner will receive one $250 Freund gift certificate, as well as one copy of "The Pioneer Woman Cooks: A Year of Holidays". To enter, read the details and use the Rafflecopter below!
***This giveaway is for one $250 gift certificate to Freund Container & Supply, as well as one copy of "The Pioneer Woman Cooks: A Year of Holidays". Gift certificate is a one-time use certificate and must be used in its entirety; any leftover monies on the gift certificate will be forfeited. This giveaway is open to both US and Canadian residents. However, it should be noted that due to current International shipping rates, any Canadian winners will pay higher shipping costs for orders. ***
***Disclaimer: This gift certificate is being provided by Freund Container & Supply, while the cookbook has been provided by Juanita's Cocina. #ChristmasWeek bloggers have not received product or been compensated as a part of this giveaway.***