A floral and refreshing Middle Eastern drink inspired from Lebanon, Jallab is made with date molasses, a touch of rose mater and topped with pine nuts.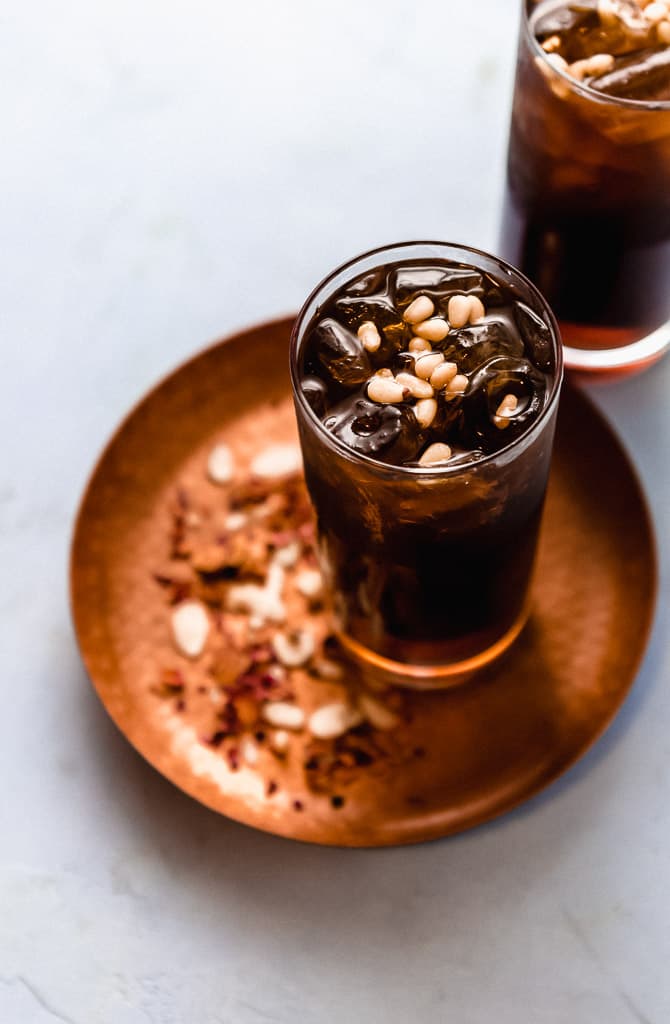 Jallab Drink
Let us take a culinary adventure through our pallets and taste the Middle East with a refreshing and simple drink called jallab.
Jallab is slightly sweet non-alcoholic Lebanese drink that is served chilled with minimal ingredients. The primary ingredients are date molasses and rose water and garnished with pine nuts or almonds.
I've enjoyed it a number of times at a favorite Lebanese restaurant and the combination of the floral notes and slightly sweet molasses, works so well with the savory flavors of Mediterranean cuisine.
Ingredients in Jallab
Honey: optional for added sweetness
Toasted pine nuts or slivered almonds
How to make Jallab
In a tall glass, stir water, date molasses and rose water together. Fill with ice to keep the drink nice and chilled.
Then top jallab with toasted pine nuts or slivered almonds and if you prefer a bit more sweet, a drizzle of honey. But personally, I love how refreshing it is on its own.
Date Molasses
Also called silan is the syrup of choice here. You can usually find it in most grocery stores near the syrups as well as International/Middle Eastern markets. Here is a link for the date molasses that we use and you can order it online.
The flavor of the molasses is dark and carmely, yet not overly sweet.
You only need a few tablespoons of date molasses for jallab.
Date molasses is also great in savory dishes, such as my Chicken with Dates recipe or drizzled over halloumi fries.
Rose Water
Rose water is the other main ingredient in jallab and what gives the refreshing drink it's signature slightly floral flavor.
Whenever cooking or making a recipe with rose water, a little goes a long way, so use sparingly. Rose water is perfumy and floral, hitting you as an aftertaste and a "Hmm, what is that?" Though, if you are heavy handed, rose water can turn a lovely fragrant flavor into a soapy mess. Start small and gradually add more teaspoons if desired.
You can often find rose water in international and Middle Eastern markets and easily online as well.
If you are looking for other uses for rose water, try adding a few teaspoons to fresh fruit in a fruit rose tart or for a decadent treat, in these Persian donuts with saffron called Bamieh.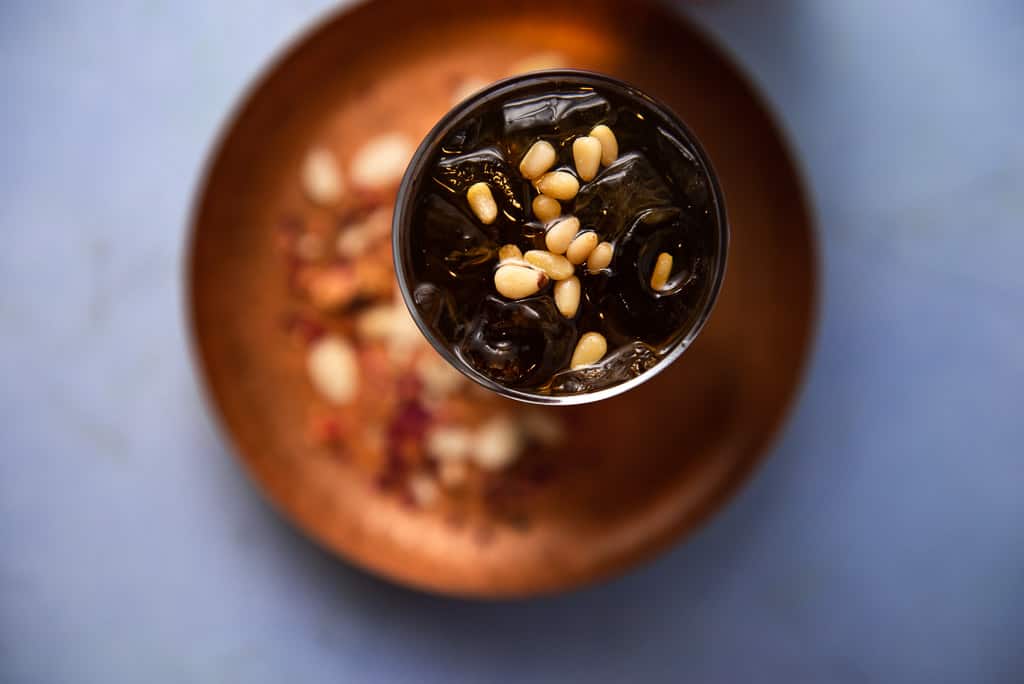 More refreshing drinks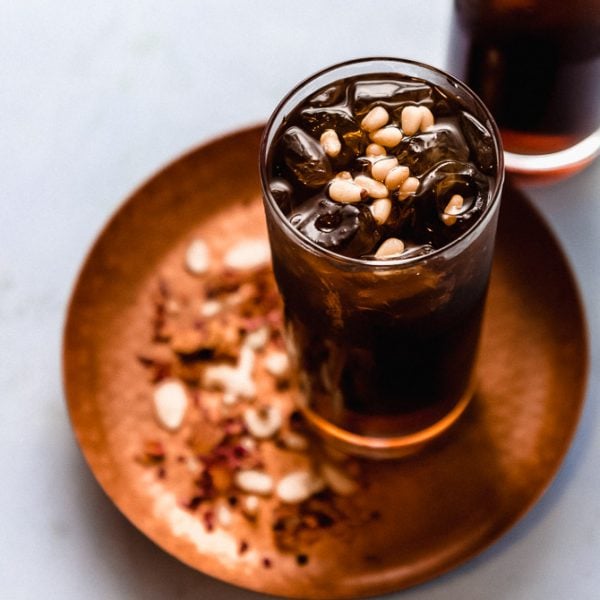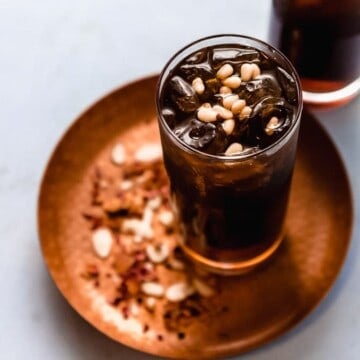 Jallab Drink (Lebanese Drink with Date Molasses and Rose Water)
LittleFerraroKitchen.com
A floral and refreshing Middle Eastern drink inspired from Lebanon, Jallab is made with date molasses, a touch of rose mater and topped with pine nuts.
Instructions
In a tall glass, add water, date molasses, rose water and honey if using and give it a good stir

Fill with ice and top with pine nuts and serve immediately.
Notes
Slivered almonds are also traditional to top with instead of pine nuts.
A splash of pomegranate juice would be a delicious addition as well. 
Nutrition
Calories:
89
kcal
Carbohydrates:
7
g
Protein:
1
g
Fat:
7
g
Saturated Fat:
1
g
Sodium:
24
mg
Potassium:
63
mg
Fiber:
1
g
Sugar:
6
g
Vitamin A:
3
IU
Vitamin C:
1
mg
Calcium:
16
mg
Iron:
1
mg
Did you make this recipe?
Let us know by leaving a comment and 5 star rating!