These easy and crispy fried sage leaves are the perfect topping for your favorite fall dishes! Made in under a minute, the sage leaves stay crisp and crunchy and can garnish a multitude of fall recipes, such as butternut squash pasta or creamy pumpkin soup!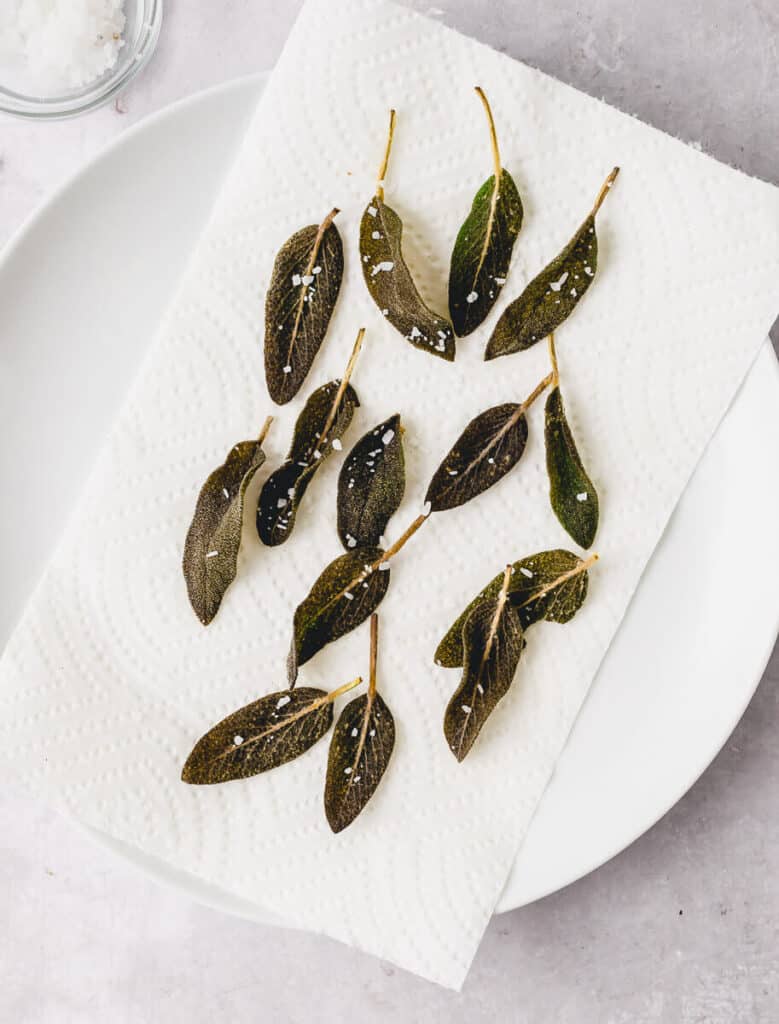 A few years ago I ordered a lovely rustic fall salad that was garnished with perfectly fried sage leaves. The crunchy earthiness of the herbs instantly intrigued me and I couldn't wait to run home and fry some myself.
And ever since, I have been hooked! As soon as the fall season hits, I load my cart with fresh hearty sage leaves and fry to a perfect crisp. The entire process is done in nearly a minute from start to finish and is the perfect crunchy topping for pumpkin soup or creamy butternut squash pasta.
The contrast between a creamy butternut squash sauce with a layer of salty crunchy sage is so delicious!
Why You'll Love This Recipe
Fried sage is a delicious garnish for your favorite fall recipes!
From start to finish, the frying takes under a minute
You just need 3 ingredients!
🍃 Ingredients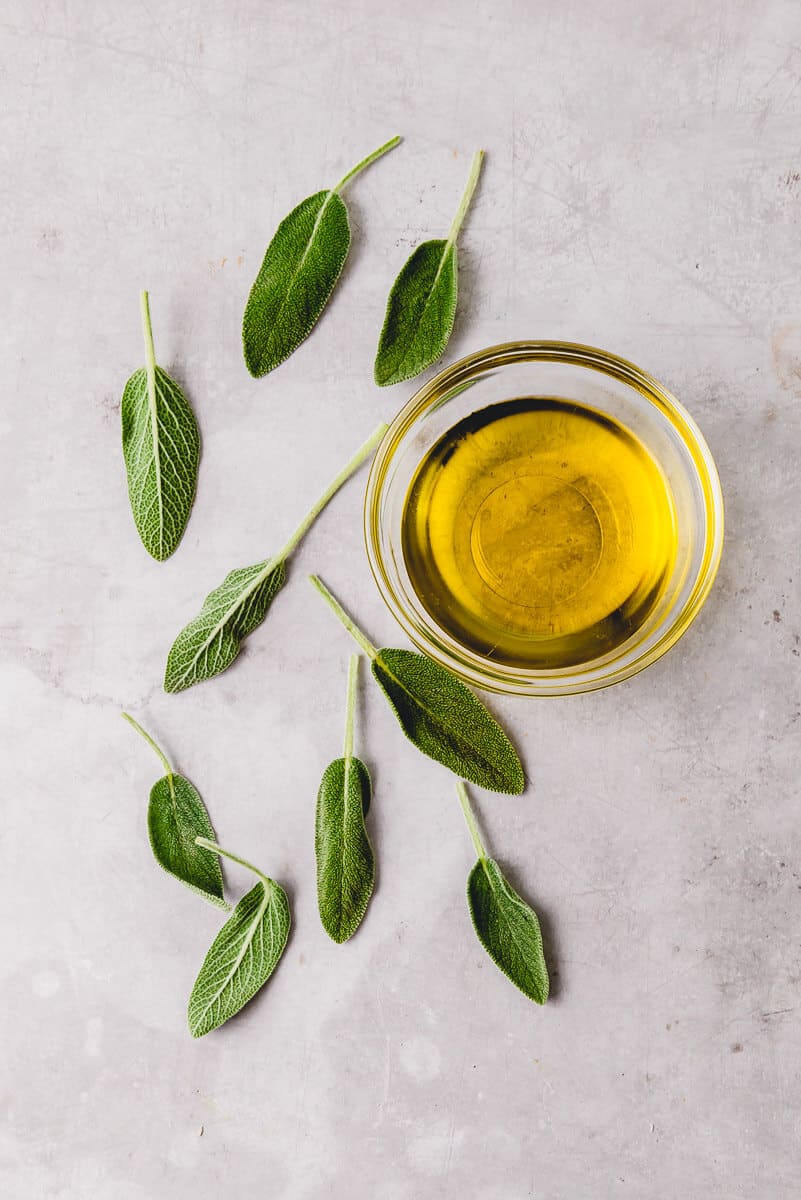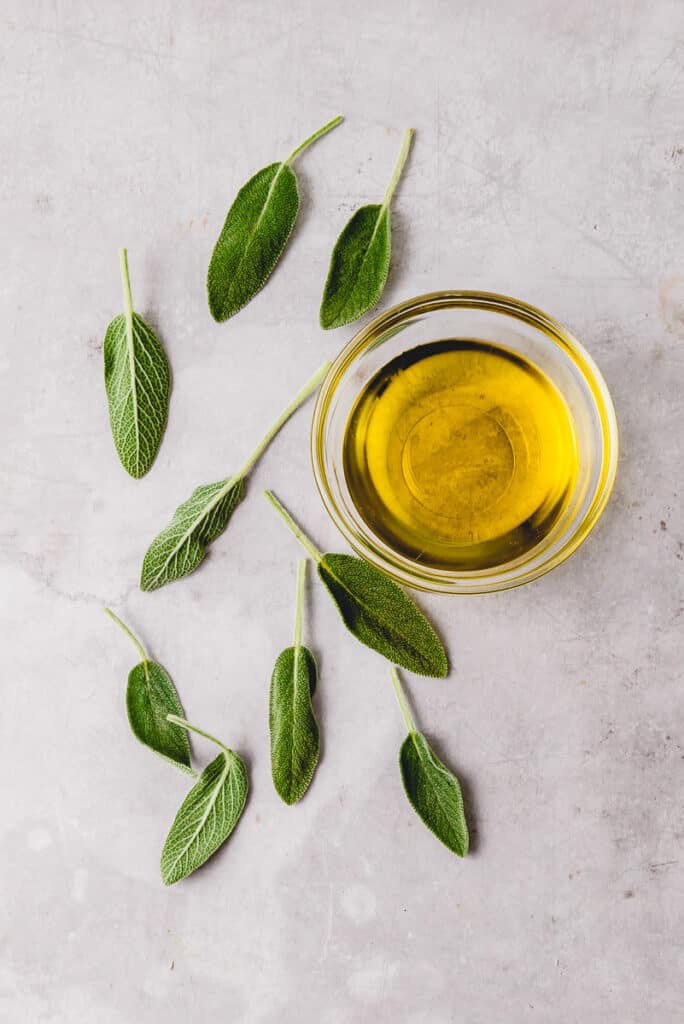 Fresh Sage Leaves
Olive Oil: Use an everyday cooking olive oil or avocado oil that has a high smoke point. Because the frying happens so quickly, you won't risk burning the olive oil.
Flakey Salt: As soon as the sage leaves are fried, sprinkle them with flakey salt, such as fleur de sel while the leaves are still hot.
How to Fry Sage
This happens so quickly, so be sure to have all of the ingredients and equipment ready.
Wash and dry the sage and separate the leaves from the thick stem.
Add enough oil to coat the bottom of a small pot or skillet and heat oil until it reaches 350 degrees fahrenheit. An infrared thermometer is helpful here.
Once the oil is hot, add a few sage leaves to the hot oil and it should immediately sizzle. Continue frying the leaves until crisp and the oil stopa sizzling, about 30-45 seconds.
Remove fried sage and place on a paper towel lined plate to drain excess oil and immediately sprinkle with salt.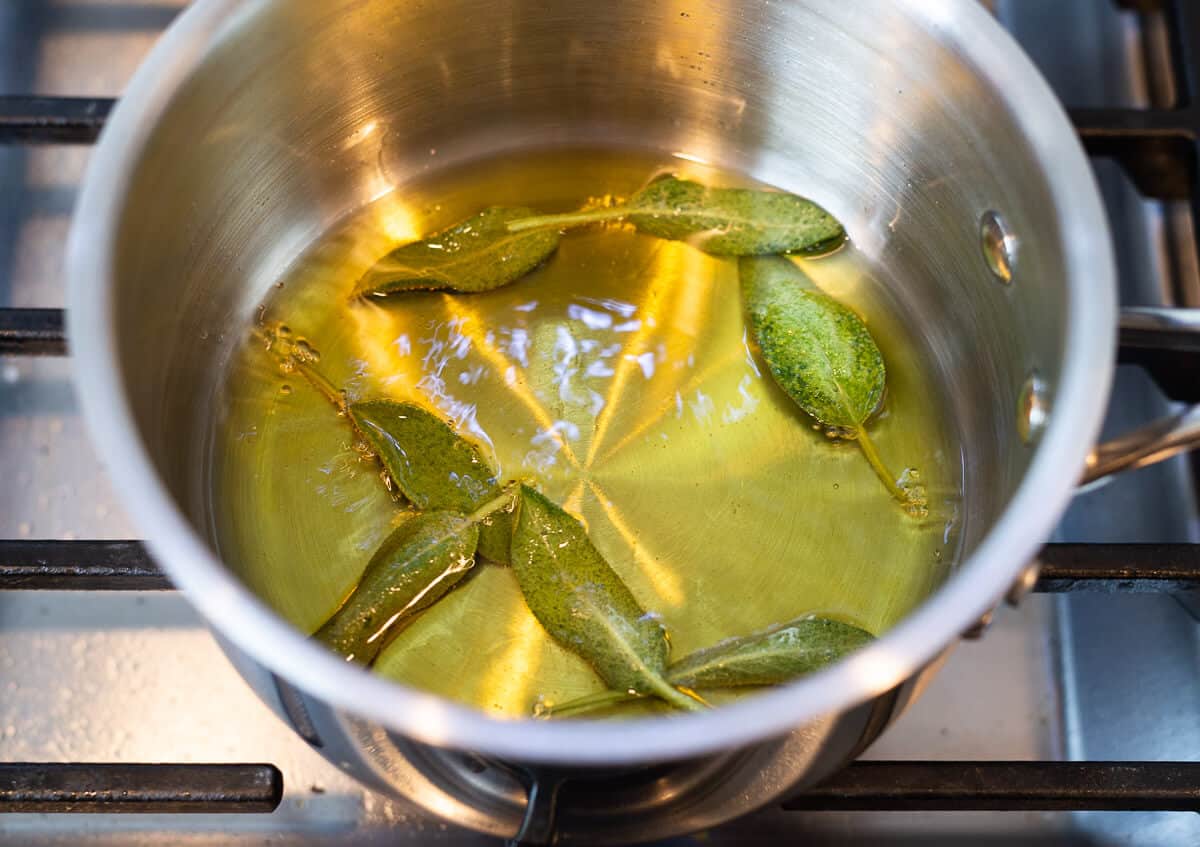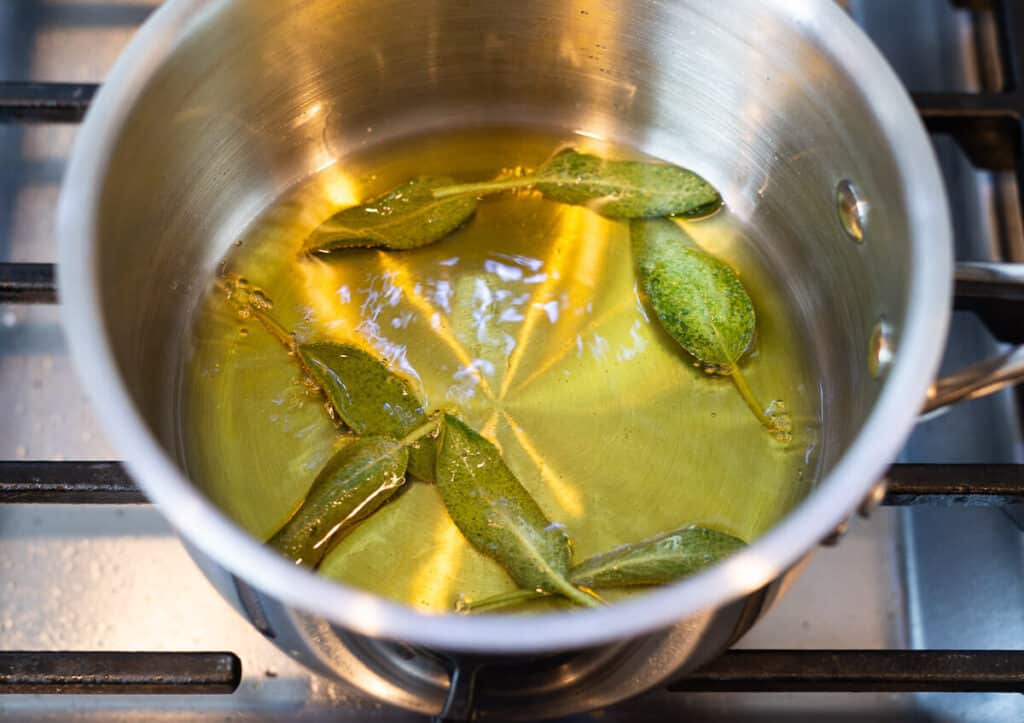 What does fried sage taste like?
Fried sage has an earthy yet mild flavor and when fried, is not as intense as the fresh leaves.
Can you Fry These Ahead of Time?
Yes, fry sage leaves ahead and leave them on a paper towel lined plate to soak up any excess oil and to keep the leaves crisp. You can fry the sage leaves up to a day in advance.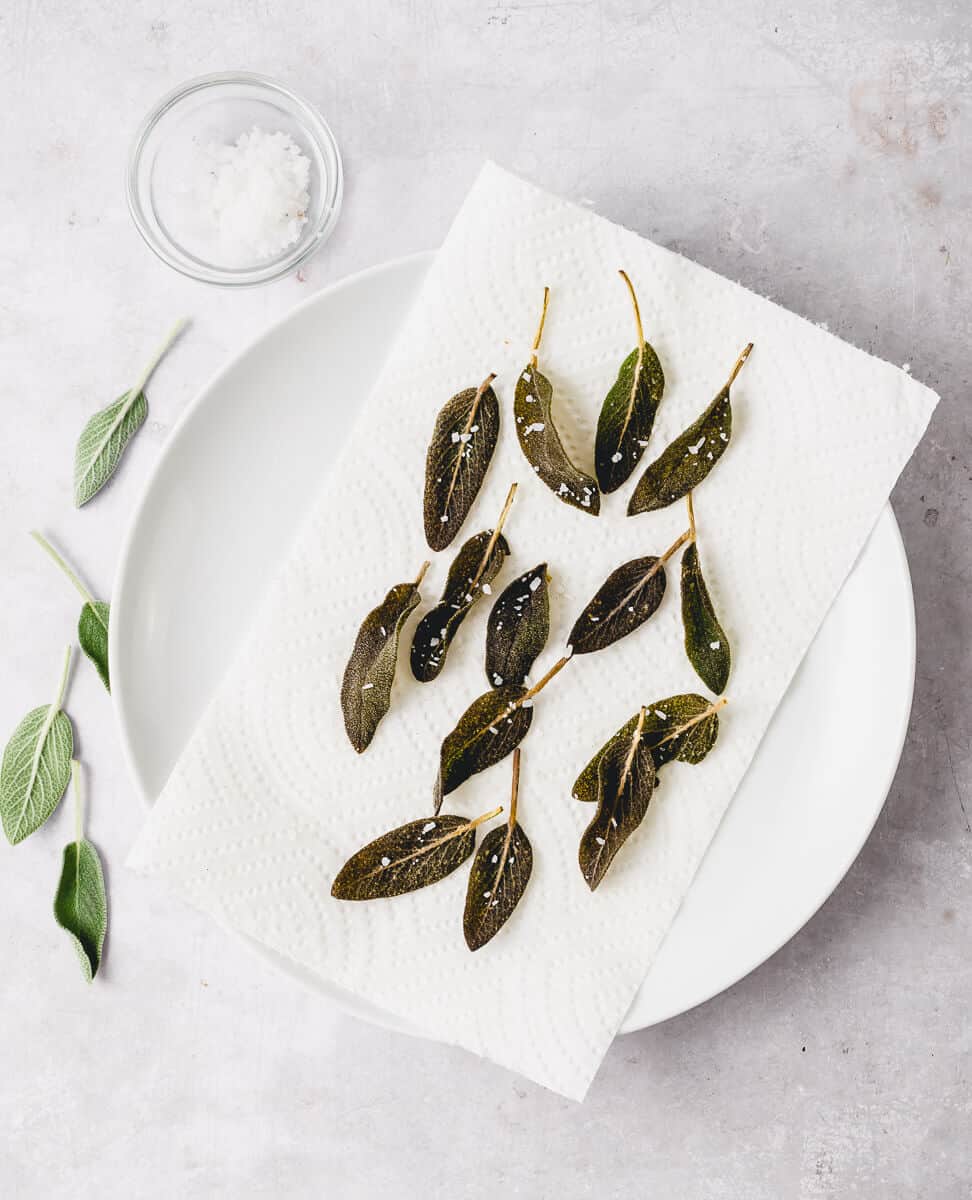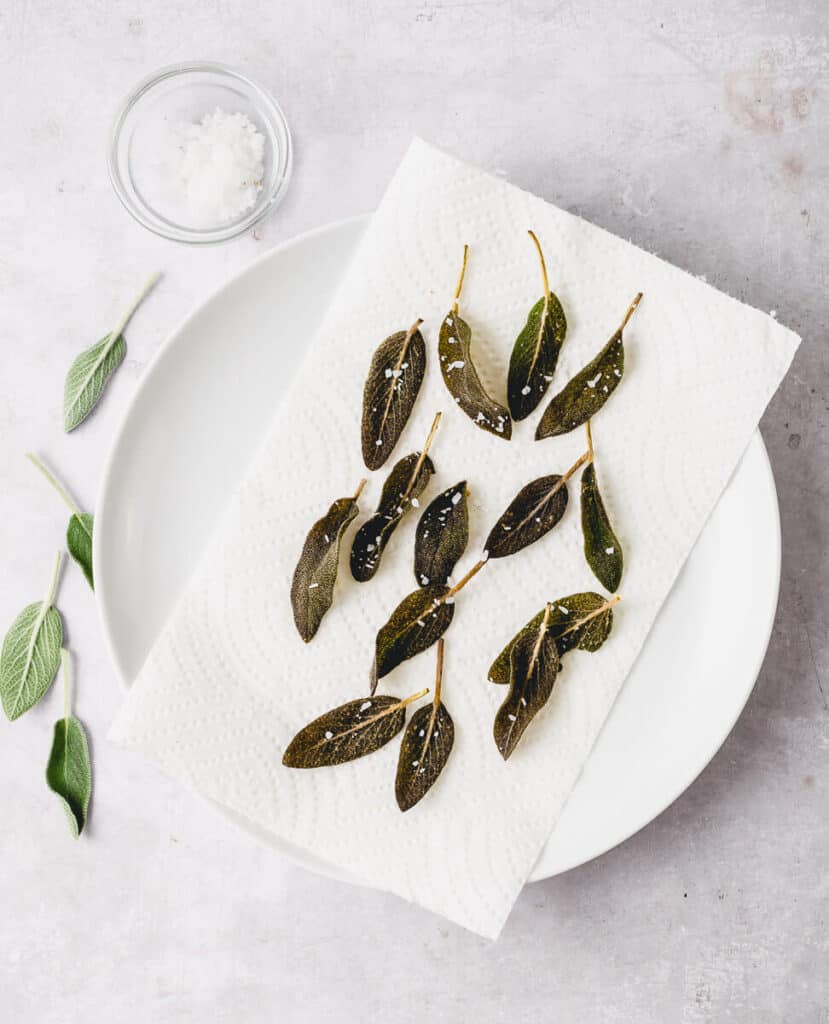 These recipes use Sage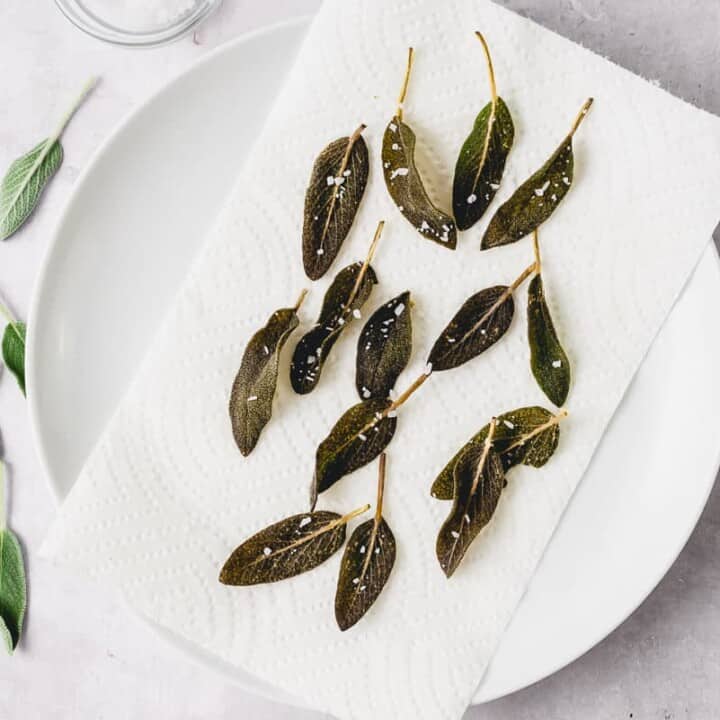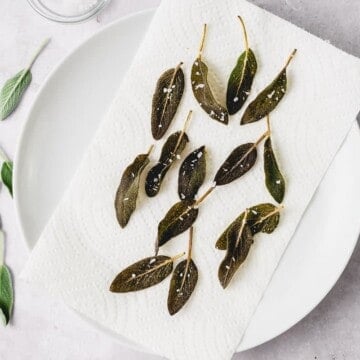 Crispy Fried Sage Leaves
LittleFerraroKitchen.com
A simple recipe on how to fry sage leaves that are crisp and a perfect topping for your favorite fall recipes.
Instructions
Wash and dry the sage leaves very well, making sure there is no moisture left on the leaves,

Heat oil in small saucepan over medium high heat until thermometer reads 350 degrees Fahrenheit.

Take a few sage leaves at a time and add them to the hot oil, the leaves should immediately sizzle.

Fry the leaves for 30 seconds until slightly darkened and when the oil stops sizzling.

Immediately remove the leaves to a paper towel lined plate, to soak up any excess oil and sprinkle with flakey salt.
Nutrition
Calories:
195
kcal
Carbohydrates:
1
g
Protein:
0.3
g
Fat:
21
g
Saturated Fat:
3
g
Polyunsaturated Fat:
2
g
Monounsaturated Fat:
15
g
Sodium:
1
mg
Potassium:
28
mg
Fiber:
0.5
g
Calcium:
43
mg
Iron:
1
mg
Did you make this recipe?
Let us know by leaving a comment and 5 star rating!