This Parmesan roasted delicata squash recipe is loaded with crunch and texture and is a perfect side side for your holiday dinners! Sweet roasted delicata squash is topped with a crisp and flavorful panko breadcrumb mixture that is seasoned with aromatic sage, loads of fresh Parmesan cheese and a touch of savory garlic to bring it all together.
Parmesan Crusted Delicata Squash
This parmesan roasted delicata squash recipe was strongly inspired from an Italian restaurant, Mozza in Southern California. It's been years since I've had it there and I still remember all the flavors of the dish.
They served the delicata squash crusted with Parmesan cheese and loads of fresh sage that was dotted with butter. And since, I've created a twist on that delicious recipe and it's been a fall favorite ever since!
The roasted delicata squash is covered with a crisp panko breadcrumb mixture that includes fresh sage and Parmesan cheese. As the squash roasts, it caramelizes and becomes sweet and the crispy panko topping gently toasts, creating layers of flavors and textures.
Why You'll Love this Recipe
Easy prep and no peeling! What is so fabulous about delicata squash is that you can eat the peel and just cut right through it!
Lots of flavor! Between the garlic, sage, Parmesan and sweet roasted delicata squash, there is loads of flavor in this simple side dish.
Roasted delicata squash is a great side dish to serve for Thanksgiving alongside other sides such as Parmesan Brussels Sprouts with Pistachios.
Ingredients
Delicata Squash: This fall squash is easily found in the fall season and what makes it so delicious is the tender peel and sweet flavor, making it for easy prep as well! As the squash roasts, the peel becomes incredibly tender and easy to eat.
Panko Breadcrumbs: These are Japanese style breadcrumbs that are thick and crisp. As the roasted delicata squash cooks, the panko breadcrumbs gently toast and become deliciously crispy. Parmesan Cheese
Parmesan Cheese: Shredded or grated Parmesan cheese is added to the panko mixture which crusts onto the delicata squash pieces, giving the entire dish a cheesy savory flavor.
Sage Leaves: A few leaves of fresh sage leaves are chopped and added to the panko mixture. If you can't find fresh sage leaves, substitute with ½ teaspoon of dried sage and mix it into the breadcrumb topping.
Garlic: 2 cloves are grated or finely chopped and added to the panko mixture to roast with the delicata squash.
Olive Oil: A drizzle of olive oil is added into the panko mixture to moisten it as well as to coat the squash for roasting.
Butter: A few dots of butter are added right on the top, which gives it richness and a bit more fat.
How to make Roasted Delicata Squash with Parmesan
Cut the Delicata Squash
Cut the ends off of the delicata squash and then cut the squash in half.
Use a spoon and remove the seeds.
Place the delicata squash halves, cut side down and slice into ½ inch thick slices, creating half moon slices.
Place prepped delicata squash on parchment lined baking sheet.
Make the Panko Parmesan Mixture
To a bowl, add the panko breadcrumbs along with the Parmesan cheese, chopped sage and grated garlic.
Pour in enough olive oil to evenly and lightly coat the panko breadcrumb mixture.
Give everything a good mix so the oil evenly coats the mixture.
Coat the Delicata Squash with Panko Crust
Sprinkle panko mixture onto the delicata squash and give mix everything together and lay the squash out in a flat layer.
Press in any remaining panko mixture onto the squash the best you can.
Scatter dots of butter all over the top of the squash.
Roast parmesan crusted delicata squash at 425 degrees Fahrenheit for 25 minutes until squash is caramelized and panko topping is lightly toasted.
Can you eat the skin on delicata squash?
Yes! Thats what makes delicata squash so easy and delicious. You can cut right through the peel and as the squash roasts, the skin becomes incredibly tender and easy to eat.
What does delicata squash taste like?
Delicata squash is sweet and becomes slightly creamy when roasted. The squash is very mild and works with sweet and savory flavors.
Can you make roasted delicata squash ahead of time?
Yes you can! You can cut and prep the delicata squash a few days in advance and roast when you are ready to serve. Roasted delicata squash also tastes great at room temperature, so you don't have to worry about serving it warm right out of the oven.
More Favorite Fall Side Dishes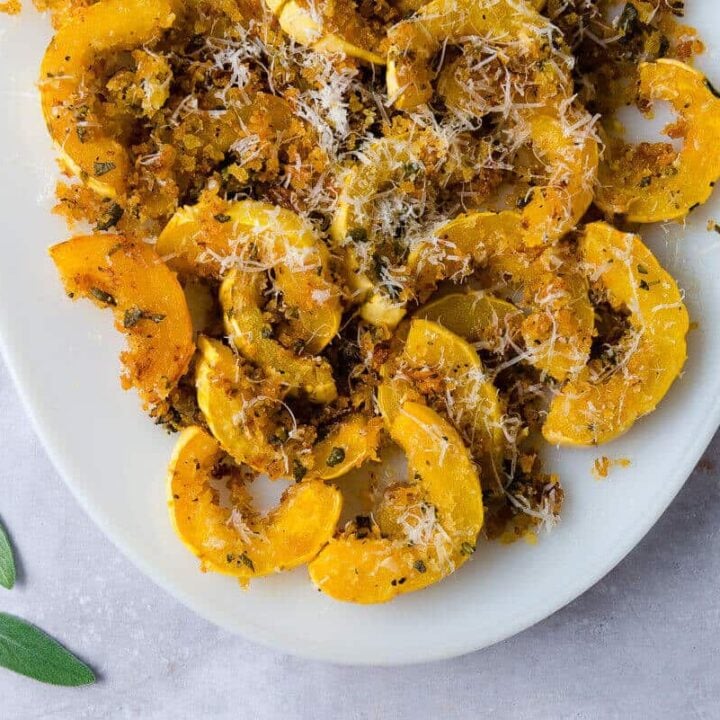 Parmesan Roasted Delicata Squash with Sage
LittleFerraroKitchen.com
Parmesan roasted delicata squash is seasoned with a flavorful panko mixture with Parmesan cheese, sage and garlic.
Instructions
Pre-heat oven to 425 degrees Fahrenheit.

Cut the ends off the deliata squash and then cut the squash in half, lengthwise. Scoop out the seeds and slice the squash into ½ inch half moon slices.

Place the squash on a parchment lined baking dish and drizzle the squash with a bit of olive oil and season with salt and pepper toss to coat.

In a bowl, make the panko mixture and add the panko breadcrumbs, grated Parmesan cheese, grated garlic, chopped sage and drizzle with olive oil. Give the mixture a good mix so the oil coats the breadcrumb mixture evenly.

Sprinkle the panko mixture onto the squash and give everything a good toss and press the panko mixture onto the squash the best you can.

Top the squash with dots of butter all over the top and roast the squash for 25 minutes until caramelized and panko is lightly toasted.

Once done, remove from oven and place roasted delicata squash on a platter along with the toasted breadcrumbs.
Notes
This recipe can easily be doubled or tripled.
You can prep the squash a few days ahead of time. 
This recipe tastes great at room temperature as well. 
Nutrition
Calories:
264
kcal
Carbohydrates:
16
g
Protein:
4
g
Fat:
21
g
Saturated Fat:
7
g
Polyunsaturated Fat:
2
g
Monounsaturated Fat:
12
g
Trans Fat:
0.2
g
Cholesterol:
19
mg
Sodium:
161
mg
Potassium:
425
mg
Fiber:
2
g
Sugar:
3
g
Vitamin A:
1772
IU
Vitamin C:
14
mg
Calcium:
124
mg
Iron:
1
mg
Did you make this recipe?
Let us know by leaving a comment and 5 star rating!