Thick and Creamy pumpkin soup with fresh roasted pumpkin is blended up with warm fall flavors of paprika and maple and topped with savory fried sage.
As soon as October hits, there are 2 things I can't wait for. 1. planning my birthday dinner, which is usually a big bowl of steamed mussels or my favorite penne with vodka sauce. and 2. a trip to Gordon Skagit Farms aka fall wonderland!
I'll write more about the pumpkin farm in another post, but let me tell you, if you love pumpkins and fall, you will fall in love with this farm. There are dozens and dozens of different types of pumpkins, gourds and squashes with booming colors and piles of interest.
I had the lovely opportunity to chat with one of the owners, Eddie Gordon and he raved about a pumpkin called winter luxury pumpkin (pictured below). You can click on this Mixcloud link to listen to my chat with him and about his favorite pumpkin! He gave me one to try and I couldn't wait to roast it!
Besides having a gorgeous look with a slightly etched outer skin and light orange hue, this pumpkin was spectacular. As it slowly roasted in the oven, our entire house smelled like fall. It smelled sweet and caramely and almost of home baked cookies, if you can believe that.
Roast your own pumpkin
This was the first time I roasted a fresh pumpkin, and it is life changing! The overwhelming aroma is addictive and the pumpkin flesh was outstanding. As the pumpkin roasts, it begins to collapse, giving away that it's nearly done.
The flesh pulls away from the skin and if you did it right, you'll get addictive caramelized edges from the natural sugars that you'll be snacking on straight from the pan.
The winter luxury pumpkin was so delicious, I didn't want to overwhelm it's natural flavors and instead kept it simple in a creamy pumpkin soup. I enhanced it's natural sweetness with a bit of maple syrup and dusted some warm paprika in the mix. And of course, pumpkins best fried, sage is perfectly fried to a delicious crisp. Why don't they make sage chips? Life changing.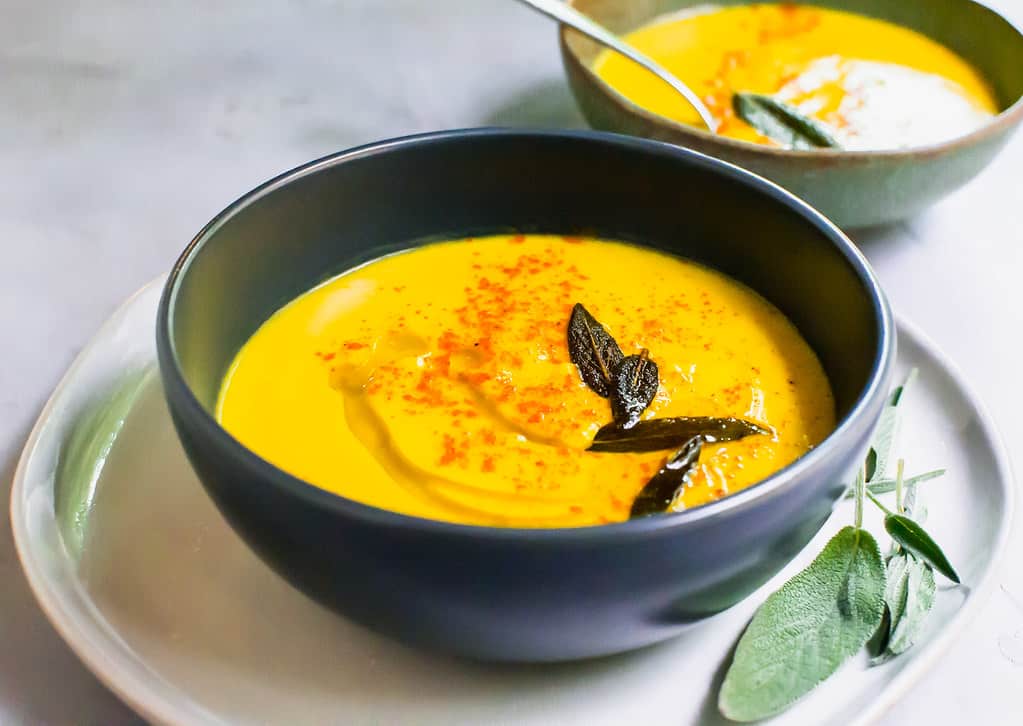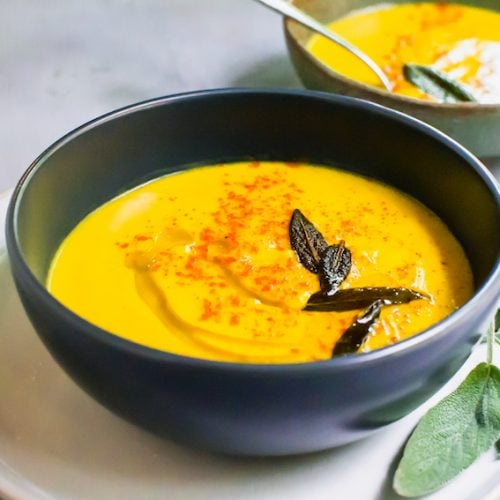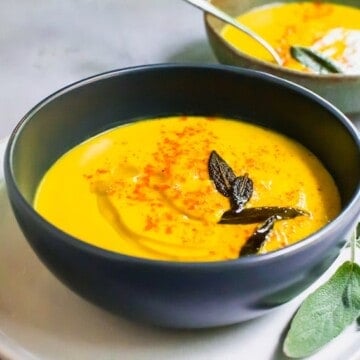 Creamy Pumpkin Soup with Fried Sage
LittleFerraroKitchen.com
Thick and Creamy pumpkin soup with fresh roasted pumpkin is blended up with warm fall flavors of paprika and maple and topped with savory fried sage.
Instructions
If you haven't already, start roasting your pumpkin. Cut it into wedges and remove the seeds and roast at 400 degrees Fahrenheit for about 40 minutes. The flesh should be very soft and begin to pull away from the skin.

Allow to cool once done, you may only use about half of a small roasted pumpkin.

In a small skillet, add enough oil to coat the bottom of the pan and bring up to 360 degrees Fahrenheit. Add several sage leaves and fry for about 30-40 seconds until crisp. Remove to a plate and set aside.

In the same skillet, saute chopped shallots until soft but not browned and then add the chopped garlic and saute for another minute.

In a high power blender or food processor, add 2 cups of cooked pumpkin, vegetable stock, Greek yogurt, maple syrup and spices and blend until smooth.

Pour soup into bowls and garnish with fried sage leaves and an extra dusting of paprika and a drizzle of olive oil.
Nutrition
Calories:
55
kcal
Carbohydrates:
12
g
Protein:
2
g
Fat:
0.3
g
Saturated Fat:
0.1
g
Polyunsaturated Fat:
0.1
g
Monounsaturated Fat:
0.03
g
Cholesterol:
1
mg
Sodium:
712
mg
Potassium:
276
mg
Fiber:
1
g
Sugar:
7
g
Vitamin A:
5806
IU
Vitamin C:
6
mg
Calcium:
39
mg
Iron:
1
mg
Did you make this recipe?
Let us know by leaving a comment and 5 star rating!