Wild Mushroom Risotto loaded with flavors of white wine, mushroom broth, fresh herbs and a good grating of Parmesan cheese.
Wild mushroom risotto is a labor of love that is most certainly worth the effort put into it. It requires patience and composure, but trust me when I say the end result is more than worth it. Slaving over boiling stock and stirring for 20 minutes isn't exactly a walk in the park, but when you take a bite of that perfectly creamy and smooth mushroom risotto, you'll happily pat yourself on the back and relish in it's perfect glory. There is nothing more satisfying than a well done plate of risotto.
Not so Secret Ingredient for Mushroom Risotto: Dried Mushrooms
Wild mushrooms can be hard to come by and can lead to a hefty purchase. To combat that, I like to use both dried mushrooms and fresh mushrooms. You can often find dried mushrooms at most grocery stores and are a fraction of the cost of fresh mushrooms.
I create a mushroom broth by soaking the dried mushrooms in warm water and use both the broth and reconstituted mushrooms for the risotto. Just be careful of any dirt left at the bottom of your bowl and don't pour that into your dish.
A Few Tips on Making Risotto
Here is a short guide on what I look for when making risotto. First photo is dry rice and as it soaks up the stock, the rice expands and starts to get creamy.
Ladle 1-2 cups of warmed stock to the risotto and stir that in. Continue stirring, and you will notice that the rice is soaking up the stock. When you pull your spoon through the rise and can see the bottom of the pan, that is a good indicator to add more stock.
Once the risotto is towards the end of its cooking and the rice is al-dente, add mushrooms, butter, Parmesan cheese and one final ladle of stock and stir together.
Side Dishes to go with Mushroom Risotto
Mushroom risotto doesn't need much more, but here are a few other dishes that I think would go very well. Oh and a chilled glass of white wine, such as Pinot Grigio would be lovely as well.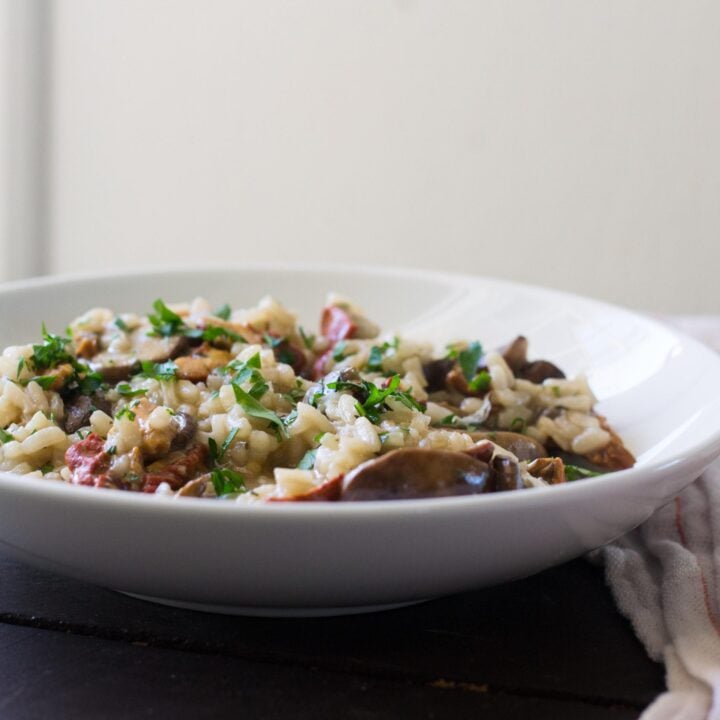 Wild Mushroom Risotto
LittleFerraroKitchen.com
Wild Mushroom Risotto loaded with flavors of white wine, mushroom broth, fresh herbs and a good grating of Parmesan cheese.
Instructions
Fill a bowl with 1 cup of warm water and add dried mushrooms in. Allow them to soak for at least 20 minutes.

In a large skillet on medium heat, drizzle olive oil and saute chopped shallot, fresh mushrooms, garlic, herbs and salt and pepper for about 5 minutes until the mushrooms are just tender and shallot and garlic are caramelized. Remove from heat to a bowl and set aside. Add the dried mushrooms that were soaking and roughly chop them (save the mushroom liquid!)

Remove dried mushrooms from the liquid (save the liquid) and give them a rough chop and add the soaked mushrooms to the fresh mushroom mixture.

In a small pot, bring stock to a simmer to warm it through and add the mushroom liquid, being careful to not pour in the "grit" that settles on the bottom of the bowl. Bring stock to a simmer.

In the same large skillet on medium heat, drizzle with a bit more olive oil and add aborio rice and toss to coat.

Next, pour wine into rice and stir together, reducing the wine and until absorbed. Then, ladle 1-2 spoonfuls of warmed stock into the rice at a time until rice absorbs all the liquid. Continue to do this for about 20-25 minutes. (*Note: At this point stay close to the stove, constantly stirring the rice). Season with salt and pepper.

Towards the end, taste for doneness of the rice and seasoning, should not be too hard or too mushy. Once done, stir in the mushroom mixture, add the butter and 1 more ladleful of stock. Turn off the heat and cover allowing everything to blend together.

Once everything is done, grate fresh Parmesan cheese and stir gently. Garnish with fresh herbs and serve.
Notes
Simmer more stock then you need just in case you need to add more. 
Use a variety of mushrooms, dried or fresh. 
Risotto can keep for 2-3 days afterwards, but the texture will change slightly, 
Nutrition
Calories:
367
kcal
Carbohydrates:
52
g
Protein:
6
g
Fat:
10
g
Saturated Fat:
3
g
Polyunsaturated Fat:
1
g
Monounsaturated Fat:
6
g
Trans Fat:
1
g
Cholesterol:
8
mg
Sodium:
1419
mg
Potassium:
397
mg
Fiber:
3
g
Sugar:
6
g
Vitamin A:
901
IU
Vitamin C:
5
mg
Calcium:
17
mg
Iron:
3
mg
Did you make this recipe?
Let us know by leaving a comment and 5 star rating!
For more Italian dinner inspiration, pair mushroom risotto with my beef braciole recipe stuffed with prosciutto and Parmesan.