This sepia pasta with Broccoli Rabe and Poached Egg simple to say the least, but big in eye-catching color and flavor. Bitter broccoli rabe has been a recent addiction for me is amazing with a perfectly yolky egg over it and a healthy dusting of Parmesan.
Every month or so a group of my girlfriends and I venture out and try new restaurants, activities, anything that we can all get a day off to do. It's hard, but we make it work, since all of us are in complete different fields, our days off and hours are all over the place, but even though we don't talk or text for days at a time, we know that our shindigs get us back to reconnecting.
Over the last year we've had some interesting excursions to say the least. 2 of the girls are total outdoorsy types, who sill swim the Bermuda triangle and kayak through the ocean in 5 foot waves (Yes, we actually did that for K's birthday. It wasn't a 5 foot wave, but hey, I lived to tell the tale). I, on the other hand prefer to keep my feet dry and on the ground, but always offer some funky restaurant to try out. So far I've introduced them to chicken feet rolling around in dim sun carts and raw poached eggs in Korean jigae. Next on the list is a "Jewish food crawl" in LA. Moral of the story, we're all taking one for the team, but do we have fun!
Our last excursion was a blast! We paraded around LA acting like typical tourists, ooh-ing and ah-ing at the architecture that we never noticed as locals. Lunch reservations were at Macherroni Republic, as per the birthday girls request and every dish was spectacular!
Of course the squid ink pasta inspired me to create something different at home, and today we have sepia pasta, which is actually made from cuttlefish and not squid ink. You don't taste the ink at all, but it gives off such a gorgeous subtle grayness, I couldn't wait to create something.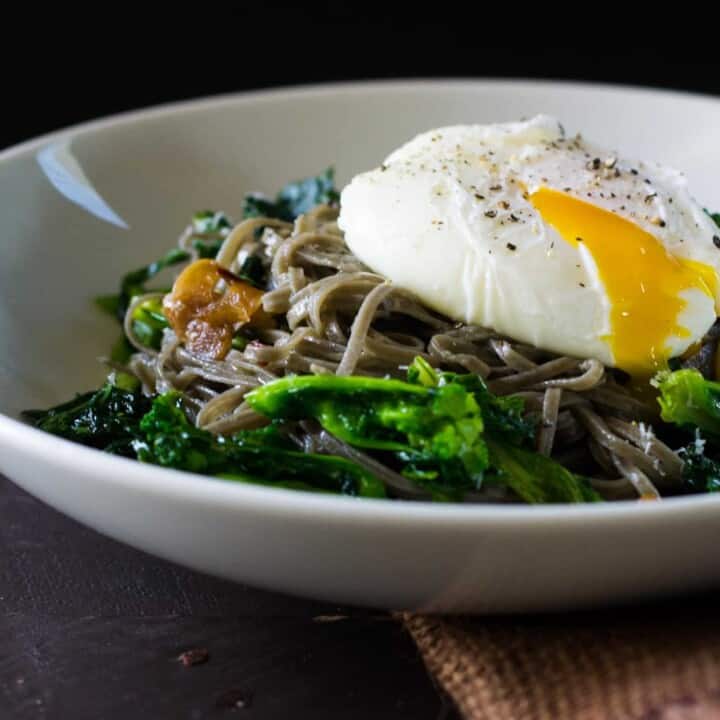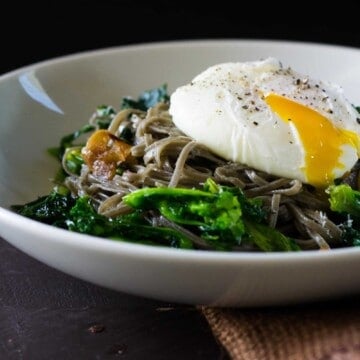 Sepia Pasta with Broccoli Rabe and Poached Egg
LittleFerraroKitchen.com
A gorgeous sepia pasta with bitter broccoli rabe, garlic chips and perfectly poached egg.
Instructions
First cook the poached egg (this can hold while cooking everything else). Crack an egg in a small bowl and then gently add it to a pot of simmering water. Use a spoon to carefully pull the whites of the egg together if needed. Cook the egg for about 4-5 minutes until whites are set then use a slotted spoon to remove and place on towel lined plate until ready to serve.

Then cook the pasta in boiling water until al-dente, about 7-9 minutes.

As the pasta cooks, make the rest of the dish(this will go quickly). In a skillet, drizzle with olive oil and add sliced garlic. Fry the garlic in olive oil until golden brown and crispy, then remove so it doent burn. Next, add the broccoli rabe and season with salt and pepper and red pepper flakes. Cook until softened but still bright green, about 3-4 minutes.

Add a healthy grating of Parmesan cheese and ladle the pasta into the pan with the broccoli rabe. Toss to coat and add a splash of cooking liquid if needed.

Add the garlic back in and toss to coat, adding more grated Parmesan if desired.

Finally, top with egg and an extra dusting of cracked pepper.
Nutrition
Calories:
472
kcal
Carbohydrates:
84
g
Protein:
21
g
Fat:
7
g
Saturated Fat:
2
g
Polyunsaturated Fat:
1
g
Monounsaturated Fat:
2
g
Trans Fat:
0.01
g
Cholesterol:
164
mg
Sodium:
131
mg
Potassium:
177
mg
Fiber:
5
g
Sugar:
4
g
Vitamin A:
1583
IU
Vitamin C:
9
mg
Calcium:
79
mg
Iron:
6
mg
Did you make this recipe?
Let us know by leaving a comment and 5 star rating!