Weeknight dinner with a bit of a kick! Chorizo bolognese with briny capers and finished with creamy burrata cheese.
I kept going back to this chorizo bolognese recipe as soon as I got a copy of Nikki's debut cookbook, Simple Elegant Pasta Dinners. I am a sucker for a hearty pasta recipe and anything with capers swimming throughout has my immediate vote.
Simple, Elegant Pasta Dinner Cookbook
Nikki is a food blogger at Chasing the Seasons and creates and photographs the most beautiful recipes. We connected over a love of good food and seasonal eats and when I heard about her upcoming pasta cookbook, well I couldn't have loved anything more!
The book is broken up into four seasonal chapters, with pasta recipes for each season included. Being that the weather is cooling down, I couldn't help but immediately gravitate to a comforting, slightly spicy and savory chorizo bolognese.
Chorizo Bolognese Sauce Ingredients
Chopped Shallots and garlic: always the perfect start to any good sauce. I love starting a recipe with shallots that are a bit sweeter and more (in my opinion) fragrant than onions. Of course a sweet onion or milder red onion would be lovely here too.
Chorizo: A spicier Latin sausage flavored with paprika, giving it a distinct reddish hue and fabulous spice.
Capers: One of my favorite ingredients! Briney addition to classic recipes such as chicken picatta and Julia Child's Salad Nicoise. I went a bit overboard on my end with the capers because I love their salty punch so much, but use as much or as little as you like.
Burrata Cheese: One of my favorite cheese, I eat it as often as I can, such as with grilled grapes and tarragon or my favorite weeknight appetizer, roasted tomatoes with basil oil. Burrata is a ball of mozzarella with cream inside. once you tear it open, the creamiest cheese pours out and is fantastic on pastas, pizza and...anything!
What I love so much about Nikki's book is that it is full of inspiration. Every single recipe is drool-worthy but she emphasizes the importance of riffing off of the recipes and making them your own. Which is exactly the way I like to inspire as well.
And that is exactly what I did here. An extra helping of grated Parmesan cheese, shallots in place of onions and more capers was my personal touch.
Tips on Making Chorizo Bolognese (or any good pasta dish)
Whatever pasta you're using, cook for 2'ish minutes less then the instructions say or just before done. That way you can finish cooking the pasta in the sauce.
Save 1 cup'ish of pasta water, just in case you need to add more starchy water to the sauce.
Freshly grated Parmigiano..always! There is no comparison to the bottled stuff.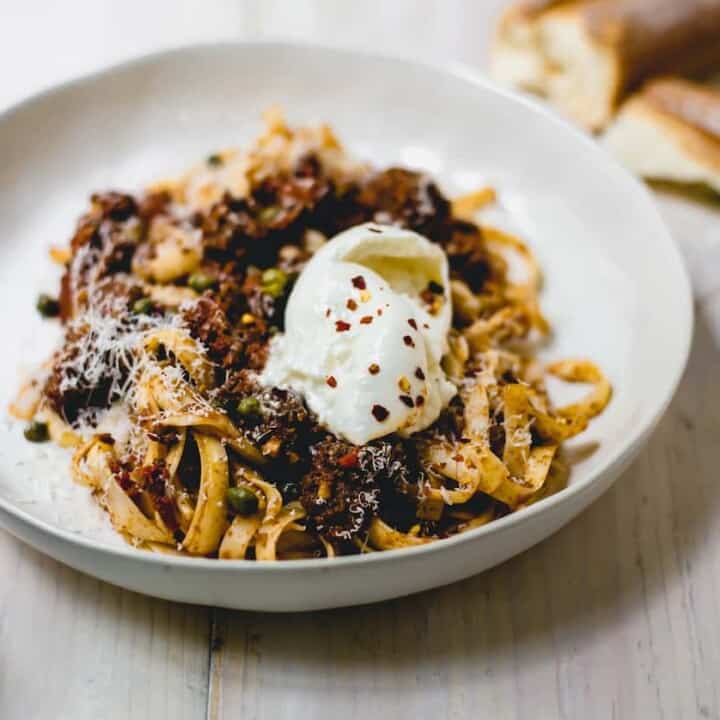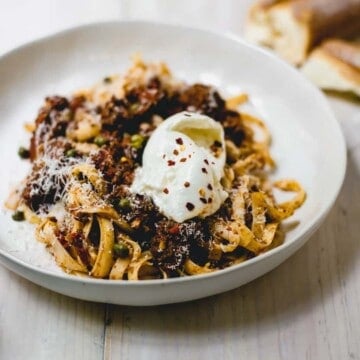 Chorizo Bolognese with Capers and Burrata
LittleFerraroKitchen.com
Weeknight dinner with a bit of a kick! Chorizo bolognese with briny capers and finished with creamy burrata cheese.
Instructions
Begin by boiling a large pot of water with a good sprinkling of salt and cook pasta until barely done, about 2 minutes before package directions say. Reserve about 1 cup of starchy pasta water before draining the pasta.

While pasta is cooking, make the chorizo bologense sauce by drizzling olive oil in a large skillet over medium heat. Add chopped shallots and saute until softened, about 2-3 minutes.

Add chopped garlic and saute for another minute then add the ground beef and chorizo. Use a wooden spatula to break up the meat and continue cooking until meat is cooked through about 10 minutes.

Pour in the red wine and let reduce by half, scraping any bits from the bottom. Add in the tomatoes with their juices and stir everything together. Bring to a gentle simmer and cook until liquid has reduced by half and the sauce becomes ragu like.

Once done, taste for seasoning and add salt and pepper as needed. Add capers and cooked pasta and toss everything together. If the sauce is too thick, add a bit of reserved pasta water and stir everything together.

Serve chorizo bolognese in large bowls and top with roughly torn burrata cheese, freshly grated Parmigiano cheese and red pepper flakes.
Notes
Recipe adapted with permission by Nikki Marie, author of Simple, Elegant Pasta Dinners
Tips:
Toss a tablespoon of olive oil with the cooked pasta to help prevent sticking while you make the sauce.
Reserve about 1 cup of starchy pasta water to add to sauce, if needed.
Use any pasta shape for the recipe, spaghetti, linguini or papperdelle would all be great.
Nutrition
Calories:
805
kcal
Carbohydrates:
62
g
Protein:
34
g
Fat:
42
g
Saturated Fat:
14
g
Cholesterol:
101
mg
Sodium:
806
mg
Potassium:
446
mg
Fiber:
3
g
Sugar:
3
g
Vitamin A:
415
IU
Vitamin C:
1
mg
Calcium:
37
mg
Iron:
3
mg
Did you make this recipe?
Let us know by leaving a comment and 5 star rating!