Rosemary and Fig Rugelach is a play on the traditional Jewish cookie, with sweet fig jam, caramelized walnuts and a touch of fresh rosemary for a sweet and slightly savory bite.
Last week I had the pleasure of baking these delicious rosemary and fig rugelach over on my friend's Karista's instagram. It was so fun and a perfect fall baking day. It was rainy and dreary here in Washington and the smell of freshly baked cookies warmed up the entire house.
You all know how much I love making rugelach cookies. I work on creating a fun new flavor combo every year, including my cherry pistachio rugelach (one of my favs!) and my savory herb and cheese rugelach for something totally out of the ordinary.
This year I was craving classic flavors in an unusual method. Rosemary and fig is such gorgeous combination, I roasted them together in my red wine roasted figs with honey and rosemary and fell in love with the flavors ever since. I used Trader Joe's fig butter, which if you haven't tried yet..run, don't walk to get it and slather it on everything you put in your mouth. Then a healthy sprinkle of freshly chopped rosemary is added to the simple rugelach dough for a bit of savory-ness that is not too overpowering.
Have Fun With Your Rugelach Fillings
Once you get the basic dough down, you can fill them with anything you like. Chose a favorite jam, preserve or fruit butter, basically something that will act as a "glue". Then add something else for texture, usually nuts or chopped chocolate would be nice.
Have fun with it and play around with flavors!
More Fig inspiration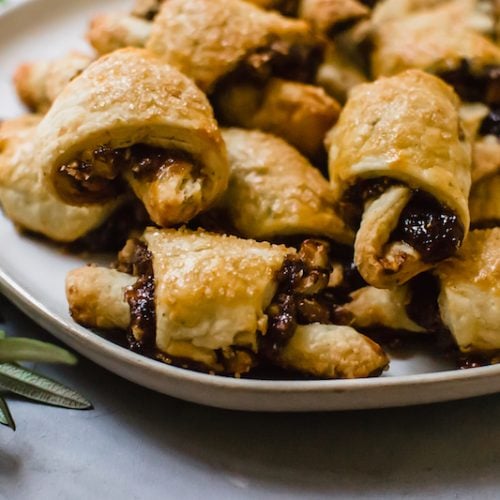 Rosemary and Fig Rugelach
LittleFerraroKitchen.com
Rosemary and Fig Rugelach is a play on the traditional Jewish cookie, with sweet fig jam, caramelized walnuts and a touch of fresh rosemary for a sweet and slightly savory bite.
Instructions
Cream butter and cream cheese in stand mixer with a paddle attachment until creamy. Add sugar, salt and vanilla. Mix well.

Gradually add flour and chopped rosemary and mix until just combined. Dump the dough onto a well floured surface and roll into a ball.

Cut the ball in quarters and wrap each quarter in plastic wrap. Refrigerate for at least 20 minutes.

While the dough is resting, make the caramelized walnuts and preheat oven to 350 degrees Fahrenheit.

Add walnuts to a dry pan over medium heat and roast the walnuts until fragrant, for about 5 minutes, gently tossing a few times.

Whisk together the water, brown and vanilla and pour over the walnuts, tossing to make sure the sugar mixture coats everything evenly.

Continue cooking for another 30 seconds and turn off heat. Allow walnuts to cool enough o handle, then chop them up into fine pieces.

Take one dough-ball out of fridge (leaving others chilled until ready to use) and on a well-floured surface, roll it out using a floured rolling pin. Roll it out to about 9 inches in diameter. If you have a round cheese cake pan or any 9-10in pan, use that as a guide to cut a perfect circle for your rolled out dough and save the excess cut-outs to use again.

Take 2 tablespoons of fig butter and spread it evenly onto the round dough.

Top with 1-2 tablespoons chopped walnuts and use your hand to gently press down on the walnuts so it sticks.

Using a very sharp knife or a pizza cutter, cut the dough in 8 triangles.

Take one of the wedges and roll from the outside-in, allowing the point to rest on the bottom.

Once all of them are rolled up, place rugelach on cookie sheet, end-side down and brush with egg wash and sprinkle with turbinado sugar.

Bake for 25 minutes until lightly golden brown.

Allow to cool before serving.
Notes
Dough can be made a few days in advance and kept in the fridge.
Other herbs would work great as well, such as fresh thyme.
Make sure to not overfull the rugelach with filling, a little goes a long way.
Nutrition
Calories:
137
kcal
Carbohydrates:
12
g
Protein:
2
g
Fat:
9
g
Saturated Fat:
4
g
Cholesterol:
20
mg
Sodium:
34
mg
Potassium:
46
mg
Fiber:
1
g
Sugar:
6
g
Vitamin A:
203
IU
Vitamin C:
1
mg
Calcium:
17
mg
Iron:
1
mg
Did you make this recipe?
Let us know by leaving a comment and 5 star rating!