Sweet dried figs, cinnamon and honey cook down together and are spread onto strands of round fig challah. Once baked and cut unto, the dried fruit mixture peeks out into beautiful swirls. This would also make a fantastic challah for French toast!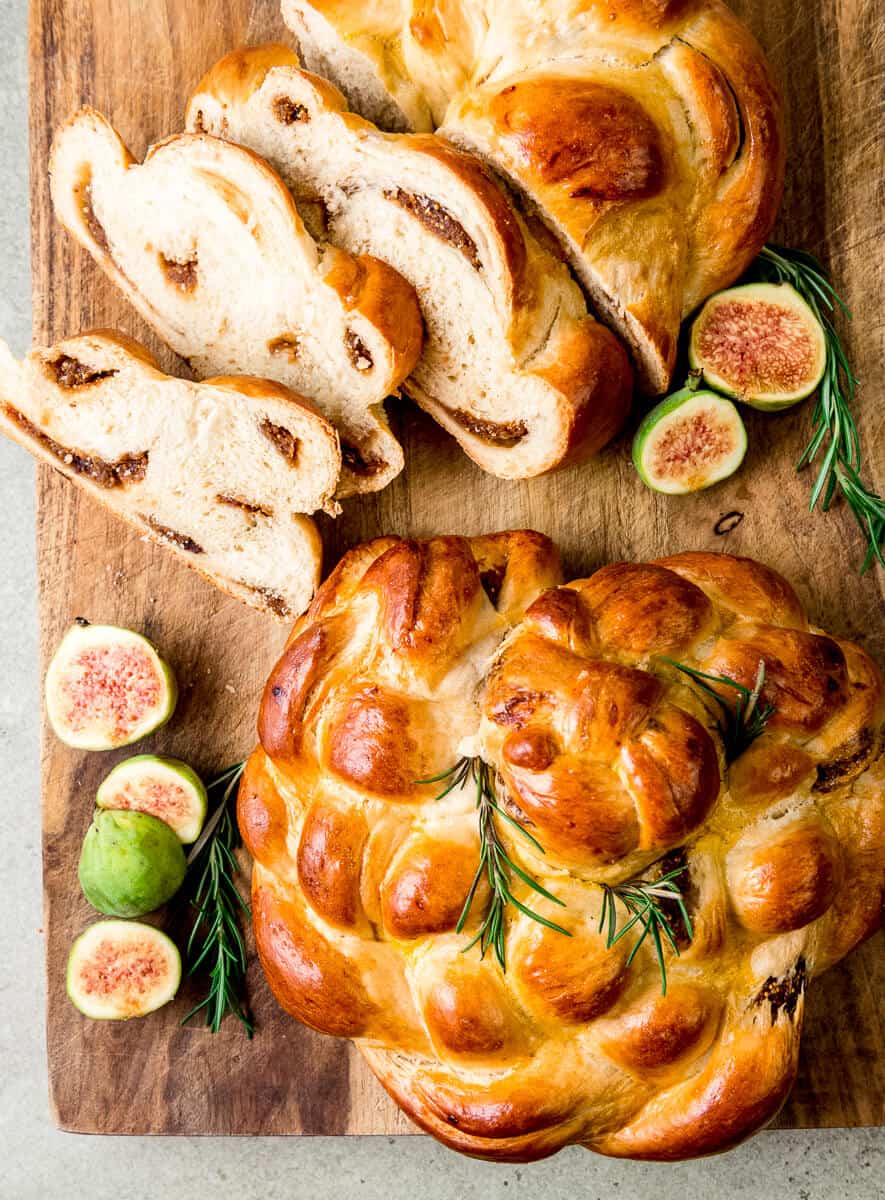 Symbolic Foods for Rosh Hashanah
There are a few symbolic foods that we eat during Rosh Hashanah, the Jewish New Year. Most common are apples and honey and round challah, and many bake a stuffed apple challah to combine the two.
Other traditional items are sweet fruits, such as dried figs and dates, which I also love incorporating into a savory braised chicken with dates and saffron that is out of this world!
Stuffed Fig Challah
Dried figs are simmered with cinnamon, rosemary and honey until incredibly soft. The mixture is blended and made into a paste then stuffed into challah strands before being braided.
When you cut into the challah, swirls of the dried fig mixture peek out and I have to say that this would be a fantastic challah to make challah french toast with.
Ingredients
Eggs
Honey
Neutral Oil
All Purpose Flour
Dried Figs
Honey
Vanilla
Rosemary
Cinnamon Stick
How to Make Fig Stuffed Challah
Bloom yeast in warm water and a squeeze of honey and let the yeast bloom until it foams up.
To a large bowl, add the yeast, eggs, honey and oil and whisk to combine.
Slowly add the flour and mix until combine, then turn onto a floured surface and knead for 10 minutes until a smooth ball is formed.
Place dough in a lightly oiled bowl and cover with a sheet of plastic wrap. let the dough proof until doubled in size.
While the dough is proofing, make the filling. In a small pot, add dried figs, water, honey, cinnamon, vanilla and rosemary sprig and cook until the fruit is soft and water has evaporated.
Remove cinnamon stick and rosemary sprig and blend mixture in a food processor to form a smooth paste.
Once challah is done, punch down and divide into strands. Then flatten strands and add 1 -2 tablespoons of the fig mixture.
Punch strands to seal in the filling and braid the challah, then turn it onto itself and form a circle.
Let the challah rise for another 20 minutes then brush with egg wash.
Bake challah for 30 minutes until lightly golden brown.
More Recipes to Make for Rosh Hashanah
Even more Inspiration
Persian Rice with Dates and Pistachios
Slow Cooker Brisket with Red Wine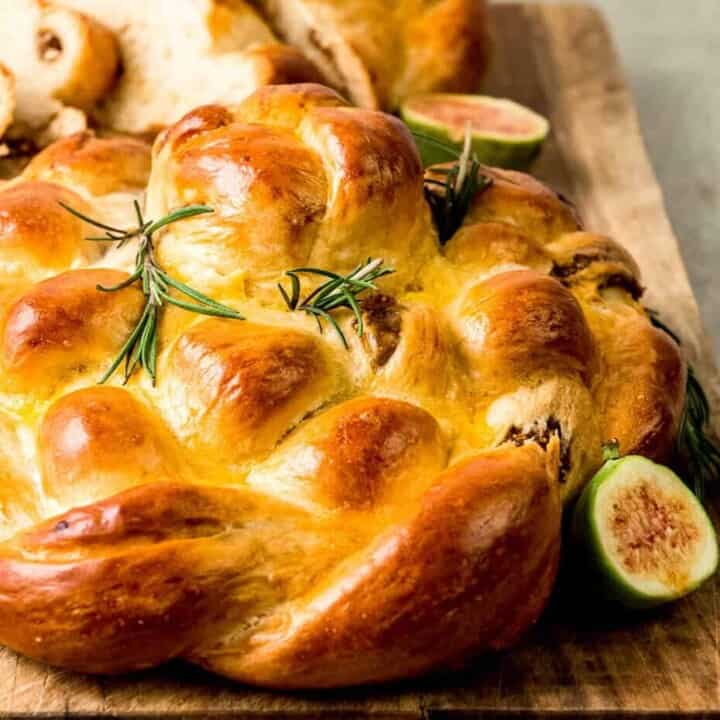 Round Fig Challah
LittleFerraroKitchen.com
Sweet dried figs, cinnamon and honey cook down together and are spread onto strands of this round fig challah. Once baked and cut unto, the dried fruit mixture peeks out into beautiful swirls.
Ingredients
Topping
2

egg yolks

Rosemary sprigs

for garnish
Instructions
To make the challah, add the yeast, 1 cup of warm water, yeast and sugar. Mix lightly with a fork to get all the yeast in the water and set aside for about 10 minutes. It should begin to foam up and you should see little bubbles.

Next, add eggs, oil and honey and whisk together.

Gradually add the flour and salt, about ½ cup at a time and mix until everything is incorporated.

Turn the dough onto a very well floured surface and knead for about 8-10 minutes. You can use your finger to see if it's ready. Press your finger in and if the dough bounces back quickly, it's ready.

Place the dough in a lightly oiled bowl and turn it around so the entire dough is covered with a thin layer of oil.

Cover with a clean towel or plastic wrap and place bowl in a warm spot to rise for 1- 1 ½ hours until doubled in size

While the dough rises, make the filling. In a small pot add the dried fruit, water, cinnamon stick, rosemary sprig and vanilla and cook for 10 minutes, until the dried fruit softens and water has evaporated.

Remove the cinnamon stick and rosemary and let cool for a few minutes, then add mixture to a food processor and blend until smooth and it's a thick paste.

Preheat oven to 350 degrees Fahrenheit

Once dough has doubled in size, punch the dough down and divide dough into 2 balls, this will be your challah.

Divide dough into 3 pieces (or more if you're making another braid), these will be your braid strands. Take 1 of the strands and roll making a long snake, about 12-15 inches long and flatten to make room for the filling.

Next use a tablespoon to fill the strand with the dried fruit mixture. You can also press the mixture gently in the dough, but don't overfill.

Bring the strand together, pinching with your fingers and making sure no filling peeks out (but it's ok it some does). Once strands are sealed, gently roll the strands and begin braiding.

Line 3 strands together and pinch at 1 end. Braid a 3-strand bread and pinch the bottom ends together. Then turn braid onto itself to form a circle.

Place challah on baking sheet and let it rise for another 20-30 minutes. Then whisk egg yolks together and brush challahs with egg wash.

Bake challah at 350 degrees Fahrenheit for about 30 minutes or until the challah is a light golden brown color.
Notes
Yes you can make the dough ahead of time, just let it rise (proof) in the fridge instead of in a warm spot.
To freeze challah, I would suggest baking the challah in its entirety, then letting cool completely, then wrap very well in plastic wrap and then place in a sealed plastic bag and freeze. The let challah thaw and bake until warmed through.
Use other dried fruits for the mixture, such as dried apricots, dates or golden raisins.
Nutrition
Calories:
1863
kcal
Carbohydrates:
337
g
Protein:
47
g
Fat:
41
g
Saturated Fat:
6
g
Polyunsaturated Fat:
22
g
Monounsaturated Fat:
9
g
Trans Fat:
0.01
g
Cholesterol:
358
mg
Sodium:
1277
mg
Potassium:
1564
mg
Fiber:
27
g
Sugar:
113
g
Vitamin A:
519
IU
Vitamin C:
2
mg
Calcium:
361
mg
Iron:
17
mg
Did you make this recipe?
Let us know by leaving a comment and 5 star rating!