Persian Rice with Dates and Pistachios
Persian rice with dates , chopped pistachios and aromatic cardamom is steamed together with an additive and crunchy saffron crust called tahdig.
Simple Rice, Impressive Dishes
I noticed as I'm getting older, I am appreciating the simpler things. The simpler flavors and allowing really good ingredients to be themselves. Rice is a perfect example of that. A humble grain that can be transformed into a number of dishes, such as the classic sticky rice in a Hawaiian plate lunch or jeweled up in my Persian jeweled rice and my forever obsession, classic tahdig. The captivating crispy rice layer that many fight over. And yes, it's worth it.
Lets talk tahdig
Literally translating to "bottom of the pot" is the crispy rice layer that is formed with the twice-cooking method. And it's not always a rice layer, I have made Persian rice dishes with thinly sliced potatoes such as in my recipe for adas polow (rice with lentils). Or you can mix the rice with yogurt and butter for a different texture.
Either way, you want to create a crispy rice layer on the bottom, that you can either invert onto a platter or serve along side the rice.
Persian Rice Dishes come in a number of ways.
I'm still learning, but there are dozens of ways to present Persian rice. My recent favorite is rice with dates, pistachios and warm cardamom. The sweet dates pair beautifully with the crunchy pistachios and the cardamom offers just enough aroma to make you think 'hmm..what is that?', without being too overpowering.
However, get creative! I have seen Persian rice dishes with stewed chicken layered in between (on the bucket list), or cooked with deep red cherries that creates a gorgeous pink hue. You can also add pomegranate seeds and, or golden raisins for a sweet finish. The possibilities are endless, so have fun with the flavors and colors.
In other news, I'm hosting my own radio show!
Kinda sorta, and yes! I'm teaming up with a local web cast radio based here in Bellingham, where I'll be chatting about recipes, local farms and vendors and what's cooking in my kitchen. My first topic is well..this rice with dates recipes! You can click HERE on KPNW's website to see the list of episodes or click on the play button below!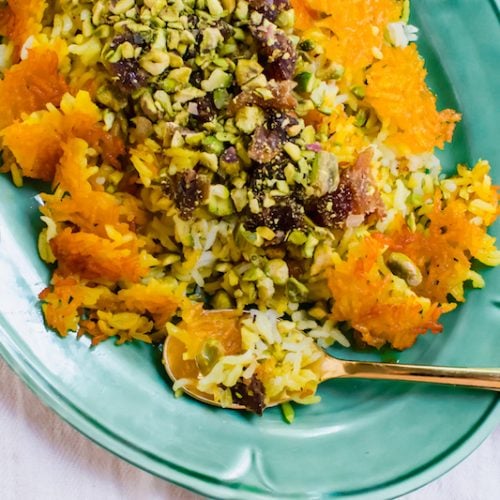 Print Recipe
Persian Rice with Dates and Pistachios
Persian rice with dates, chopped pistachios and aromatic cardamom is steamed together with an additive and crunchy saffron crust called tahdig.
Ingredients
2

cups

basmati rice

2

tbsps

olive oil

1

tbsp

saffron water

1

tsp

turmeric

8-10

dates

pitted and chopped

3/4

cup

chopped pistachios

1

tsp

cardamom

Salt

to taste
Instructions
Begin by rinsing rice with cold water several times until the water runs clear.

if you have the time, soak for an hour to overnight.

While rice is soaking, stir together the chopped dates, pistachios and cardamom and set aside.

Bring a large pot of water to a boil and add rice. Cook for about 6-7 minutes then test to see how done rice is. It should be par-cooked with the middle still being hard and the outside softer.

Once done, drain rice in a colander and wipe the pot dry.

Bring pot up to medium-high heat and drizzle with enough olive oil to coat the bottom. Stir in saffron water and turmeric.

Slowly add the rice back into the pot with a large spoon or ladel, making sure the bottom rice layer is evenly spread on the bottom. Then add in half the rice, being gentle and not pressing it in, but creating a mound.

Scatter the date pistachio mixture on top of the rice and then finish with the rest of the rice, creating a mound.

Use a chopstick to press in several holes into the rice. This will help the steam escape easily.

Wrap a clean kitchen towel over the lid and place the lid onto the pot.

Cook the rice for about 10-12 minutes on medium-high heat until the rest of the rice is fully cooked and fluffy.

Once done, you can either invert the entire pot onto a platter so the crispy tahdig is on top, or you can spoon the rice onto a platter and serve the crispy rice along side.
Notes
Have fun with the additions and use what you have, such as almonds, pine nuts or other dried fruit.
This is not the time to use a heavy cast iron pot, but instead a cheaper and lighter pot, which will help to invert the rice if you chose to.
Nutrition
Calories:
383
kcal
|
Carbohydrates:
61
g
|
Protein:
7
g
|
Fat:
12
g
|
Saturated Fat:
1
g
|
Sodium:
5
mg
|
Potassium:
302
mg
|
Fiber:
3
g
|
Sugar:
7
g
|
Vitamin A:
40
IU
|
Vitamin C:
0.7
mg
|
Calcium:
37
mg
|
Iron:
1.4
mg