It's like apple pie meets challah! Classic cinnamon, brown sugar and apples roast together together before being stuffed into challah. Then the stuffed apple challah is generously sprinkled with a brown sugar cinnamon streusel topping. If this doesn't scream Rosh Hashanah and fall, I don't know what does!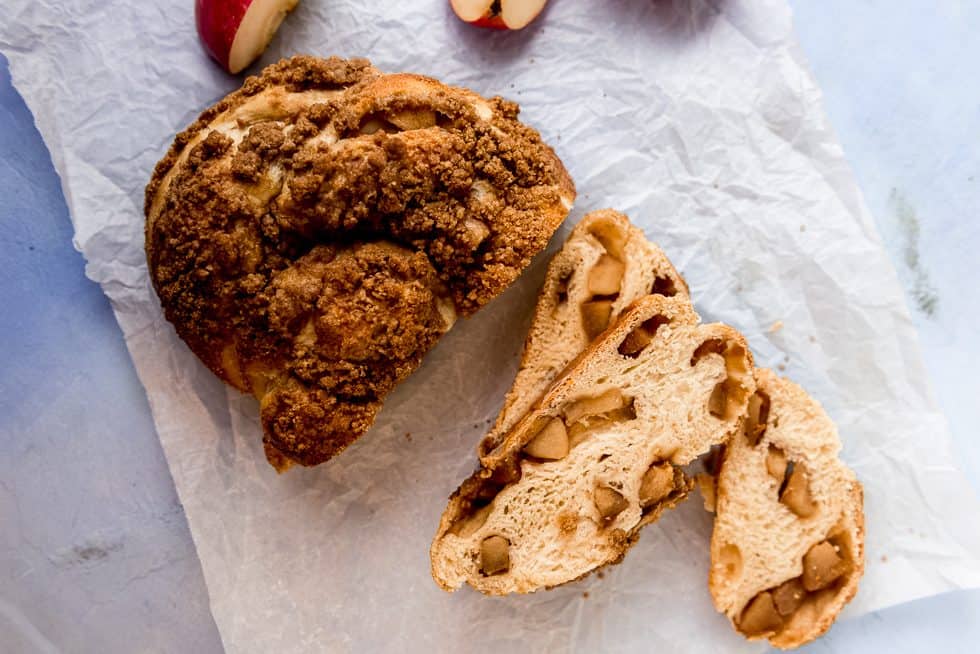 Apple Stuffed Challah for Rosh Hashanah
Apple challahs are notablely one of the most popular and traditional recipes to make for the Jewish New Year. For the holiday of Rosh Hashanah, Jewish people will eat sweets to bring in a sweet new Year, usually in the form of apples and honey.
As modern times have come, classic challahs have transformed into really fun and flavorful creations., such as brown sugar cinnamon swirl challah , Stuffed Challah French Toast
and stuffed cardamom and date challah to name a few.
Apple Pie Meets Challah
I had so much fun creating this challah for the upcomning holiday and fall season. The entire house smlled like apple pie and it was glorious!
Start by roasting cubed apples with cinnamon or cinnamon extract, brown sugar, vanilla and a shot or two of whiskey doesn't hurt either.
Then stuff the mixture into challah braids and braid everything together. (Traditionally, a round challah is made for Rosh hashanah, but do whatever braid you feel comfortable with).
Then top the challah with a streusel topping tof: flour, butter, cinnamon and brown sugar and bake until cooked through, about 40 minutes.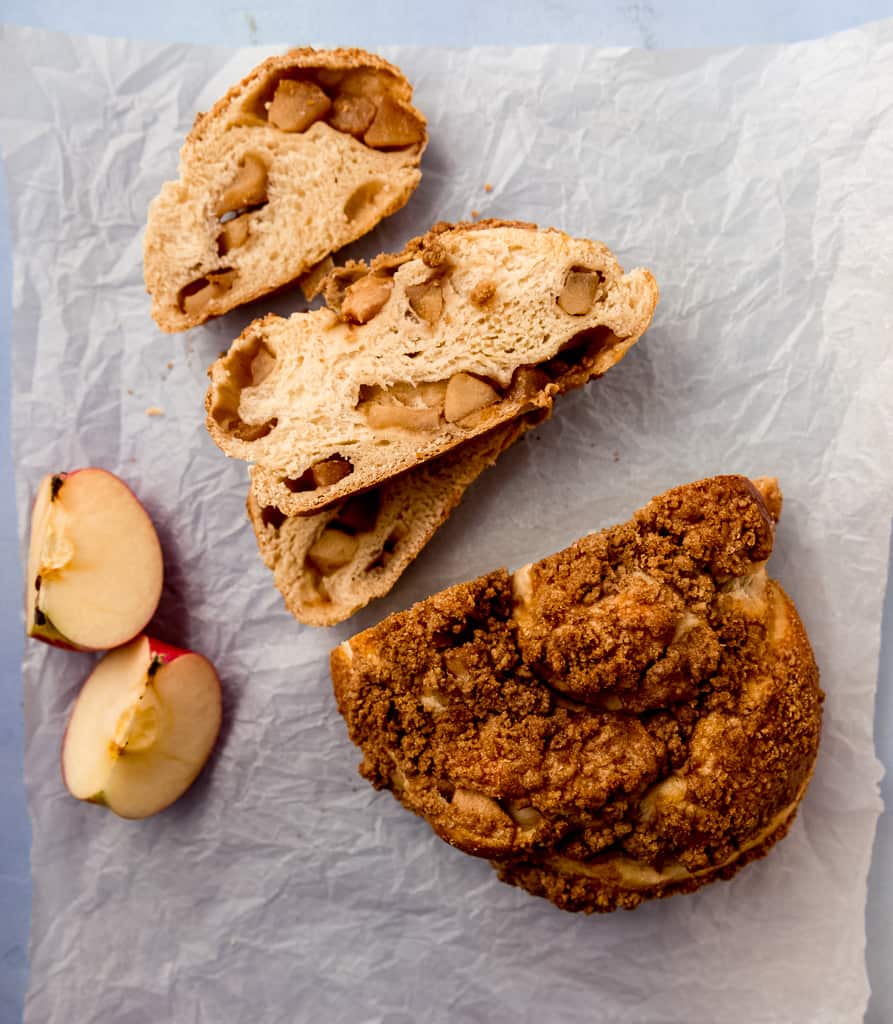 In the mood to bake? Here are more challah recipes: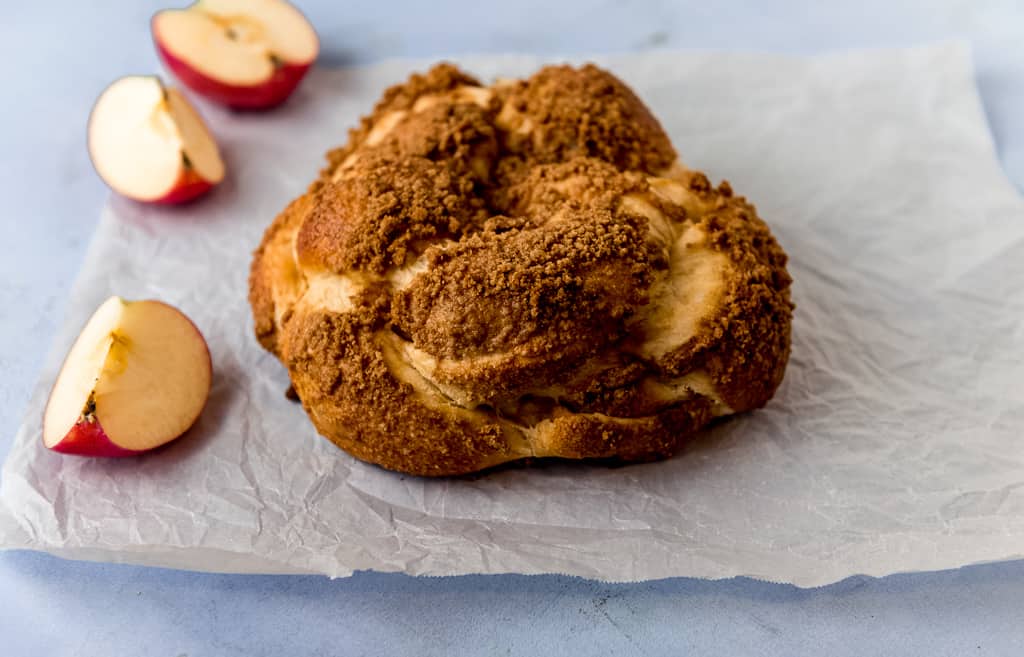 Stuffed Apple Challah with Cinnamon Streusel Topping
LittleFerraroKitchen.com
Stuffed apple challah is generously sprinkled with a brown sugar cinnamon streusel topping.
Ingredients
Challah
1

cup

lukewarm water

1

¼ ounce packet active dry yeast

1

tablespoon

sugar

3

tablespoons

honey

2

eggs

1

teaspoon

kosher salt
Instructions
Cinnamon Roasted Apples
Pre-heat oven to 425 degrees Fahrenheit and combine apples, brown sugar, cinnamon, salt, vanilla (and whiskey, if using) and stir together. Add mixture to a baking dish and bake for 30 minutes until apples are just tender and you can stick a fork through it easily.

Once done, remove from oven and let cool to room temperature. (I would even recommend making this a day or few hours ahead of time and let place in refrigerator until ready.
Cinnamon Streusel Topping
Combine flour, brown sugar, cinnamon, butter and salt in a bowl. Use your fingertips to rub butter into flour mixture until evenly distributed and set aside.
Challah
In the bowl of a stand mixer, add 1 cup warm water, yeast packet and sugar.

Mix lightly with a fork to get all the yeast in the water and set aside for about 15 minutes until it foams up.

In the same bowl, add eggs, oil and honey and whisk together.

Using a dough attachment on your mixer, begin mixing and gradually add flour and salt, about ½ cup at a time. Continue until everything is incorporate and dough is in a cohesive ball.

Turn the dough onto a very well floured surface and knead for about 5 minutes until dough is smooth. Too see if the dough is ready, press your finger in and if the dough bounces back quickly, it's ready.

Place dough in a lightly oiled bowl, turning so dough has a light layer of oil on all sides. Place a towel or plastic wrap over the bowl and let rise for about 1 hour -1 ½ hours or until doubled in size.

Pre-heat oven to 350 degrees Fahrenheit.

Punch the dough and divide dough into 2 balls, this will be your challot. Cover 1 ball of dough as you work with the other.

Divide dough into 3 pieces, this will be your braid strands.. Take 1 of the strands and roll making a long snake, about 10-12 inches long, about 1-2 inches thick. Use a rolling pin to flatten the strand if needed.

Divide the apple mixture in half, for each challah. Then divide the halved apple mixture between the 3 strands of your first challah, draining any excess liquid so the apples are not too wet and seal the strand.

Braid a 3 strand braid and roll into a circle to make a round challah. Place challah on baking sheet and let rise for another 20 minutes. Repeat with the other challah.

Brush challot with egg wash and top with streusel topping.

Bake both challah for 40-45 minutes until cooked through. If topping begins to darken too fast, cover with foil for the last 10 minutes.
Notes
Make the roasted apples ahead of time so it has time to cool. 
When filling challah, be sure to drain any excess liquid so the filling isn't wet. 
You can also make the dough ahead of time, just let it rise in the fridge, anywhere from 8-24 hours ahead of time. 
Since the challah has filling, it will take longer to bake than traditional challah, so keep an eye on it, but should take about 40-45 minutes. 
If challah is getting too dark, cover with foil adn continue baking. 
Nutrition
Calories:
2093
kcal
Carbohydrates:
353
g
Protein:
36
g
Fat:
58
g
Saturated Fat:
19
g
Polyunsaturated Fat:
22
g
Monounsaturated Fat:
12
g
Trans Fat:
1
g
Cholesterol:
224
mg
Sodium:
1261
mg
Potassium:
861
mg
Fiber:
17
g
Sugar:
124
g
Vitamin A:
1138
IU
Vitamin C:
17
mg
Calcium:
160
mg
Iron:
15
mg
Did you make this recipe?
Let us know by leaving a comment and 5 star rating!