I have to confess that this challah was starting to look like a big hot chocolate mess. The filling was just everywhere...everywhere!
I had beautiful meticulous visions of filling my challah strands with small bits of chocolate and walnut. That the filling  would seal perfectly and I would make the most beautiful challah braid, so that when you cut into the bread, swirls of chocolate and walnut would emerge. Like a work of art.
Then as I was trying to carefully fill and crimp the seams, the filling was just everywhere! The seam wouldn't stay closed and I had more chocolate on myself more than on the bread. So you know what I did? I wiped my frustration away and just kneaded the filling INTO the bread!
But I was still determined to fill my darn strands. I wanted to fill them damnit! And again, my seam wouldn't close and my visions of another gorgeously braided challah were destroyed. I looked at my "hot-mess" challah and cried a single tear and moved on, because gosh-darnit, this was MY challah and I was going to tell IT what to do. So, I rolled it in a turbon. I present to you, turbon challah.
I have to admit I fell in love with how unperfect my challah looked. My 3 turbons snuck up on each other and stuck together, which I can dig. It's like a little turbon challah family. Cute right?
Needless to say you won't dare pass on the this chocolate walnut hot mess turbon challah with your morning cup of coffee. Pacari chocholate and California walnuts were studded throughout with warm flavors of cinnamon and brown sugar. I think I can cheat on this kind of chocolate. (And a HUGE thank you to both Pacari and California walnuts for the fabulous treats to inspire this challah!)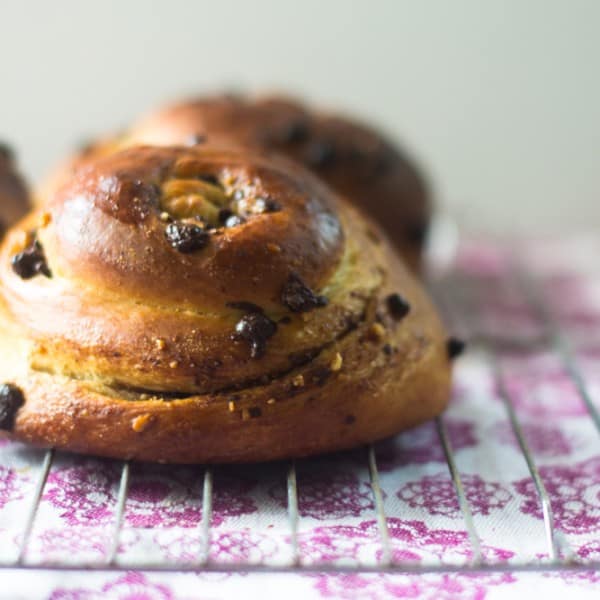 Chocolate Walnut Challah
LittleFerraroKitchen.com
Ingredients
4

cups

all purpose flour + more for kneading

sifted

1

cup

lukewarm water

1

packet yeast

¼oz

1

tablespoon

sugar

3

tablespoons

honey

2

teaspoons

Nielsen-Massey vanilla paste

2

teaspoons

kosher salt

¼

cup

vegetable oil

2

egg yolks

whisked
Filling
1

cup

Dark or semi-sweet chocolate chips

1

cup

roasted and finely chopped walnuts

¼

cup

brown sugar

2

teaspoon

cinnamon
Instructions
First make the filling. In a food processor, add the walnuts and chocolate and pulse together until the nuts and chocolate are chopped fine, but not powdery They should still have some texture to it. Transfer to a bowl along with the brown sugar and cinnamon and mix together. Set aside.

In the bowl of a stand mixer, add 1 cup warm water, yeast packet and sugar. Mix lightly with a fork to get all the yeast in the water and set aside for about 15 minutes until it foams up.

In the same bowl, add eggs, oil and honey, vanilla paste and whisk together.

Using a dough attachment on your mixer, gradually add flour and salt, about ½ cup at a time. Continue to gradually add flour until everything is incorporate and dough is in a cohesive ball.

Turn the dough onto a very well floured surface and knead for about 5 minutes until dough is smooth. Too see if the dough is ready, press your finger in and if the dough bounces back quickly, it's ready.

Place dough in a lighly oiled bowl, turning so dough has a light layer of oil on all sides. Place a towel or platic wrap over the bowl and let rice for about 1 hour -1 ½ hours or until doubled in size.

Punch the dough and divide dough into 2 balls, this will be your challahs. Cover 1 ball of dough as you work with the other.

For a 3 strand challah, divide the ball into 3 equal strands and roll each strand into a long snake, about 15 inches long. The use a rolling pin to flatten out the strand about 1-2 inches thick and spread the chocolate and walnut filling within the strand and pinch to seal ends. Repeat with remainign strands.

Once the challahs are braded, place on a parchment lined baking sheet and let rise for another 30 minutes. Meanwhile, preheat your oven to 350 degrees Fahrenheit.

Brush egg wash all over the challah and bake for 30 minutes until lighlty golden brown.

When done, remove from oven and allow to cool slightly before cutting the bread.
Notes
If you're having trouble with the filling, you can also knead it into the dough and braid from there.
Nutrition
Calories:
2358
kcal
Carbohydrates:
311
g
Protein:
44
g
Fat:
107
g
Saturated Fat:
48
g
Cholesterol:
201
mg
Sodium:
2359
mg
Potassium:
1092
mg
Fiber:
19
g
Sugar:
97
g
Vitamin A:
305
IU
Vitamin C:
1
mg
Calcium:
223
mg
Iron:
20
mg
Did you make this recipe?
Let us know by leaving a comment and 5 star rating!
B