Brown sugar cinnamon swirl challah is a combination of cinnamon bun meets challah.
I just got back from a super fun food conference in Seattle (enter cheesy food nerd here) and even though I am happy to be back to reality, Seattle has become one of my favorite food-loving cities ever! A huge thanks to the Hatch Chile store for sponsoring..a fabulous hatch recipe will be in the very near future!

Before I left I shared this cinnamon swirl challah I made for both my mom's birthday and Rosh Hashanah. My mom lives in Hawaii and she's always asking me to send her baked goods, which I would love to do if the post office wasn't so fickle! We send each other packages of random stuff every few weeks and sometimes the box gets there fine in a few days but sometimes it takes a month! An entire month just to get to Hawaii! Can you imagine baklava or rugelach sitting across the Pacific in a cardboard box for 4 weeks? That would be devastating!

And can I just say how incredibly proud I am of my first round challah? I like to call this "rustic chic". The beginning of the challah started out fine. You take 4 strands and interweave them and then continue to weave them in a circular motion around the bread. I was thinking of doing a step by step for this, but I would be lying to you if I said I knew what I was doing. I had a YouTube video open of the technique while I was braiding and still couldn't get it fully! Next time, I'll just stick with a 4 strand braid. But not too shabby, huh?
Each strand is brushed with melted butter and generously sprinkled with cinnamon and brown sugar. I twisted each strand to create a swirl which made for a gorgeous visual when the bread was cut. As this bread bakes the entire house smells like cinnamon perfection and makes the most perfect french toast.
More Challah recipes
Challah for Brunch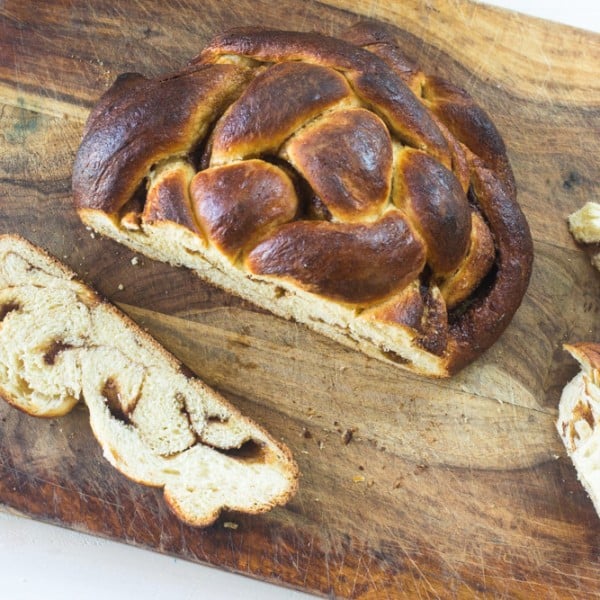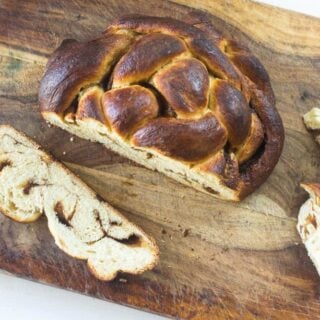 Brown Sugar Cinnamon Swirl Challah
LittleFerraroKitchen.com
Brown sugar cinnamon swirl challah is a combination of cinnamon bun meets challah and is perfect made into French toast!
Instructions
In the bowl of a stand mixer, add 1 cup warm water, yeast and sugar. Mix lightly with a fork to get all the yeast in the water and set aside for about 15 minutes. It should begin to foam up and you should see little bubbles.

Next, add eggs, oil and honey and whisk together.

Using a dough attachment on your mixer, gradually add sifted flour and salt, about ½ cup at a time with the mixer on low. Continue to mix until everything is incorporated. The dough should begin to pull away from the bowl and come to 1 large ball of dough.

Turn the dough onto a very well floured surface and knead for about 5 minutes. You can use your finger to see if it's ready. Press your finger in and if the dough bounces back quickly, it's ready.

In a large bowl, pour a bit of oil in and place your dough ball in the bowl. Turn it around so the entire dough is covered with a thin layer of oil. Cover with a clean towel and place bowl in a warm spot. (for me, it was my oven). Allow to rest and rise for 1 ½hours until doubled in size.

When dough is ready, it should have doubled in size. Punch the dough down and knead a bit to soften. Divide dough into 2 balls, this will be your challahs. Cover 1 ball of dough as you work with the other.

Divide the ball into 4 equal strands and roll each strand into a long snake, about 15 inches long. The use a rolling pin to flatten out the strand about 1-2 inches thick.

Next, stir the vanilla into the melted butter and use a pastry brush to brush melted butter all over your strand. Then sprinkle brown sugar and cinnamon generously, gently pressing the cinnamon and sugar into the dough. Then, twist the strand so it looks like a a spiral and continue with the rest. (It's ok if it's not perfect).

If doing a round challah, take your 4 strands and lay them in a cross. 2 vertical and 2 horizontal, having the strands go over and under each other.

Then take every other strand and place it over the one next to it, making a weave pattern. It doesn't have to be perfect. Tuck the ends underneath.

Place on cookie sheet and allow to rise for another 30 minutes.

When ready, place in pre-heated 350 degree F oven and bake for about 30 minute or until the top is golden brown. Check a few minutes before and if the top is cooking too fast, cover with foil.

When done, remove from oven and allow to cool slightly before cutting the bread.
Nutrition
Calories:
181
kcal
Carbohydrates:
33
g
Protein:
4
g
Fat:
4
g
Saturated Fat:
2
g
Polyunsaturated Fat:
0.3
g
Monounsaturated Fat:
1
g
Trans Fat:
0.1
g
Cholesterol:
28
mg
Sodium:
325
mg
Potassium:
60
mg
Fiber:
2
g
Sugar:
8
g
Vitamin A:
265
IU
Vitamin C:
0.4
mg
Calcium:
23
mg
Iron:
2
mg
Did you make this recipe?
Let us know by leaving a comment and 5 star rating!