Have you ever had Persian dried lime? It creates the most fantastic citrus aroma that perfumes anything it is added to. This Persian lemon chicken soup is flavored simply with a few dried limes and earthy turmeric and is made abundant with rice and chickpeas.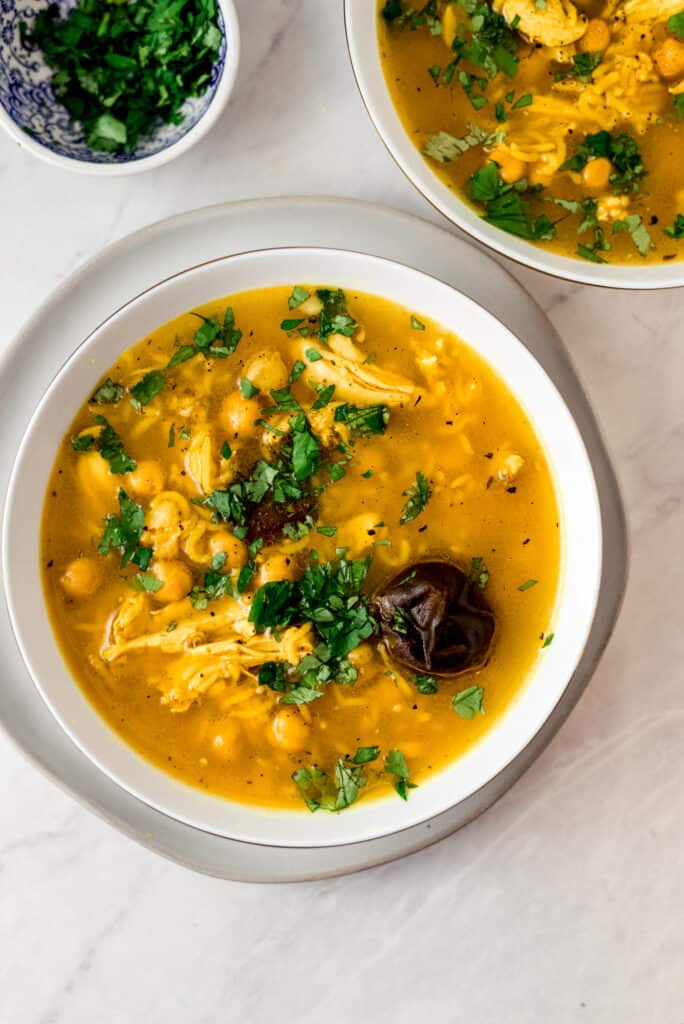 Persian Lemon Chicken Soup
This Persian chicken soup is my mom's sisters recipe and since making it for the first time almost 10 years ago, has become a staple in our house. For years my mom would rave about this recipe and finally after a call to my Aunt (again, this was years ago) I was introduced to the bold and simple yet pronounced flavors of this soup.
Persian Dried Lime AKA Lemon Omani
Dried lime is a table in Persian cooking and I always make sure to have a bag of these flavor bombs at all times. Persian dried lime, also called lemon omani are small, hard limes that are hollow inside.
Persian dried lime has an earthy and citrusy aroma and perfumes soups and stews with the same earthy and sour flavor. I love adding a few dried limes to my lemon matzo ball soup and it is a classic ingredient in the Persian beef stew called Ghormeh Sabzi.
The dried limes stay hard as they simmer in whatever you are cooking, so be sure to remove them so you don't accidently bite into one. You can find Persian dried lime in Mediterranean or Middle Eastern stores and online.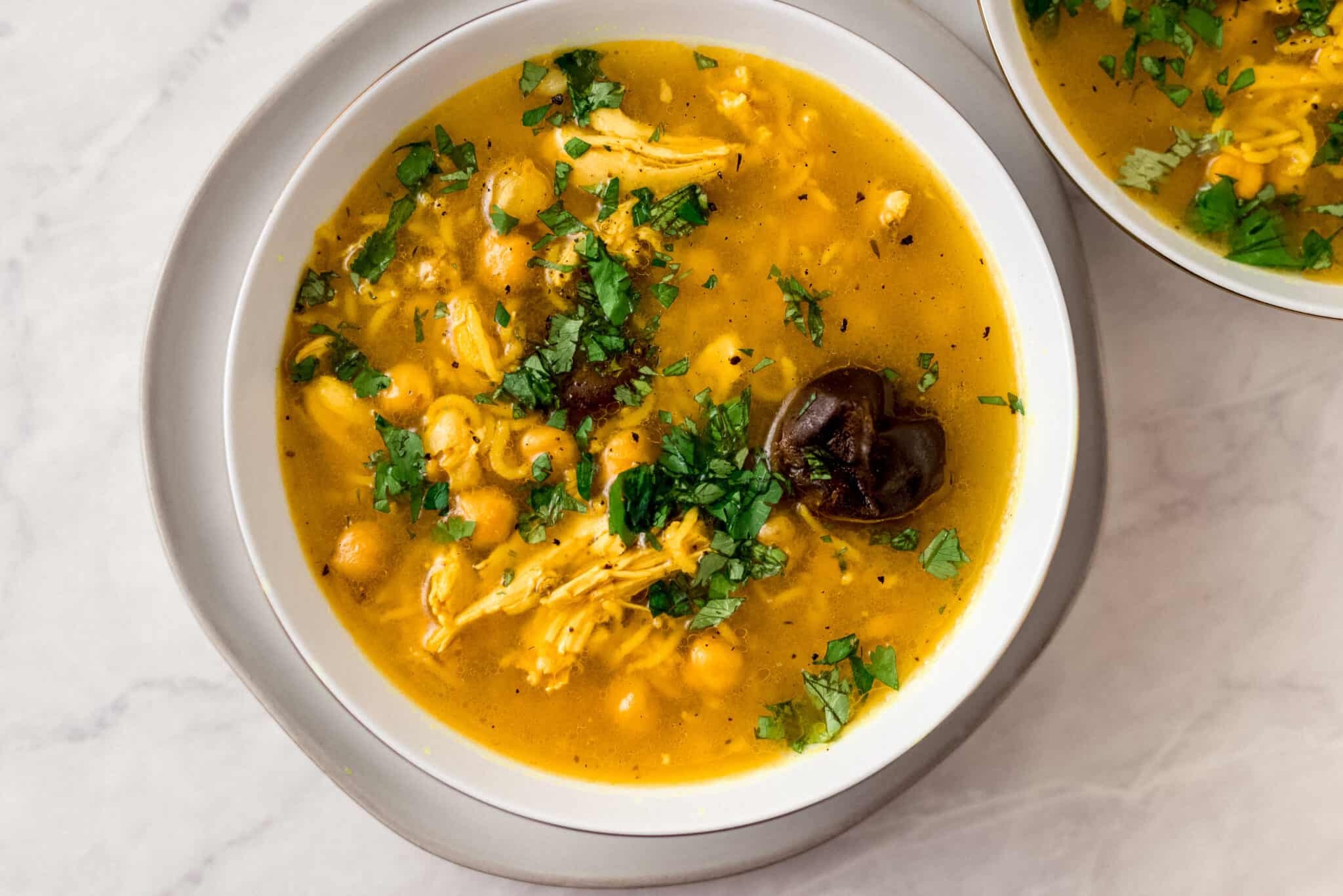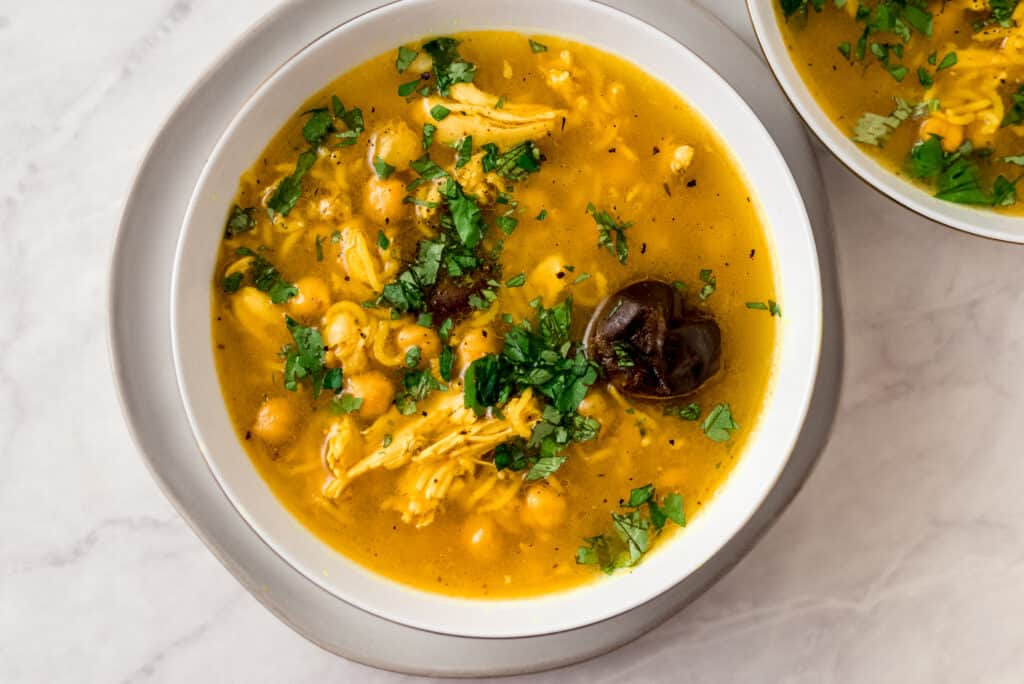 Persian Soup Ingredients
The ingredients in this turmeric lemon soup are simple and hearty. Feel free to swap as needed, such as all rice or all chickpeas or omit the chicken for a vegetarian chickpea soup.
Shredded Chicken: This is a great recipe to use leftover roasted chicken. Shred cooked chicken and discard any fat and skin before adding to soup.
Turmeric: Gives the soup a gorgeous golden hue and earthy flavor. Add a few cracks of black pepper to activate the lovely health properties that turmeric offers.
Dried Persian Lime: if you can't find dried lime, use a vegetable peeler and peel a few strips of lemon peel to steep in the soup.
Basmati Rice: India Gate Basmati rice is my absolutely favorite rice! I use it exclusively in when making Persian rice called Tahdig.
Chickpeas: For simplicity, I use rinsed canned chickpeas.
Other Options: a das of cinnamon or noodles instead of rice. Adding carrots and celery would be delicious too.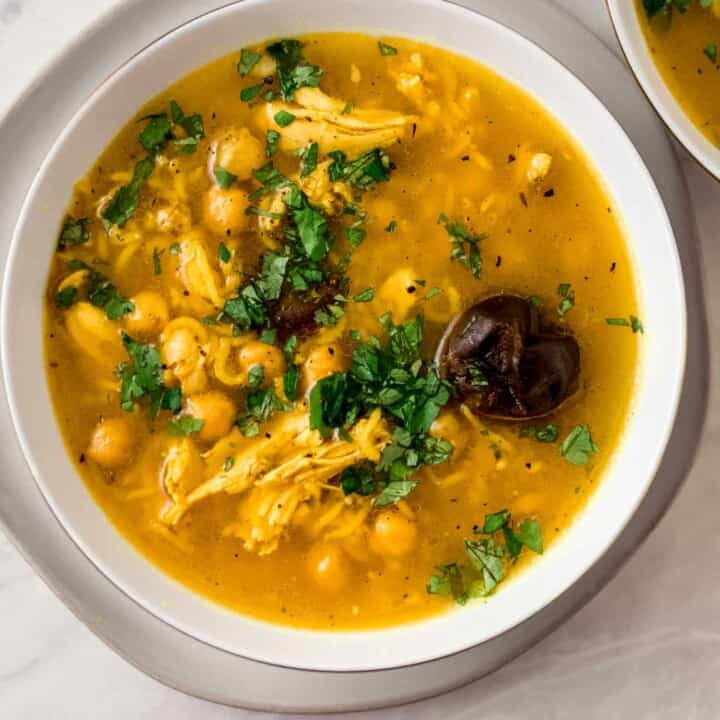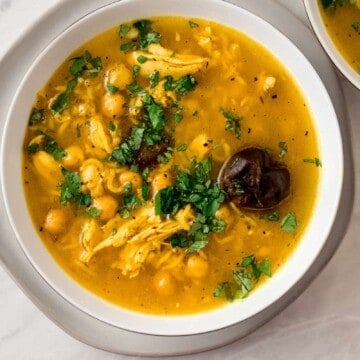 Persian Lemon Chicken Soup
LittleFerraroKitchen.com
Persian lemon chicken soup is flavored with Persian dried lime and turmeric and full of basmati rice and chickpeas.
Ingredients
2

tablespoons

olive oil

½

yellow or white onion

finely chopped

2

garlic cloves

minced

5

cups

low sodium chicken stock

4

dried Persian limes

2

tablespoons

turmeric

1

cup

Basmati rice

13

ounce

can chickpeas

rinsed

1

cup

cooked shredded chicken

Ground black pepper

Parsley leaves

chopped, for garnish
Instructions
Bring a dutch oven to medium heat and drizzle olive oil and saute the chopped onion for 4-5 minutes until soft. Add garlic and saute for another minute.

Pour in chicken stock and add dried limes, turmeric, basmati rice and chickpeas and cook until rice is tender, about 15 minutes.

Add shredded chicken and continue to cook on low until chicken is warmed through.

Remove dried limes and discard before serving. Ladle soup into bowls and garnish with chopped parsley and ground black pepper.
Notes
This recipe has been updated to use leftover roasted chicken but you can also simmer raw chicken in the broth until cooked through, then shred and add back in with rice and chickpeas.
As soup sits, rice may soak up broth, so feel free to add more broth as needed.
Nutrition
Calories:
458
kcal
Carbohydrates:
64
g
Protein:
23
g
Fat:
14
g
Saturated Fat:
3
g
Polyunsaturated Fat:
3
g
Monounsaturated Fat:
7
g
Cholesterol:
26
mg
Sodium:
377
mg
Potassium:
703
mg
Fiber:
8
g
Sugar:
2
g
Vitamin A:
62
IU
Vitamin C:
22
mg
Calcium:
96
mg
Iron:
4
mg
Did you make this recipe?
Let us know by leaving a comment and 5 star rating!
This post was originally published in April 2012 and has been updated in January, 2022 with easier instructions, retested recipe and updated photos.