Roasted Tomato Soup with Coconut Milk and Prosciutto
I thought the summer was beautiful in Bellingham, but the fall foliage has got me all kinds of swooning.
I'm watching the leaves change color and start to fall off. Colorful leaves are all over bricked walkways and there's a sweet chill in the air that begs for me to wear a coat and scarf. Probably more out of necessity to get this annual cough out of my system, but it's the first "real" coat I've worn in years and I am actually loving every bit of it.
The one thing I do miss from summer are the sunsets. Cloudy skies are beginning to blanket over the Northwest and there's nothing more that we want to do than hibernate in our living room under the covers. So yesterday Joe and I decided to venture out on our own little adventure and take advantage of the one clear day this week. We grabbed our tripod, camera and some lipstick (for me) and ran to our most favorite spot here in Bellingham, Marine Park. Just as the sun was setting, we managed to set the timer for our own holiday family shoot, but just as the light was lowering, I managed to snap this perfect view.
I made this roasted tomato soup just as the tomatoes are beginning to end their season. Some are still lingering, but not nearly as sweet as they were a few months ago. And that's OK, because it's the perfect reason to roast them with aromatics and condense their natural sweetness. When I wrote this recipe, Joe and I were doing Whole 30 (basically paleo, so no dairy or refined sugars, etc) And for a paleo'ish touch, creamy coconut milk is added in lieu of dairy and topped with fresh thyme and crispy prosciutto chips. This, my friends is the epitome of fall comfort food.
Note, this can obviously be easily vegan if you omit the prosciutto, but I do love the salty crispy contrast it gives to the creamy soup.
Another note, I prefer my tomato soup on the very creamy side, so I take the extra step after pureeing and strain any large pieces or tomato skins. If you prefer a chunkier texture, just puree it well and don't strain.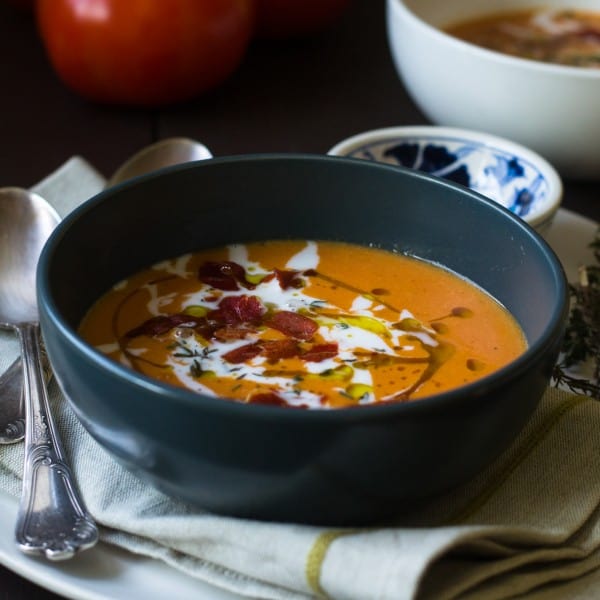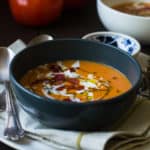 Print Recipe
Roasted Tomato Soup with Coconut Milk and Prosciutto
Servings:
3
-4 bowls of soup
Ingredients
2

lbs

tomatoes

cut into quarters

3

garlic cloves

1

small onion

cut into quarters

2

cups

vegetable stock

1

can full fat coconut milk

reserving a few tablespoons for garnish

Few leaves of fresh thyme

leaves removed and roughly chopped

2-4

slices

of prosciutto

Salt and pepper

to taste

Red pepper flakes

optional

Olive oil

for drizzling as garnish
Instructions
To make the prosciutto chips, add slices of prosciutto on top of a baking rack, fitted on top of a baking sheet.

Bake at 350 degrees F for about 10 minutes or until the prosciutto crisps up. Once done, remove and set aside.

To make the soup, line a baking sheet with foil and add tomatoes, garlic and onion. Season everything with salt and pepper and drizzle with olive oil. Then roast at 400 degrees F for about 30-35 minutes, or until the tomatoes condense and the onion and garlic caramelize.

Once done, remove and allow to cool slightly then add to a blender or food processor and puree until smooth. You may want to add a bit of stock to help loosen it up as well.

Once pureed, you may want to take an additional step and strain the soup through a sieve to get any large bits or vegetable skins out. If not, leave as is.

Then add mixture to a soup pot and continue cooking on medium-low heat. Add vegetable stock and coconut milk and taste for seasoning. Stir everything together well and adjust the amount of stock you may want to add if you like it thinner or thicker. Continue cooking until soup is warmed through.

Once done, ladle soup into bowls and drizzle with coconut milk, olive oil and sprinkle fresh thyme leaves and red pepper flakes. Crumble prosciutto on top for a salty garnish.