Koofteh are hearty and flavorful Persian meatballs mixed with loads of aromatic herbs, split peas and rice that are then simmered in a turmeric tomato broth.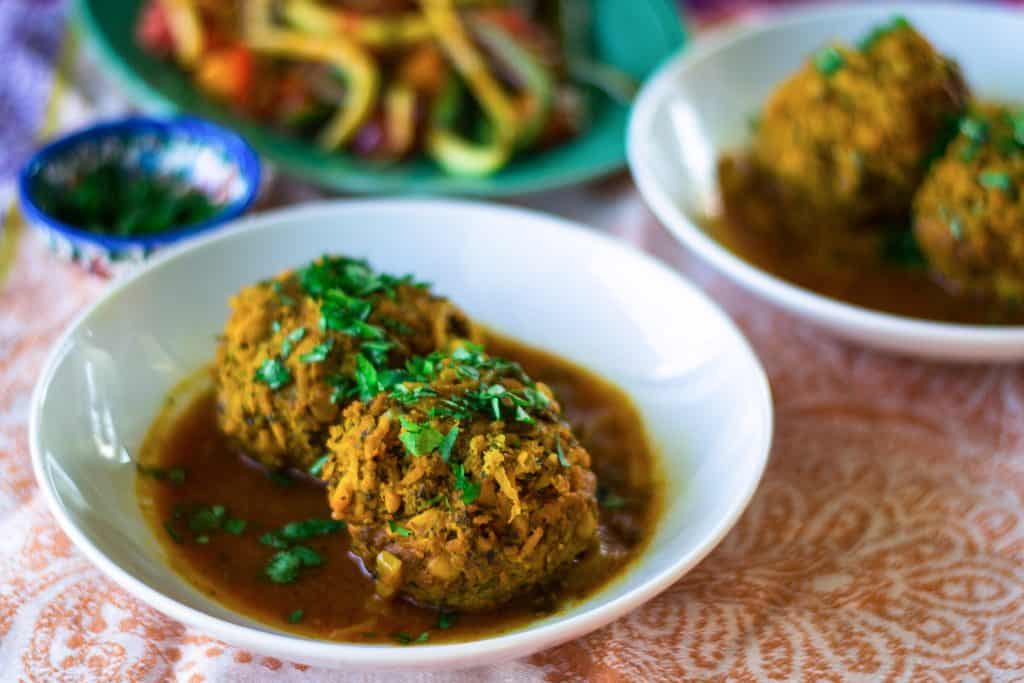 A while back my friend gifted me with a can of Sabzi koofteh. large can of the most aromatic dried herb blend that permeated the entire kitchen as soon as I snapped the top off. A whiff of tarragon and onion were strong and intoxicating. And when blended into comforting meatballs that are simmered in the most glorious turmeric broth, all the flavors are just out of this world.
For a not so traditional "Meatball" recipe, try my Thanksgiving Turkey Meatballs. You don't need to wait for Thanksgiving either.
Persian Meatballs aka Koofteh
Persian meatballs are full of bold flavors thanks to loads of aromatic herbs. The texture of the meatballs are wholesome and hearty offered from the par-cooked rice and lentils that give the meatballs great texture.
Go generous on the size of these koofte, Persian meatballs are meant to be eaten as a complete meal so roll them to a large palm size meatball.
Sabzi (Persian Herb Blend)
Sabzi translates to vegetable greens or herbs in Persian and for this recipe, we are using a dried herb blend specifically used for Sabzi Koufteh (Persian meatballs).
Sabzi comes in various blends for many different recipes. There is Sabzi Polo, which has dried dill and leek for rice dishes, and Sabzi Ghormeh, which is used in hearty stews.
You can find sabzi at many Mediterranean stores and online and it gives the meatballs fantastic flavor, not to mention less expensive than bunches of fresh herbs.
Koofteh Herb Blend
For use of fresh herbs, these are the main components in the blend. Use a bunch of each and chop away. Of course a small chopper or food processor will do the trick as well.
Parsley
Cilantro
Tarragon
Basil
Chives or Green Onions
Other Favorite Persian Recipes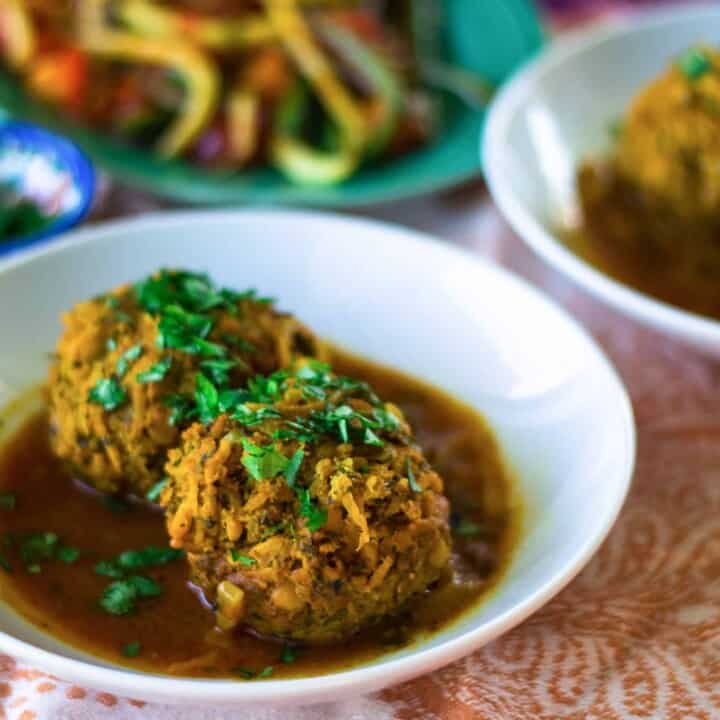 Persian Meatballs in Turmeric Broth (Koofteh)
LittleFerraroKitchen.com
Koofteh are hearty and flavorful Persian meatballs mixed with loads of aromatic herbs, split peas and rice that are then simmered in a turmeric tomato broth.
Instructions
If using the dried herb blend, add herbs to a bowl and cover with enough water to cover the herbs and soak for about 20 minutes.

Next, par-cook the split peas and rice in 2 cups of water for about ten minutes until the lentils are just tender. Once done, remove and drain.

In another large bowl, add the beef, grated onion, dehydrated herbs (or chopped fresh herbs if using), egg, rice, split peas and spices. Mix thoroughly until well blended, then cover with plastic wrap and place in refrigerator to marinate for at least 20 minutes.

Form mixture into large meatballs, it will make about 8 very large meatballs.

In a large pot or dutch oven over medium heat, drizzle olive oil and add sliced onion and saute until translucent and softened but not browned, about 5-7 minutes.

Add garlic and saute for another minute, then add the turmeric and tomato paste and stir everything together for another minute.

Pour in chicken stock and gently add the meatballs. Cover the pot and cook for about 45 minutes, turning them about halfway through until meatballs are cooked all the way through.

Once done, serve meatballs in shallow bowls and ladle broth with onions around. Garnish with fresh parsley and serve.
Notes
This recipe uses dried herbs, however will work very well with fresh herbs.
if using fresh herbs, chop 1 bunch of the listed herbs below and add that to the meatball mixture.

Cilantro
Parsley
Chives or Green Onions
Tarragon
Basil

Koofteh taste even better the next day so feel free to make this ahead of time.
This recipe was rested and since, the amount of rice changed from ¾ to ½ cup. 
If your meatballs are not holding together, you can add an extra egg to the mixture or  a few tablespoons of breadcrumbs to ensure the meatballs stay in tact. 
Nutrition
Calories:
561
kcal
Carbohydrates:
48
g
Protein:
35
g
Fat:
26
g
Saturated Fat:
10
g
Polyunsaturated Fat:
1
g
Monounsaturated Fat:
11
g
Trans Fat:
1
g
Cholesterol:
121
mg
Sodium:
863
mg
Potassium:
1178
mg
Fiber:
10
g
Sugar:
7
g
Vitamin A:
403
IU
Vitamin C:
16
mg
Calcium:
154
mg
Iron:
7
mg
Did you make this recipe?
Let us know by leaving a comment and 5 star rating!