This mujadara recipe is a Mediterranean rice dish with chickpeas, lentils and caramelized onions made in a rice cooker!
Winter chill is in the air and my body is craving warm, simple comforting foods. Dare I call this mujadara, which is a Mediterranean rice pilaf dish with caramelized onions? It is, mostly, but of course I had to flick a few twists on the classic.
Not traditionally cooked in a rice cooker, the less than $20 appliance is one of our favorite kitchen tools (totally not sponsored, I just love this thing). We make all sorts of rice (jasmine, wild, etc), quinoa and couscous and every grain always comes out perfect. No extra pot on the stove and keeps the rice warm as you wait for the rest of your dinner.
A few tips I have noticed. When you use the rice cooker, the cook button flips to 'warm' and the steam stays trapped in, making the rice stickier. To combat this, I place a few layers of paper towel between the pot and the lid so the extra moisture is not absorbed back in the rice and making the texture a bit more separated.
I have to admit, my favorite part of mujadara is the crispy onions. Take the time and saute them slowly. Let the onions break down their sugars, caramelize and get sticky and sweet. The are the best ornament on top of the aromatic rice and turning ordinary pantry staples into something more glamorous and savory.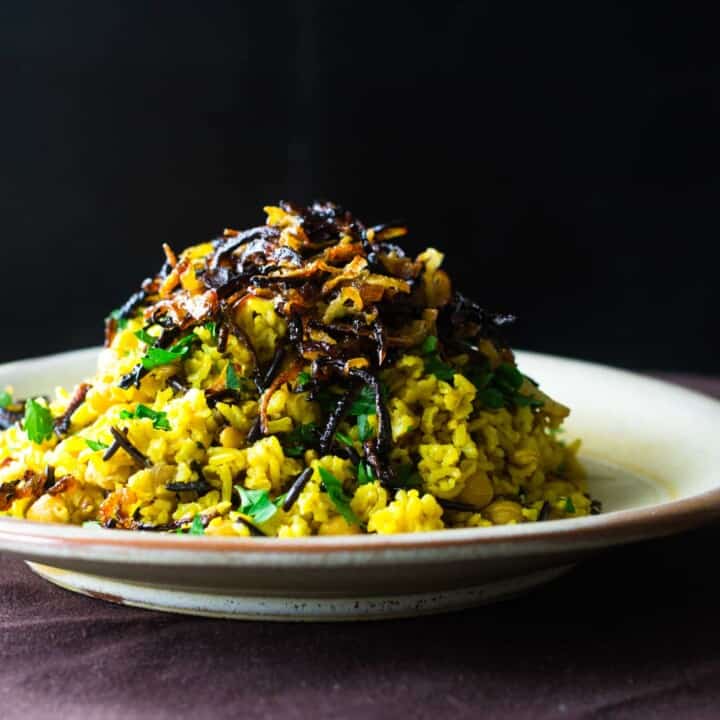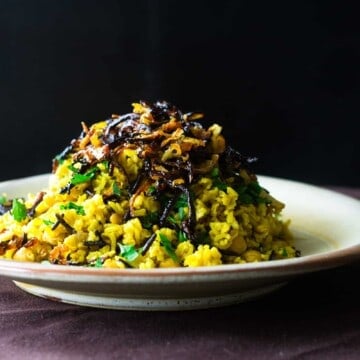 Mujadara with Chickpeas and a Twist
LittleFerraroKitchen.com
This mujadara recipe is a Mediterranean rice dish with chickpeas, lentils and caramelized onions made in a rice cooker!
Instructions
First cook the onions. In a non-stick skillet add a bit of olive oil and the sliced onions. Cook them on medium-low heat until they break down and caramelize and turn golden brown. This could take up to a good 25 minutes.

Next, rinse the rice lentils and chickpeas well until water runs clear.

Next add rice, lentils, broth, dried lemons (or lemon rind) and spices and cook in rice cooker until most of the water is absorbed (about 10-15 minutes).

Then, add the cooked chickpeas and stir together. Top rice cooker with towel and then place lid on top so the extra moisture is absorbed.

Once rice cooker turns off, fluff everything together, serving with caramelized onions on top and chopped fresh parsley.
Nutrition
Calories:
281
kcal
Carbohydrates:
55
g
Protein:
14
g
Fat:
1
g
Saturated Fat:
0.2
g
Polyunsaturated Fat:
1
g
Monounsaturated Fat:
0.3
g
Sodium:
477
mg
Potassium:
513
mg
Fiber:
12
g
Sugar:
5
g
Vitamin A:
276
IU
Vitamin C:
7
mg
Calcium:
44
mg
Iron:
3
mg
Did you make this recipe?
Let us know by leaving a comment and 5 star rating!